Karnataka Budget promises Namma Canteen, roads projects, laptops, as Siddaramaiah gets set for polls
Mangalore Today News Network
Bengaluru, March 15, 2017: Chief Minister Siddaramaiah presented his record 12th budget, worth Rs 1.86 lakh crore, here on Wednesday. The budgetary allocation is 14.16 percent more than the budget estimates of the previous financial year.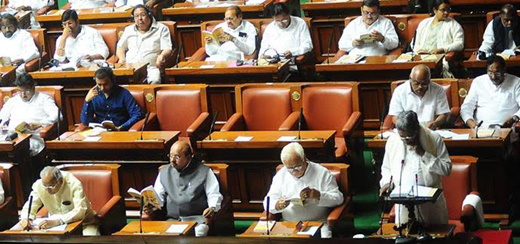 With the next elections at the horizon, several initiatives were announced by Siddaramaiah. In order to address the traffic woes of Bengaluru 12 high-density corridors estimated to be worth Rs 150 crores was announced. Apart from Rs 200 crores has been set aside to build 200 kilometre footpaths in the city.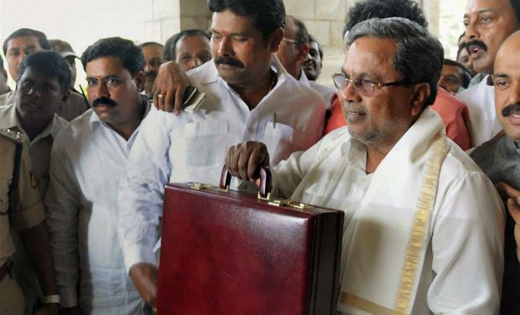 Other schemes aimed at the city includes Rs 80 crore for skywalks, taking a cue from Tamil Nadu's Amma canteen, 'Namma Canteen' for cheap and affordable food in all 198 wards of BBMP, construction of underbridge and widening of overbridge at Hebbal junction - estimated at Rs 88 crore and others.

He also continued to extend support for the schemes introduced by him, such as Anna Bhagya - where the limit of grains for a person has been increase from five to seven kgs. English teaching to be introduced from class one in government schools, free laptops for all undergraduate students, tree parks in every assembly constituency in the name of Saalumarada Thimmakka, free wi-fi to all grama panchayats and 'Mobile canteens' for SHG's in every district were also announced.

Apart from it, water supply project for 110 villages around Benagluru at Rs 1,886 crore, free 10,000 litre drinking water to slumdwellers was also announced. In the entertainment front, a national annual International Surfing Festival was announced at Bengaluru and it has been made compulsory for multiplexes to screen atleast one Kannada movie.

Here are the highlights from his budget speech
* Second terminal at Kempegowda airport to be constructed within this year

* Govt introduced downloadable apps to fight crime against women and children

* Free gas connection for 5 lakh poor families not covered under the Ujjvala scheme.

* Road Safety Authority will be constituted, to reduce road accidents and to improve road safety.

* Multiplex theaters should mandatorily screen Kannada and regional language films in one screen in prime time between 1.30 pm to 7.30 pm

* Rs 20 crore granted for the establishment of Forensic Sciences and Technology Center in Bengaluru.

* Separate toilet facilities will be provided for female staff in all the police stations in the state.

* Study for Namma Metro phase 3 connecting KIA is complete, and suitable alignment to connect is under finalisation.

* Ragpickers and house-maids to get smart cards

* Farmers will be trained and guided with new technologies under 'Raitha Sarathi' scheme

* Rs 150 crore made available to BBMP for railway over bridge and under bridge construction for smooth traffic movement

* Rs 42 crores granted by govt for the development of Lakes in Bengaluru

* Govt medical colleges will commence DNB post graduate course, to overcome the shortage of specialized doctors in govt hospitals.

* Nearly 25% of the registrations of property took hit due to note ban

* Spectacles and story books with social message proposed for school children.

* Shoes, socks, chudidhars for girl students from class 8 to 10 proposed

* One ambulance service will be provided for a radius of 10 to 15 km.

* Gold medal winner in Olympics to get Rs 5 crore, silver winner to get Rs 3 crore and bronze winner to get Rs 2 crore.

* 43 major roads of 80 km length to be white-topped in Bengaluru

* Scheme for providing hired cycles to be taken up in select areas of Bengaluru.

* Loan limitation for Women entrepreneurs increased from Rs 50lakhs to Rs 2 crores
* Rs 20 crore earmarked for World Kannada meet - 2017

* New schemes announced under 'Swacha Karnataka' program
* Farmers in state to get farm loan up to Rs 3 lakh with zero interest rate

* 100 water bodies to be filled up in deep forest to prevent animal migration.

* Rs 14,061 allocated for rural developement

* Karnataka budget: Maximum ticket price in multiplex theatres fixed for Rs 200
* 700 hectare of Sandalwood plantation to be developed instead of eucalyptu
* Increase of 289 sq km forest area in Karnataka

* With 407 tigers and 6072 elephants, Karnataka stands first in the country

* Women self-help groups to run 'Saviruchi Sanchari Canteens'

* Pedestrial facilities to be upgraded at the cost of Rs 690 crore in Bengaluru
* Entire track lenght of 42.3 km of Namma Metro phase I to be completed

* Rs 300 crore granted for the development of storm water drains in Bengaluru

* 1000 public toilets to be constructed in Bengaluru city

* Basketball academy to be established in Vidhyanagara, Bengaluru

* Mountaineering academy in Chitradurga and Tennis Academy in Mysuru
* Reservation for women in Karnataka civil services direct recruitment now 33%

* 5 multi-speciality hospitals to be set up in the state
* Subsidy of Rs 30,000 for purchasing LPG driven auto-rickshaws
* Rs 88 crore alloted for the widening of Hebbal flyover


* 1.5 lakhs Engineering and Medical students to get free laptops

* Bengaluru to become electronic vehicle capital of India

* New university to come up in Raichuru

* Tax on two wheelers costing above 1lakh hiked to 18% from 12%


* Govt to construct film city in Himmavu, near Mysuru for the development of Kannada film industry

* Karnataka One Centre, on the lines on Bengaluru One to be set up in 9 districts

* Govt to implement seventh pay commission recommendations

* Rs175 crore granted for Baahubali's Mahamastakaabhisheka in Sharavanabelagola

* New airports to be constructed in Karwara, Madikeri and Chikkamagaluru

* 3000 new buses to be inducted into BMTC

* Rs 400 crore for land acquisition for Chennai-Bengaluru-Chitradurga corridor

* Cloud seeding at Rs 30 crore to tackle drought situation

* 6 new govt medical colleges in Karwar, Kodagu, Chamrajnagara, Bidar, and Koppala

* Govt to provide free 10k ltr of drinking water to slum dwellers

* Karnataka One Centre, on the lines on Bengaluru One to be set up in 9 districts

* 10.7km major arterial roads to be constructed connecting Mysuru and Magadi roads

* Additional excise on liquor abolished

* KR Puram and Silk Board junctions will be developed in collabaration with BMRCL

* Vat on beer, wine, fenny and hard liquor has been lifted

* Bellandur and Varthur lakes will be comprehensively developed in 2017-18

* Construction and allotment of 300 BDA flats to be completed by BDA

* Karnataka stand first in 'Horticulture' in the year 2016

* To support Coconut growers 'Neera policy' has been approved

* Rs 5080 alloted for agricultural sector

* Tiffin for Rs 5 and meals for Rs 10 will be provided in 'Namma Canteens'

* Namma Canteens to be opened in all 198 BBMP wards in Bengaluru

* Anganawadi children to get eggs twice a week

* 'Namma Canteen' on the lines of Tamil Nadu's 'Amma Canteen' announced in the state

* 25 lakh farmers in state to get 13,500 agricultural loans

* 8 TMC treated water from Koramangala STP to be supplied to Kolar and Chikkaballapura

* 49 new taluks announced in 21 districts

* Mekedatu dam project to be implemented by govt

* Rice quota under 'Anna Bhagya scheme' has been increased to 7kg from 5kg

* Industrial growth expected 2.2% against previous year's 4.9%

* Demonetisation and unpreparedness of RBI and central govt has impacted the growth

* Focus on gender equality will be the main focus of the budget: CM

* 1.5% growth in agricultural sector expected: CM

* Our govt is successful in making Bengaluru a model city: CM

* Feels proud to present 12th state budget: CM

* Proud to present 12th state budget: Siddaramaiah

Write Comment
|

E-Mail
|
Facebook
|

Twitter
|

Print