Karnataka Bank net profit jumps to Rs. 88.46 cr
Mangalore Today News Network
Mangalore, Oct 31, 2014: Mangalore based private sector bank Karnataka Bank recorded a net profit of Rs.88.46 crore in the second quarter of 2014-15 as against Rs.28.95 crore in the corresponding period of the previous fiscal, registering a growth of 205.56 per cent.

Announcing the results, P Jayarama Bhat, MD & CEO of the Bank, said "the business turnover of the Bank has touched ` 73,914 crore registering a y-o-y growth of 14.63 per cent. Deposits of the Bank have increased to ` 44,196 crore registering a y-o-y growth of 16.26 per cent and advances to ` 29,718 crore, registering a y-o-y growth of 12.27 per cent". Current Account, Savings Account (CASA) increased by ` 1,707 crore from ` 9,040 crore to ` 10,747 crore and constitutes 24.32% of total deposits.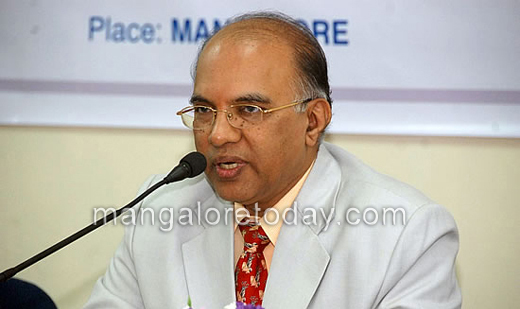 The Capital Adequacy Ratio stood at 12.31 per cent [under BASEL II] and 12.08 percent [under BASEL III] against the regulatory requirement of minimum 9 per cent. Similarly, the Return on Asset (ROA) also improved by 29 bps to 0.87% as against 0.58% an year ago. "Inspite of trying economic conditions and continued pressure on asset quality, Bank has been able to post an impressive result on account of strong fundamentals" said P Jayarama Bhat.

The Bank plans to open 75 new branches and 300 new ATMs during current year, thus aiming for 1,675 service outlets, consisting of 675 branches & 1000 ATMs. During the Current Financial Year, the Bank has already opened 24 branches and 75 ATMs taking the tally of service outlets to 1399 with 624 branches and 775 ATMs. The Bank is eyeing a business turnover of ` 83,000 crore for the year 2014-15 comprising of deposits of 48,000 crore and advances of ` 35,000 crore.
During the current year, Bank has bagged ASSOCHAM's Certificate of Excellence for Social Banking. Further, the HR initiatives of P Jayarama Bhat, were recognized and rewarded at the Asia Pacific HRM Congress 2014, in the form of an Award under the Category "CEO with HR orientation".


Write Comment
|

E-Mail
|
Facebook
|

Twitter
|

Print