Karnataka Bank appoints Jayarama Bhat as Chairman and Mahabaleshwara MS as MD,CEO
Mangalore Today News Network
Mangaluru, April 12,2017: Mahabaleshwara M S, presently the Chief General Manager of Karnataka Bank, is appointed as Managing Director and Chief Executive Officer (MD & CEO) of the Bank. He will take charge on Saturday, April 15.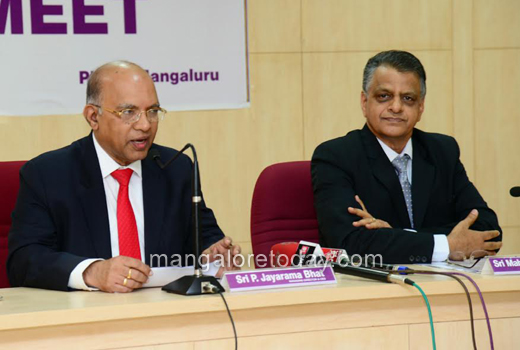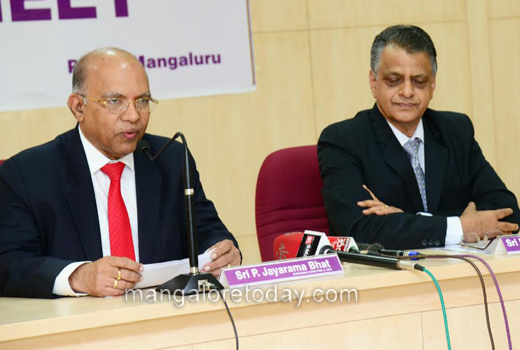 The Board of Directors of the Bank, who met today at the Bank's Head Office at Mangaluru, Karnataka, have appointed Mahabaleshwara M S as Managing Director and Chief Executive Officer (MD & CEO) of the Bank for a period of three years from the date of assuming charge, as per the approval received from Reserve Bank of India, which is in accordance with Board's earlier recommendation.
He is succeeding P Jayarama Bhat, who has since assumed charge as Part-time, Non-executive Chairman of the Bank, today.

Mahabaleshwara M. S, has been 'Karnataka Bank man' for the last 32 years and has rich banking experience both at operational and administrative levels. He has done his Masters in Agricultural Sciences (M.Sc. Agri), with specialization in Agronomy, from the University of Agricultural Sciences (UAS), Bangalore and he is also a Certified Associate of the Indian Institute of Bankers (CAIIB) and has also done Post Graduate Diploma in Business Management (PGDBM) from St. Aloysius College, Mangalore.
He started his career as Researcher & Teacher at University of Agricultural Sciences, Bangalore and later on joined Karnataka Bank as probationary Agricultural Field Officer in 1984. Initially he served at Credit Department of the Bank at its Head Office, Mangalore. He played a key role in launching KRISHI CARD scheme of the Bank. Later on he headed Banakal, Chikkamagaluru ADB (Agricultural Development Branch) and Bangalore Kasturba Road (Forex Designated) branches of the Bank and has been the member of the prestigious 'Chairman's Club" for 5 times for his outstanding performance as Branch Head.
On his promotion as Chief Manager and later on, as Assistant General Manager he served at Credit Department and Planning & Development Department of the Bank at its Head Office, Mangalore. Later on he moved to New Delhi Regional Office as Regional Head, wherein he played a key role in expanding the foot prints of the Bank in the Northern and North Eastern part of India by opening good number of branches thus enabling the Bank to have pan India image and subsequently he got elevated to the cadre of Deputy General Manager. During his tenure as Regional Head, Delhi Region was adjudged as the 'Best Region' of the Bank, twice. Further, on account of rapid branch expansion in Northern India, Bank had also opened a new Regional Office at Kolkata. He also served as Regional Head of Mumbai Region before being elevated to the Post of General Manager in 2011 and posted at the Head Office.
On the 28th of August 2013 he was promoted as Chief General Manager, a number 2 position in the Bank, and was in charge of the Departments of Credit, Planning & Development, IT & MIS, Treasury & Accounts and HR & IR.

He was actively involved in Bank's BPR (Business Process Reengineering) initiative in association with KPMG and later on played a pivotal role in the Digital Banking initiatives of the Bank. Now he is actively involved in the implementation of "KBL Vision 2020" – a five year growth plan of Karnataka Bank which aims to make Karnataka Bank a "Big & Strong Bank" with 1000 branches, 2500 ATM's and Rs 1,80,000 crores of business turnover by the year 2020.
He has also served as Non – Executive Director on the Board of Universal Sompo General Insurance Co. Ltd., as the nominee of Karnataka Bank w.e.f. 27.10.2016
Shri Mahabaleshwara M.S hails from Mavinakudige - Thotadur of Malnad district of Chikkamagaluru of Karnataka and had his early schooling at Government Primary & Middle School, Basarikatte and Shree Sadguru High School, Basarikatte. Later he moved to Bhandarkars College, Kundapura for his Pre university course and to University of Agricultural Sciences, Bangalore for undergraduate and postgraduate courses.
He is all set to take charge of Karnataka Bank as M.D&CEO on 15th April 2017.
While accepting his elevation as a sense of responsibility, Mahabaleshwara M.S said that, "I am fortunate to have Shri P Jayarama Bhat as my mentor, who has set a new standard for corporate succession planning by nominating me, even when he had about 15 months left in his present term as MD&CEO, which will be regarded as an exemplary act by the Industry. Karnataka Bank has reached new high under his leadership and I am aware of my responsibility to take the legacy forward. With the active support and cooperation of 8000 plus strong work force, directions from professional Board, invaluable guidance from Reserve Bank of India, high degree of confidence of shareholders and by duly banking on the loyalty of 8 million plus customers, I am determined to take the Bank to a new high in every single field of corporate repositioning, thus focusing on value creation for all the stakeholders and in the process making Karnataka Bank a big, strong and vibrant Bank. I solicit the support of all the stake holders in making this journey an exciting, rewarding and memorable one".



P Jayarama Bhat is the new Chairman of Karnataka Bank

Jayarama Bhat had taken the reigns of the Bank as MD & CEO on 14th July 2009, initially appointed for a period of 3 years, got extension for two terms upto July 13th, 2018. He voluntarily opted to relinquish his present post of MD&CEO and the present changeover was well thought of corporate succession planning and to pave way for younger generation to take the reign.

During his tenure of around 8 years, the business turnover of the Bank almost tripled to Rs.93,843 crores (prov.as on 31.3.2017) from Rs.32,034 crores as on 13.7.2009, with CAGR (Compounded Annual Growth Rate) of 14.40%. Deposits rose to Rs.56,737 crore(prov.as on 31.3.2017) from Rs.21,044 crore, advances rose to Rs.37,106 crore (prov.as on 31.3.2017) from Rs.10,990 crore. The CD ratio (Credit Deposit ratio) significantly improved to 65.40% from the level of 52.22%. Similarly, CASA (Current Account & Savings Account) share to the total deposit zoomed to 29.03% from 18.80%, which helped the Bank to improve its profitability. Bank has posted an alltime high net profit of Rs.451 crore during 2015-16. The customer base of the Bank increased to 82 lakhs from 31 lakhs, turnover per branch increased to Rs.122.67 crores from Rs.71.35 crores. His contribution in branch expansion was quite impressive with addition of 316 branches during his tenure, taking the total to 765 as on 31.3.2017. He was instrumental in introducing several digital banking products and services.
The ATMs of the Bank increased to 1380 from 177, and 110 e-Lobbies were opened since it's introduction in 2015. There was phenomenal increase in networth of the Bank, which increased to Rs.4769 crore as on 31.12.2016 from Rs.1567 crores as on 31.3.2009, after successful mobilization of QIP of Rs.160.83 crore in 2010 and two rights issues through which Bank mopped up Rs.457.03croreand Rs.659.65 crores in the year 2011 and 2016 respectively.Share holders' value also increased manifold as could be seen from the market capitalization of Rs.4505 crore as on 11.4.2017, compared to Rs.798 crores as on 13.7.2009. Further Bank had also won record number of Awards and Accolades during his tenure in the area of Banking Technology, financial Inclusion, MSME lending, Customer Service, HR practices, Fair business practices etc. Bank has also scripted a new chapter in Corporate Social Responsibility (CSR) by funding good number of projects under Child and Health care, environmental sustainability, education etc. and recognized itself as a Socially Responsible Bank.
"The challenges were many and we have been able to convert the challenges into opportunities and as a result I am happy that Karnataka Bank has emerged stronger. After an eventful tenure of almost 8 years as MD & CEO, I am happy to voluntarily relinquish the office and entrust the responsibility to Mahabaleshwara M S. His appointment is a well thought process of succession planning and he was spotted early and being groomed for the top post over the period. He has acquired all the desirable qualities of corporate leadership and I am confident that he will take the Bank to new highs in the days to come. Now it is time for me to happily entrust the Bank's leadership to him and focus on ensuring highest standards of corporate governance as Chairman of the Bank's Board" said P Jayarama Bhat.


Write Comment
|

E-Mail
|
Facebook
|

Twitter
|

Print