Karnataka Bank Foundation Day Lecture: Cancer is the biggest business in the country - BMH
Mangalore Today News Network
Mangaluru, Feb 19, 2017: Manipal University former VC B M Hegde on Saturday said people should change their lifestyle to maintain good health without any medical intervention.

Delivering the Foundation Day Lecture at Karnataka Bank Limited head office in city, Dr. B M Hegde, who is also a one of the customers of the bank, categorically told the gathering, "People better change lifestyle voluntarily without waiting for the government to promote, as the latter is only interested in funding highly rewarding medicines, which can give them crores. The case with cancer, where 73.4% of cases have common cause in smoking and consumption of alcohol. Yet, the government is not willing to ban such hazardous products."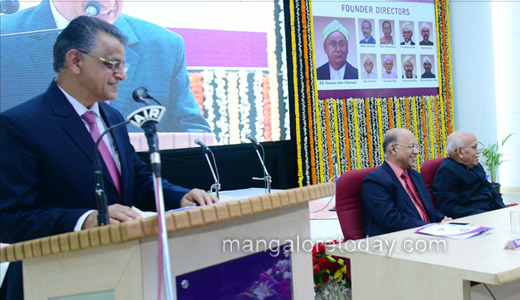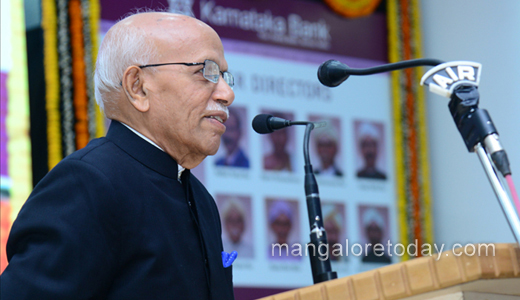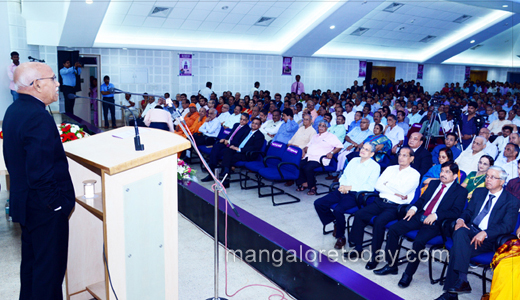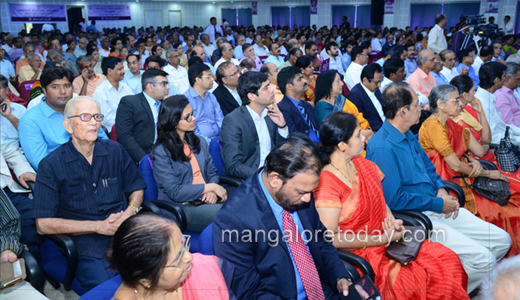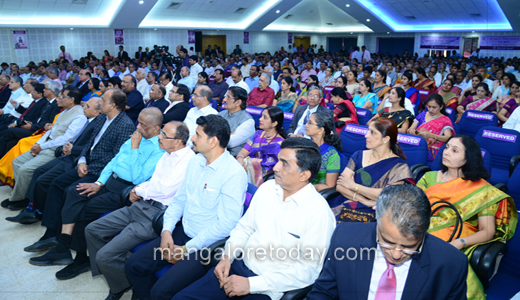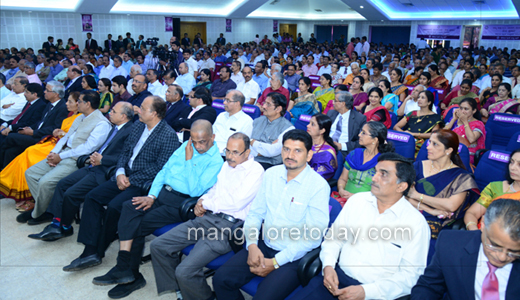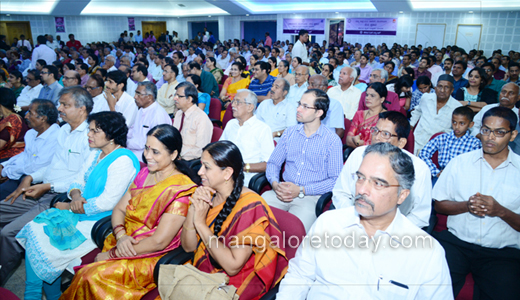 Thanks to the banks which are funding projects of corporate hospitals that have invaded India in a big way. Reason: Cancer is the biggest business in the country," he said. Prof Hegde, who is known for his no holds barred rhetoric, dwelt on the topic 'Money, Man and Health' with alliterations.

Referring to the demonetisation of high-value currency notes, Hegde described how it had brought in peace in the valley which was till then witnessing turbulent times due to frequent stone pelting. It can be summed up as 'No note, no stone', he observed. "It would be better for health, if he or she becomes broad minded with 'We' approach rather than preferring to be narrow with 'I' only approach," he felt.

Managing director and Chief Executive Officer of Karnataka Bank P Jayaram Bhat was happy to note that capital of the bank has touched Rs 4,670 crore against Rs 11,520 in 1924, the founding year of the bank.

CSR work: To mark the Foundation Day, total financial assistance of Rs 37.20 lakh was extended to various associations under corporate social responsibility (CSR) funding of the bank.

A cheque for Rs 20 lakh was handed over to the representatives of Sri Krishna Seva Trust, Bengaluru, Rs 12.20 lakh to Hoysala Foundation, Shivamogga, towards procurement of two dialysis units and Rs 5 lakh to upgrade the infrastructure of Mangala Higher Primary School and High School, Mannagudde, Mangaluru, run by Karnataka Rajya Devadigara Sangha.

Write Comment
|

E-Mail
|
Facebook
|

Twitter
|

Print