Karnataka Bank Awarded with ISO 27001:2013 Certificate
mangaloretoday.com
Mangaluru, June 08: Karnataka Bank, a leading Private sector Bank, having it's Regd. & Head Office at Mangaluru was awarded with ISO 27001:2013 certification by Sri. Ganesh Shastri, Director, M/s. NQA, a UKAS, a UK based accreditation certifying body.

While speaking on this occasion, Sri. P. Jayarama Bhat, Managing Director of the Bank said that "Our Bank is under 100% Core Banking Solution and has 681+ Branches, 1020+ 'Money plant' ATMs and other Alternate Delivery Channels (ADC's) like Internet Banking ('Money Click'), Mobile Banking, SMS banking etc.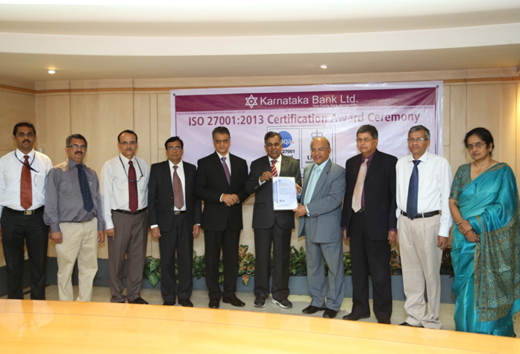 In this modern era of digital Banking, we solely depend on IT infrastructure as an enabler of business. These emerging technologies are providing state of the art services to customers, but this convenience comes with a cost and risk. The risk we may face here is sophisticated attacks by unknown miscreant from any part of the world. To safeguard the interest of our customers, Bank has taken many state of the art security initiatives as per the Information security policy of the Bank.

While the Bank frames policies and reviews the same periodically, Bank follows the well known ISMS framework i.e. ISO 27001, the regulatory guidelines and industry best practices. Bank has implemented security policies and systems in place for it's IT infrastructure to protect our customers as safety and security is our utmost priority. Bank has first been certified for it's IT infrastructure units at Data Centre, Near-line site and Disaster Recovery site, with ISO 27001:2005 standard and recently Bank has been awarded with the certification as per the new standard 'ISO 27001:2013'.

On successful implementation and completion of external Audit, M/s. NQA under UKAS accreditation, a UK based certifying body has awarded the ISO 27001:2013 certificate, which reflects a matured Information Security framework of our Bank. While thanking our customers for their immense faith, trust and confidence, with this certification, we assure them better quality and secured service." He further added that, our customer should not share their personal credentials like user-ids, passwords, IPIN, MPIN, OTP etc., with anyone.

Shri. Mahabaleshwara M.S., Chief General Manager, Shri. P. Jairama Hande, Senior General Manager, Shri N Upendra Prabhu, Dr. Meera L B Aranha and Shri Raghurama, General Managers, Shri Ananthapadmanabha, Deputy General Manager, IT Dept, Shri Suresh K, Deputy General Manager, RMD, and Shri Vadiraja K, Chief Manager – CISO, of the Bank were present on the occasion.


Write Comment
|

E-Mail
|
Facebook
|

Twitter
|

Print