Karkala: Lord Bahubali 'Abhisheka' rituals
Mangalore Today News Network
Karkala, April 28, 2015 : Moodabidri Jiana Mutt Seer Sri Charukeerthi Bhattaraka Pattacharyaswami performed the penultimate 'Mahamastakabhisheka' at the 42 feet idol of Lord Bahubali here a grand ritual performed once in 12 years is now reaching a conclusion.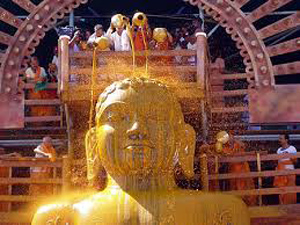 The ritual began with the ceremony 'Agrodaka', which was held from Jaina Mutt to Bahubali betta. Following which devotees performed 'Jalabhisheka' with 1,008 Kalashas, which signified uniqueness of Jaina tradition.

The representation of Kalashas is closely associated with the spirituality and salvation 'Moksha'. Jaina tradition personifies both spirituality and salvation in the form of these kalashas.

This was followed by abhisheka (ceremonial anointing), where pouring water in the form of 'Jalabhisheka' by the seer was held. Next, the statue was anointed with coconut water and sugarcane juice. Milk from kalashas was showered on the Lord, which was followed by the clouds of white rice and turmeric powder in the ritual of 'Kalkachurna Abhisheka'. The 'Kalkachurna Abhisheka' was followed by 'Kashaya Abhisheka'. The Lord's statue was smeared with the mango pulp to mark the season of spring.

Later the mixture of liquid turmeric and red sandalwood paste was poured on the Lord. Next was the libation of ashtagandha - a combination of eight scented substances - followed lastly by a shower of flower petals. The splendid ceremony ended with the washing of the Gommata with the clear waters of the 'poorna kumbhas' and the arthi of lit lamps.

The next Mahamastakabhisheka would be held on April 29 and last one would be held on May 15 respectively. Sri Charukeerthi Bhattaraka Pattacharyaswami said that Bahubali symbolizes the virtues of sacrifice and non violence. The devotees were exhorted to follow his ideals to attain spirituality and salvation.

Write Comment
|

E-Mail
|
Facebook
|

Twitter
|

Print