Kambala: Rural sport or cruelty to animals? - Report
Mangalore Today News Network
Mangaluru, Dec 08, 2014: The banning of the traditional buffalo race, Kambala, held annually in coastal Karnataka districts of Udupi and Dakshina Kannada, has sparked a fresh debate whether such events amount to cruelty to animals or are just innocent rural sport.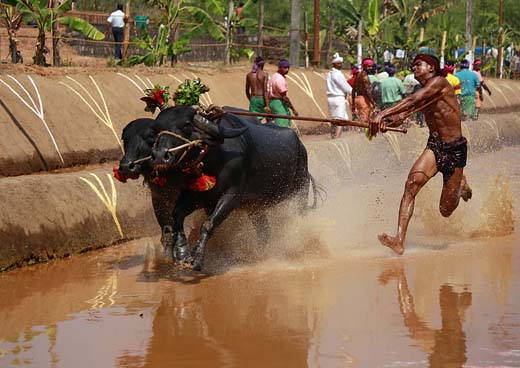 Kambala events, involving racing pairs of buffaloes in paddy fields filled with slush and mud, draw a large number of people. Nearly 18 such events are held under the banner of Kambala Samithi every year during the November to March period.

Today, it has become an organised rural sport with grand planning but the century-old practice has been drawing flak from animal activists who say it is cruelty to the animals.

Kambala was banned by the district administration of Udupi and Dakshina Kannada in mid-November after the Animal Welfare Board of India (AWBI) pressed for it following a Supreme Court order on May 7 against cruelty towards animals in the guise of entertainment. In its traditional form, Kambala was non-competitive and he-buffalo pairs raced in paddy fields. It was also observed as thanksgiving to the Gods for protecting the animals from diseases.

Noted animal rights activist and Union minister Maneka Gandhi had expressed serious concerns about the ill-treatment of buffaloes. The AWBI had sent messages to the Deputy Commissioners of Udupi and Dakshina Kannada districts pointing out that Kambala cannot be allowed in view of the Supreme Court verdict banning Jallikattu (bull fighting) in Tamil Nadu. Following this, the administration of the two districts has imposed a ban on the traditional event.

AWBI secretary-in-charge stated the ban is very wide and absolute. The Supreme Court had gone deeply into the matter and also anatomy of animals like cattle. These acts are not compatible to animals' natural instinct and they compete in the race due to fear of being beaten.

In the meantime, the State government had written to the Centre pleading with it not to ban Kambala which had been part of rural life here for ages. State minister B Ramanath Rai said Kambala was a coastal tradition and it should be allowed since there was no cruelty involved.

Karnataka Health and Family Welfare Minister U T Khader said he, along with other legislators from the coastal districts, would ensure that the Supreme Court ban does not apply to buffalo racing. The Dakshina Kannada and Udupi Kambala Committees have pleaded before the Karnataka High Court to grant permission to organise the annual Kambala events but the State authorities said making buffaloes run amounted to cruelty.

The organisers said violence on animals is not practised in the region and so many modifications have taken place in the recent past to make the event animal friendly.

The district authorities contend that beating buffaloes also violated provisions of the Prevention of Cruelty to Animals (PCA) Act, claiming that buffaloes run because of the fear of being beaten. Kambala is not a religious or traditional event. Even if it is traditional, the PCA Act prevents such practices as unnecessary pain to the animal amounted to cruelty, the authorities say.

Meanwhile, Justice S Abdul Nazeer of the Karnataka High Court, who heard the committees' petition, has issued notices to the Animal Welfare Board of India (AWBI) and the Union government seeking clarification on the matter.

The State government told the High Court recently that buffaloes are not anatomically structured to run and making them run amounts to cruelty. The State authorities made the plea while opposing the plea by the Dakshina Kannada and Udupi Kambala Committees seeking permission to organise annual Kambala events.

A ray of hope has, however, emerged on the resumption of the sport following the Centre's plan to grant permission for such sporting activities involving animals. With pressure from various states to grant permission to traditional sporting activities such as Jallikattu (in TN) and Kambala, Union Minister for Environment and Forests Prakash Javadekar had said in New Delhi that "animals should not be tortured under the pretext of sporting activity. The government is considering granting permission if this condition is met." PTI

Write Comment
|

E-Mail
|
Facebook
|

Twitter
|

Print