Kalkura Foundation's 'Sri Krishna Vesha Spardhe' at Kadri, August 24
Mangalore Today News Network
Mangaluru, Aug 20, 2016: The Kalkura Foundation, briefing media Aug 19, Friday, said it will organise its 33rd annual Sri Krishna Vesha Spardhe -- Rashtriya Makkala Utsava --- on the premises of Kadri Sri Manjunatha Temple from 9 am to 9 pm on August 24.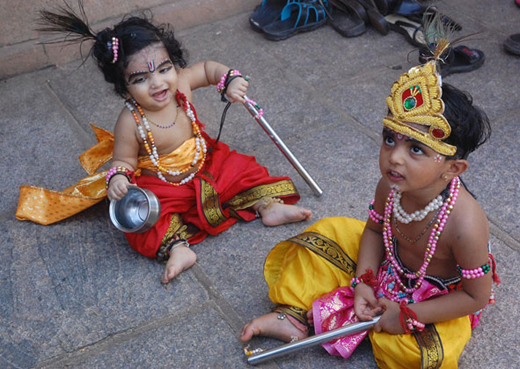 Foundation president Pradeep Kumar Kalkura said the fancy dress competition, in which participants can be seen in the attire of Lord Krishna, is open to children as well as adults.

He said the competitions are organised with an intention to develop religious and cultural awareness and to encourage the hidden talent of the little children. The competitions will be held in 27 categories. 'Sri Krishna Gaana Vaibhava' is the new addition to the list of competitions. The competition was started with a few children and the number of participants has now crossed 2,500, he added.

The competitions are held in the following categories: 'Kanda Krishna' (for tiny tots below one year and mother can lead the child to the stage); 'Muddukrishna' (for toddlers under two years and mothers are allowed to come on the stage along with the participants); 'Thuntakrishna' (for the toddlers of two years to three years); 'Balakrishna' (for kids from Anganwadi and LKG), 'Kishora Krishna ' (for children from UKG and I std) and 'Sri Krishna' (for II, III and IV standard children).

Geetha Krishna (for students upto VII std, here one has to create Geethopadesha scene with constumes); 'Yakshakrishna' (for children upto X std, participants have to wear only Yakshagana --- Badaguthittu and Thenku Thittu; 'Pagadi Kedage' and 'Mandale' are allowed); 'Radhakrishna' (children upto VII std --- pair); 'Yashodha Krishna' (woman as Yashodha and any child as Krishna can participate with action (no age limit for woman and child Krishna upto 12 years); 'Shankhanada' (For children up to VII std); 'Shankhodghosha' (for above VII std and open to all); 'Devaki Krishna' (mother (previous participants of the competition) as Devaki and her child or any other child as Krishna can take part) and 'Vasudeva Krishna' (Any man with traditional costume as Vasudeva and the child as Krishna can act). There is no age limit. Plastic baskets are not allowed. Even woman can also enact as Vasudeva with men's costume.

The categories also include 'Nanda Gokula' (episode presentation of Lord Krishna's life by a group i.e entire family members with minimum five members); 'Balakrishna' quiz competition (for children up to VII standard); Sri Krishna quiz contest (above VII std); 'Krishna photography' in front of a stage on the temple premises, 'Sri Krishna Varna Vaibhava' (in five categories --- 'Shishu', 'Baala' , 'Kishora' and 'Taruna').

'Sri Krishna Gaana Vaibhava' is the music competition. 'Sri Krishna Varna Vaibhava' and 'Sri Krishna Gaana Vaibhava' competitions will be held from 9 am. The other competitions will start at 1 pm.

Kalkura said about 150 daily or traditional puja items will be given to children participating in the quiz competition as prizes. All participants will be felicitated with an idol of Udupi Kadegolu Krishna made of Panchaloha, a copy of Bhagavad Githa and a certificate.

Those interested can contact Kalkura Prathishthana, Sri Krishna Complex, M G Road, Kodialbail (phone-2492239, 944-8125949) or send an email to kalkuraadvt@rediffmail.com.

Write Comment
|

E-Mail
|
Facebook
|

Twitter
|

Print