Kakkilaya Inspired Orations 2014 - Prof Amrit Bhaduri
Mangalore Today News Network
Mangalore, Aug 24, 2014: Delivering B V Kakkilaya Inspired Orations 2014 on 'Nationalism and economic development in the era of globalisation,' organised by Hosatu, M S Krishnan Memorial Trust, Samadarshi Vedike, Department of Ecomonic of Mangalore University and Planning and Research Forum of University College here on August 23, Jawaharlal Nehru University (Delhi) Professor Emeritus and Unconventional Economist Prof Amit Bhaduri stated, the development model in the country needs to give emphasis on domestic market rather than international market. He went on to say, with an emphasis on domestic market, the products will be made available for poor and there will be equal distribution. The fiscal policy of the country should be directed towards domestic market rather than stock market.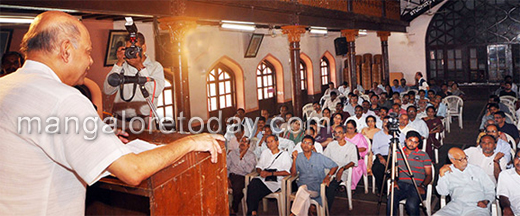 He also said that gram sabhas and panchayats have to be empowered to take decisions autonomously about the development of villages. Elected gram panchayat members have to be freed from the control of petty officials and must have financial autonomy. By strengething the public distribution system, the government should focus on improving facilities in public schools and public hospitals, thereby reducing the inequality. Prof Bhaduri said "the theme of the current development model is resulting in GDP growth without concomitant growth in employment. Natural resources are in the hands of a corporate houses with the active support of the government. The growth rate is not directly resulting in increase in employment.

The current industries sponsored development model does not improve the living conditions of the poor, enhance the natural resources or improve their sources of livelihood. Rather, it destroys what is already there," he said.

"The corporates' return the favour with funding political parties is more vicious than individual corruption as the former directly affects governance," he said and added that the day has come where an ordinary individual could not contest elections as political parties get funding from corporates.

Most of the elected representatives were 'crorepatis' and wealth and income of the elected representatives as per the affidavits submitted have increased by 2.5 times compared to the previous election, Prof Bhaduri regretted. This kind of growth will not work in the country as it was based on increased inequality, he said. Prof Bhaduri said that political problems do not have economic solution. It must be solved through good and efficient governance and for this a 'will' on the part of Government is essential .

Write Comment
|

E-Mail
|
Facebook
|

Twitter
|

Print