Kaikini keen Yakshagana should be declared as state folk art form
Mangalore Today News Network
Udupi, Oct 28, 2014: Speaking at the 75th birth anniversary celebrations of the legendary Yakshagana artiste Keremane Shambhu Hegde organised by Yakshagana Ranga Chintana; Noted lyricist Jayanth Kaikini has said that Yakshagana is the only art form which is thought provoking in depth and captivates the sophistication of ancient folk art.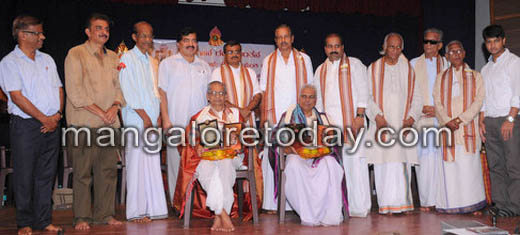 He also said that art form that fails to deliver insight into various facets of life, will end up being eliminated. Lauding the contributions of late Yakshagana artiste Shambhu Hegde, he said that Hegde was a great artiste who was instrumental in amalgamating the novel innovations in the field of Yakshagana.

Shambhu Hegde grew along with various roles he performed in Yakshagana. Hegde and Shivaram Karanth were the two genius who brought dignity to the art form. Art and culture should be passed on to the future generation. The youth should be aware of the beauty of the art form and its performance methods.

Alva's Education Trust President Dr Mohan Alva said that Yakshagana should be declared as the folk art form of the State. It is sad that even after many years of unification of Karnataka, the State has failed to adopt any art form as its symbolic art. Besides, Yakshagana should also be recognised along with eight other classical art forms in the country. The folk art is performed in around 22 districts in the State. He stressed that the State government should give thrust to set up Kalamandala,

on the lines of Kalamandalams in Kerala, wherein the classical art forms of Kerala are patronised. Lot of work should be carried out before implementing cultural policy in the state. Yakshagana artistes should struggle to take the art form to a greater height.It should incorporate changing needs of the society. Dr Alva said that Hedge had pioneered in merging the traditional facts of Yakshagana with that of modern thoughts. He balanced both tradition and transformation without affecting the basic form of the art. He had brought out new experiments in Yakshagana presentations.

Speaking after inaugurating the celebrations, MLA Pramod Madhwaraj said that Yakshagana is an unique folk art and should be preserved for the future generation. Yakshagana artistes Prabhakar Bhandari Karki and Dayanand Nagoor were felicitated on the occasion.

Write Comment
|

E-Mail
|
Facebook
|

Twitter
|

Print