JNNURM buses start plying on Mangaluru city roads Dec 16
Mangalore Today News Network
Mangaluru, Dec 17, 2015: KSRTC city buses, under JnNURM - Jawaharlal Nehru National Urban Renewal Mission, finally started their service from State Bank bus terminus in the city on Dec 16, Wednesday.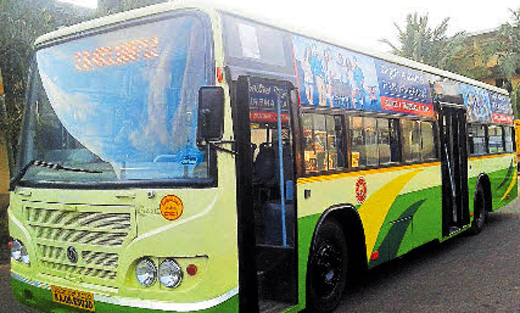 Speaking to media KSRTC Mangaluru Divisional Controller V I Hegade said the buses are being operated on three routes - State Bank bus terminus to Mangalpet (via Baikampady), to Someshwara (via Thokkottu) and to Mudipu (via Madyar). The KSRTC will operate buses on all 17 routes as permitted by the Road Trasnport Authority (RTA), before December 31.

The buses on three routes had 34 trips and there was good response from the general public. The divisional controller too travelled in a bus to Someshwar and collected feedback from the public. Senior citizens were issued tickets with 25 per cent concession. To facilitate passengers, the KSRTC is planning to introduce monthly pass in the future, he added.

The low-floor buses with digital display has voice-based stop information facility. Buses in all 17 routes will commence from State Bank bus stand as demanded by the KSRTC and citizens of Mangaluru. The bus has automatic doors in the front and centre.

He said that though the RTA - Regional Transport Authority had issued permits to operate on 18 routes, the KSRTC will operate buses on 17 routes, as the KSRTC has sought permission of the RTA to change one route.

Routes

The routes that will have KSRTC city buses are -State Bank-Shaktinagara, State-Bank-Jalligudde, State Bank- Bajal Faisal Nagara, State Bank-Bajal Church, State Bank-Gurpura Kaikamba, State Bank-Moodushedde, State Bank-Pacchanady Vamanjoor, State-Bank-Talapady, State Bank-Kinya, State Bank-Mudipu, State Bank-Kunjathbail, State Bank-Mukka, State Bank-Janata Colony-Katipalla-Kaikamba, State Bank-Ganeshpura Katipalla, Kaikamba, State Bank-Katipalla.

The proposal for introducing JnNURM buses was pending for more than two years due to various reasons. It was on August 21, 2015, Deputy Commissioner relaxed DM notification to allow the KSRTC to operate buses to various destinations from State Bank bus terminus under JnNURM.

Bus timings

State Bank to Mangalapet via Baikampady-7.11 am, 9.21 am, 11.27 am, 1.57 pm, 4.48 pm, 6.57 pm.

Mangalapet to State Bank via Baikampady-8.15 am, 10.22 am, 12.50 pm, 3.40 pm, 5.44 pm and 8.10 pm.

State Bank to Someshwar-7 am, 8.45 am, 10.20 am, 11.58 am, 2.55 pm, 4.33 pm, 6.15 pm. Someshwar to State Bank-7.50 am, 9.32 am, 11.11 am, 1.10 pm, 3.45 pm, 5.22 pm and 7.02 pm; State Bank-Madyar-Mudipu-7.45 am, 10.47 am, 1.51 pm, 4.37 pm and Mudipu-Madyar-State Bank-9.15 am, 12.12 pm, 3.14 pm and 6 pm.

Bus service to Pilikula

The KSRTC will start operating services to Pilikula-Moodushedde from State Bank from December 18.

The bus will have six trips to Pilikula. It will leave State Bank bus terminus at 7.55 am, 9.38 am, 11.08 am, 12.37 pm, 14.50 pm and 16.22 pm. In return from Pilikula, the bus will leave at 8.40 am, 10.19 am, 11.54 am, 13.25 pm, 15.35 pm and 17.09 pm. The KSRTC will also operate bus to Kinya from December 18.

While from December 21, the buses will start its operations to Katipalla-Krishnapura from State Bank and Talapady.

However, all bus users were sure that unless the MCC and authorities improve the very poor infrastructure at State Bank Bus terminus which has become worse with in last few years with concreting of road - the danger to passengers here is very high.

Write Comment
|

E-Mail
|
Facebook
|

Twitter
|

Print