Is global warming causing more lightning strikes - a report
Mangalore Today News Network
Mangaluru, Nov 18, 2014: Dakshina Kannada and Udupi districts people will agree has been experiencing an incremental pattern of lightening and thunder even after the SW monsoon has officially withdrawn. Opinion is there is a definite discernible change in the pattern from the past. Also, several lightening strikes have occurred and are observed to be more in number and intensity. Global warming will lead to a 50 per cent increase in lightning strikes during this century, according to a new study.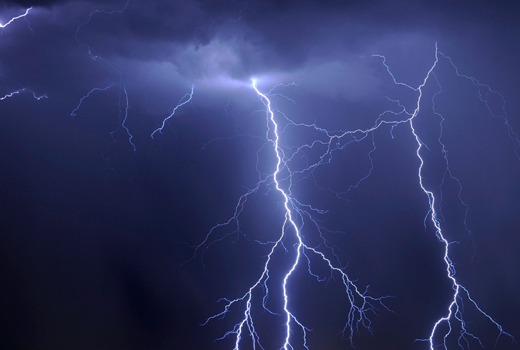 Researchers looked at various factors in different climate models and concluded that their effect will generate more frequent electrical discharges to the earth. A climate scientist stated that with atmospheric warming, thunderstorms become more explosive. He added that this has to do with water vapour, which is the fuel for explosive deep convection in the atmosphere. Warming causes more water vapour in the atmosphere, and if you have more fuel lying around, when you get ignition, it can have more fall out.

More lightning strikes mean more human injuries; estimates of people struck each year range from the hundreds to nearly a thousand, with scores of deaths.But another significant impact of increased lightning strikes would be more wildfires, since half of all fires are ignited by lightning in some regions.

The increasing speeds of convective clouds are determined by specific factors. Researchers concluded that 77 per cent of the variations in lightning strikes could be predicted from determining some parameters. On average, the models predicted an 11 per cent increase in per degree Celsius rise in global average temperature by the end of the 21st century.

Because the models predict little average precipitation increase over this period, the product and precipitation gives about a 12 per cent rise in cloud-to-ground lightning strikes per degree or a roughly 50 per cent increase by 2100 if Earth sees the expected 4 degrees Celsius increase in temperature.

Ocean surface temperatures rise : Climate scientists have recorded the highest-ever global sea surface temperatures this year owing to global warming, it is reported. The Global Warming in the 2000-2013 period when the global ocean surface temperature rise did not change, is over and as of April 2014, ocean warming picked up momentum according to studies made world wide.

Write Comment
|

E-Mail
|
Facebook
|

Twitter
|

Print