International Coastal cleanup day ICC-2019 organised
mangaloretoday network
Mangaluru, Sep 21, 2019: Headquarters, Coast Guard District (Karnataka) under the aegis of South Asian Cooperative Environment Programme (SACEP) in South Asian Region planning co-ordinated Coastal Cleanup as part of ICC-2019 at the beaches of Panambur, Tannirbhavi, Surathkal, Sasihithlu, Malpe and Rabindranath Tagore beach, Baithkol and Kodibagh at Karwar all along the coast of Karnataka today on 21 Sep 2019.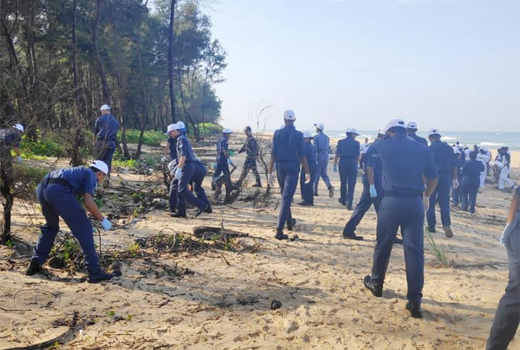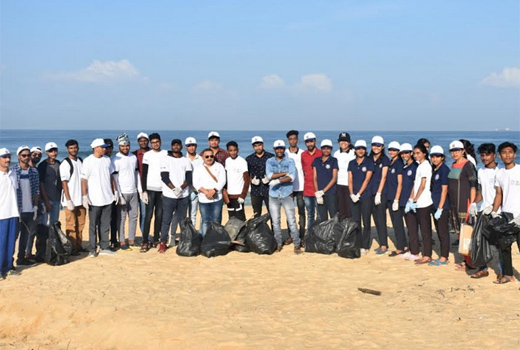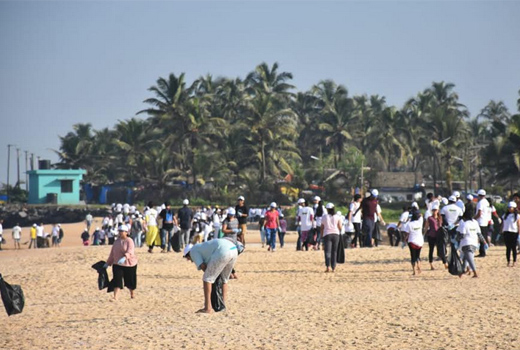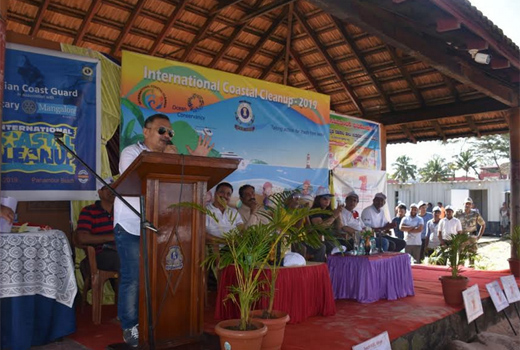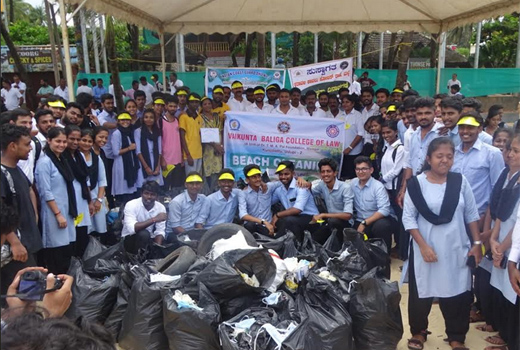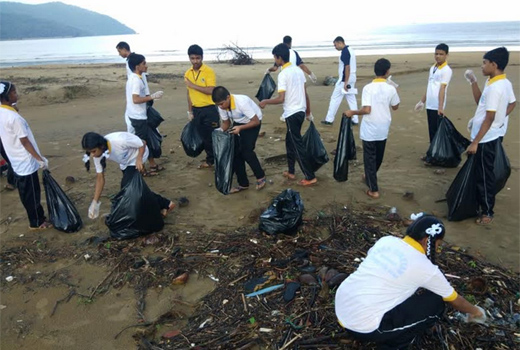 ICC was started by the Ocean Conservancy in 1986 to engage volunteers in collecting marine debris. The ocean covers 71% of the Earth. The ocean helps produce the water we drink and the air we breathe. It absorbs carbon dioxide and lessens the effect of global warming. It also produces food and recreation opportunities for millions of people. Despite its importance, the ocean is still not fully explored or understood.

Coast Guard efforts of coastal clean-up derive was multiplied by joining the hands of Coastal Security Police, Indigo Airlines Mangalore, Par Eco Solutions Mangalore, New Mangalore Port Trust, Central Industrial Security Force, MRPL, Rotary Club Mangalore, College Students, NCC Cadets, NSS volunteers and enthusiastic volunteers from all walks of life in association of Coast Guard Wives Welfare Association New Mangalore.

Educational institutes like Kasturba Medical College, St Agnes College, AJ Institute of Medical & Technology Kuloor, Manipal Academy of Higher Education Mangalore, Law College Mangalore, MV Shetty College, MSNM Basant Institution, Kendriya Vidyalaya No.1 Mangalore, College of Fisheries, Mangalore, NITK Suratkal, Vaikunt Balika Law College Udupi, Bharat School Scouts Udupi, Poorna Prajna Evening College Udupi, Govt PU College Malpe, Milagries PU College Kaliyanpur, Malpe and G Shankar PU College, Kidiyuru were prominent participants in the event.

The event was supported by MRPL, KIOCL, ISPRL, Bharat Petroleum, Adani, Nandini, SBI, Corporation Bank, Vijaya Bank, BASF India Pvt Ltd Mangalore, SPAR Hypermarket, Global Marine and ICICI Bank .

The presence of the dignitaries and leaders brought the waves of enthusiasm and motivation amongst the volunteers. Shri A V Ramana, IRS Chairman NMPT graced the occasion as a chief Guest at coastal cleanup drive at Panambur beach. Other dignitaries who encouraged volunteers at Panambur beach were Shri MV Subba Rao, CMD KIOCL, Dr. GV Hegde, MD KMF, Shri Ashwin BPCL, Ms Archana Sachit, Indigo Mangalore, Shri. Jathin Allyal President Rotatry Club Mangalore, Mr. Vishnu, Branch Manager, ICICI, Mr. Krishna, Branch Manager, SBI.

Shri Abhigin B, Asst Commissioner Uttara Kannada District and Managing Director Grasim Industries at Karwar led volunteers at Tagore beach.

Mr. G Jagadheesh, IAS, Deputy Commissioner Udupi, Shri R Chetan, IPS, SP, CSP, Udupi, Mrs Nisha James, IPS, SP, Udupi, Mr. Kumar Chandra Addl SP, Udupi, Mr. Anand C Kalolika Municipal Commissioner were the prominent guest at Malpe.

Prof K Umamaheshwar Rao Director NITK Surathkal led volunteers at Surathkal Beach.

Dr. A Senthil Vel, Professor and Dean (Fisheries), Mangalore led the volunteers at Tannirbhavi beach.

The Commander Coast Guard Karnataka, DIG SS Dasila, TM who was present at Panambur beach, during the cleanliness event stated that "we all need to serve as a voice for the ocean for working towards a trash-free ocean. We can really make a difference and help others to do the same by empowering people to take an active role in the preservation and cleaning up of our ocean. Let's all be part of smart ocean planning so as to avoid risk conflict and crises in preservations of our vulnerable oceans. We all need to join together for the future of ocean as our ocean is changing and getting busier by the day".

All the participating personnel were provided with gash bags and protective gloves to undertake the beach and surroundings cleaning. The feeling of ecstasy and togetherness was evident in the team and comradeship was seen amongst various age groups, professions and organizations.

The participants removed the waste and non-bio degradable materials littered at beaches. The waste mainly consisted of wrappers of food articles and plastic bottles thrown by tourists. The collected waste materials were put in garbage bags for proper disposal. The cleanliness drive has created awareness amongst people and hope they continue to come forward to keep the coastal environment clean for the years to come.


Write Comment
|

E-Mail
|
Facebook
|

Twitter
|

Print