Indian Coast Guard sensitises fishing populace about safety, security at sea
Mangalore Today News Network
Mangaluru, Feb 26, 2020: The Coast Guard Karnataka conducted Community Interaction Programme with fishermen in South Warf, Bunder fishing village, Mangalore on 26 Feb 2020, to sensitise the local fishing populace about safety and security at sea as well as providing impetus to Centre's flagship programme 'Swach Sagar Abhiyan'. A total of nearly 50 fishermen attended the programme. Personnel from the state fisheries department, CSP, customs also attended the programme.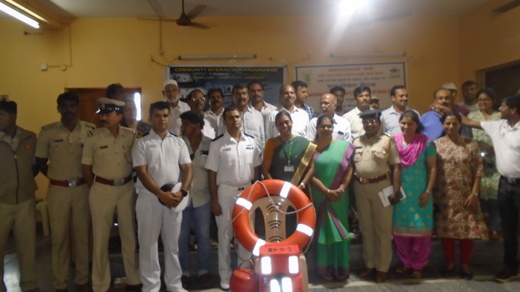 During the interaction, the fishermen were sensitised about the present security scenario and the important role they play as eyes and ears at sea. They were encouraged to share any untoward or suspicious activities at sea with Indian Coast Guard on toll free number 1554. The fishing populace was also briefed about various safety precautions to be adhered whilst operating at sea, including the use of safety equipment and They were also advised to carry all life-saving equipment, boat registration papers including biometric id cards and Aadhaar cards during their fishing expeditions and also operate in groups or buddy systems so that they can help each other during an emergent situation.

Asst Comdt Apoorva Sharma sensitised the gathering about heeding to weather warnings and the importance of collecting weather updates prior proceeding to sea. The Coast Guard personnel demonstrated and briefed about various life-saving equipment. The fishing community was also apprised about the role of Coast Guard and job opportunities in the service.

Coast Guard holds inteligence meeting

The 2nd Intelligence Sharing Meeting was organised by District Headquarters, Coast Guard Karnataka on 26 Feb 2020 at Conference Hall, CG DHQ3, Panambur. ICG is nominated as Lead Intelligence Agency (LIA) for sea borders by the Group of Ministers (GOM), Govt of India vide Ministry of Home Affairs, Coastal Security Section vide letter No. 1/18/02-BM-IV on 22nd Sep 2003.
ICG Karnataka has been proactive on Intelligence Sharing in the AoR of Karnataka State with the help of other Central/State Government Intelligence Agencies to safeguard its 320 Km Coast Line.
DIG SB Venkatesh, District Commander chaired the meeting. Delegates from various agencies attended the meeting and exchanged Intelligence inputs. They also provided feedback on the inputs that was shared during the last meeting held in Jan at CG DHQ-3. A healthy discussion and sharing of input were effected which highlighted the increased usage of Chinese made AIS on-board fishing boats.

Further, other issues were also put forward viz the recent Ganja catches and apprised all participating delegates about the likely impact on youth population.


Write Comment
|

E-Mail
|
Facebook
|

Twitter
|

Print