Indian Coast Guard rescues boat bound for Lakshadweep off Mangaluru
Mangalore Today News Network
Mangaluru, Dec 7, 2015: Reliable reports say that Indian Coast Guard Karnataka rescued at least five fishermen with their 60 feet long fishing boat Rabzsea (Registration Number: IND-LD-AN-MM-137) in a swiftly planned and executed search and rescue operation.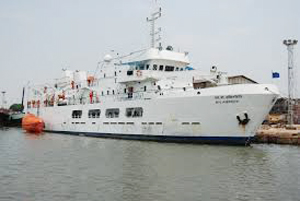 The fishing boat was in distress and sinking, 12.5 nautical miles South-West of Surathkal.

The call received by 12 Coast Guard District (Kavaratti) from Rabzsea at 6.20pm on Dec 5, Saturday that set in motion the SAR by Coast Guard.

12 ICG district received message that Rabzsea had collided with a shipwreck while on passage from old port, Mangaluru to Chetlat Island at Lakshadweep. Due to the collision, sea water was gushing into the after section of the boat andwas in danger of sinking.

The engine room too soon flooded, the boat required immediate assistance. 12 ICG district passed this to Indian Coast Guard Maritime Rescue Coordination Centre (MRCC), Mumbai for action on priority.

MRCC Mumbai instantly directed Maritime Rescue Coordination Sub Centre (MRCSC), Mangaluru at 3 Coast Guard District, Karnataka to undertake rescue of distressed boat. Three ICG District Karnataka sailed ICGS C-410 at 7.40pm to undertake the rescue. ICGS C-410, which is capable of doing speeds up to 40 Knots, proceeded at max speed and rescued all five fishermen by 8.25pm. The condition of the all crew is stable.

By coordination of MRSC, Mangaluru, one Coastal Security Police boat from Mangaluru also reached the site of the incident to render assistance. Another boat which was operating in the vicinity towed the half-submerged fishing boat Rabzsea to old port, Mangaluru. Commandant Gulwinder Singh, PRO of 3 Coast Guard District stated that boats travel to Lakshadweep from Mangaluru carrying essential supplies from old port at Bunder.

Write Comment
|

E-Mail
|
Facebook
|

Twitter
|

Print