IT documentation for Tulunaduís famous Bhootharadhane tradition
Mangalore Today News Network
Mangaluru, Aug 12,2017: IT geeks, who are deeply passionate about their roots, took up a self motivated project that showcases an ancient culture but in a format that is appealing to the future generation, and a new culture is born. A band of IT youth from Kudla has been documenting the ancient Tulunaadu tradition of Bhootharadhane for the benefit of the future generation. " Ours is a group of seven boys working in the IT sector in Bengaluru. But the love for our Tulunadu culture firmly binds us all and it was during the course of one such nostalgic intermingling that the idea to document one of our land's oldest art forms struck us. What actually compelled us was that many of our own people are still in the dark about its origins; you can imagine the what will be in times ahead," explained Sudhir Mudhrady, one of the members of the group that is headed by Nitesh Kuntady. Their pet project is titled Bhootharadhane - a documentary.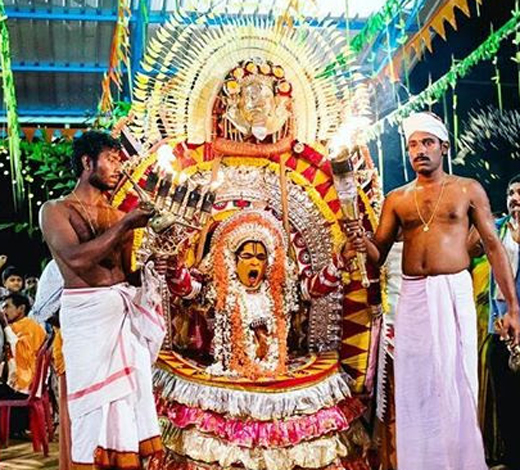 Intense study and research : A year has been spent by the group in its deep and detailed study of this much-revered practice and a brief film of the same has just been released. " To this point in time, only books and academic records have been put up on Bhootharadhane. No detailed visual representation has been done so far. Hopefully, we will be able to make a start in portraying its rich values," Sudhir said, with his friends has prepared a systemic approach to guide and move the project forward.


A visual and ethnic showpiece : The project commenced with a series of interviews with Ph D holders in the subject of Bhootharadhane. "We have also taken inputs from litterateurs and authors as they possess an in-depth and authentic knowledge on this," says Nitesh. Then, the team filmed all the prominent traditional Bhoothakolas of the Karavali region. It must be noted that with the change of times, this art form also took on a more ornamental twist as patrons from Mumbai started funding these performances. It has taken on pomp and showing off rather than retaining the ethnic flavour. The more recent troupes have not been included and only concentrated on documenting the older Bhootha kolas now here.

The time-tested ritual will now be showcased in an extremely appealing digital format to appeal even to the future generations. From the community that practices Bhootharadhane, to the rituals, the process, the places that are popular for kolas, every tiny aspect of this art form will be depicted. Since an older form of Tulu is used in these performances, strict care in conveying the essence in English subtitles is used. Nonetheless, it is a pride of documenting a cultural practice that is so rich and hope we have a hand in preserving its richness for the future generations, sums up Sudhir, who adds that they plan to release their work, episode wise for easy grasp and understanding by people.

Write Comment
|

E-Mail
|
Facebook
|

Twitter
|

Print