ISKCON to celebrate Janmastami tommorrow at TMA Pai Hall
Mangalore Today News Network
Mangaluru, Aug 24,2016: ISKCON, International Society for Krishna Consciousness, will celebrate Sri Krishna Janmashtami at TMA Pai International Convention Centre on MG Road, on August 25 from 9 am on till midnight.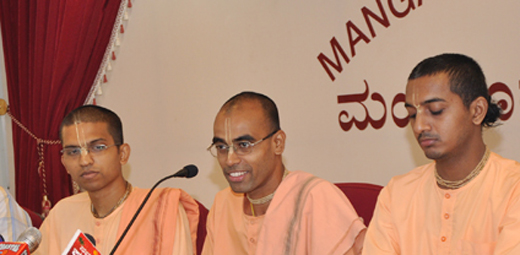 Addressing media in Mangaluru, ISKCON Nanthoor, Manager Nama Nishtha Das said that competitions for children and golden jubilee celebrations of ISKCON will be part of the celebrations.

"About 5,000 devotees are expected to attend the programme and the celebrations are open to the public. The Vedas and other holy Sanskrit scriptures explain that God is the all-attractive and dearest friend of everyone and, hence, the day of appearance of Lord Krishna is one of the most celebrated events all over the world," said Das.

"This year also marks the 50th year of the establishment of ISKCON, founded by Acharya A C Bhaktivendanta Swami Prabhupada. Over the last 50 years, the Iskcon has grown to have more than 600 temples, 100 vegetarian restaurants and 516 million books in print in 87 different languages. The society's international food relief programmes feed 1.2 million children each day in India alone," he said.

The Iskcon movement actually began in New York City and is rooted in the Gaudiya Vaishnava Sampradaya.

Sridhar Chaitanya Das, in-charge of the children competitions, said that the contests will be held between 10 am and 4 pm. Krishna Vesha competition (three years and above) and painting competition (five years and above) will be held from 10 am to 1 pm, Gita shloka recitation (five years and above) will be held from 2 pm to 3 pm, Gita quiz (10 years and above) will be held from 3 pm to 4 pm. The prize distribution will be held at 5 pm. For registration, people may contact: 9845261300, 8971044732.

A formal function will be held to mark the golden jubilee celebrations of Iskcon, from 6 pm to 7 pm. Nitte University Chancellor N Vinay Hegde, Food and Civil Supplies Minister U T Khader and Buntara Yane Nadavara Matru Sangha president Ajit Kumar Malady will be the guests.

Janmashtami celebrations will start from 7 pm. A play will be staged at 7 pm. A spiritual discourse (pravachan) will be held at 7.45 pm, Abhishek will be at 8.30 pm, another pravachan at 10 pm, jhulan utsav at 10.30 pm and Mahamangalarati at 12 midnight. Special prasadam will be distributed at 12.30 am, Sridhar Chaitanya Das added.
Sri Krishna vesha competition at Kadri today Aug 24 : Kalkura Foundation has organised various activities on the premises of Manjunatha Temple at Kadri Mangaluru on Aug 24, Wednesday to celebrate Krishna Janmansthami.
There will be gana vaibhava and drawing competition for children in the forenoon beginning from 9.30 a.m. In the afternoon, there will be Sri Krishna vesha competition for children under 27 categories from 1 p.m. The cultural programmes will be from 9 p.m. to 11.45 p.m. The argya pradhana will be at midnight, a release said.

Write Comment
|

E-Mail
|
Facebook
|

Twitter
|

Print