I will never allow anyone to mismanage or cause damage to Nethravathy: Anil Madav Dave
mangaloretoday News network
Moodbidire, Dec 30: Central Ministry for Environment, Forest and Climate Change Anil Madhav Dave said, 'Being a forest minister of this country, I will never allow anyone to mismanage or miss- behave with the Nethravathy, which is major source of water in this region. Any kind of mismanagement is highly condemned and central government never and ever supports this move.

He was speaking in the third day of the three day International Lake-2016 Conference, on Thursday, at Alva's College, Moodabidri.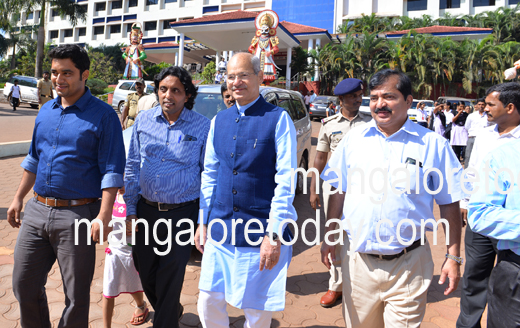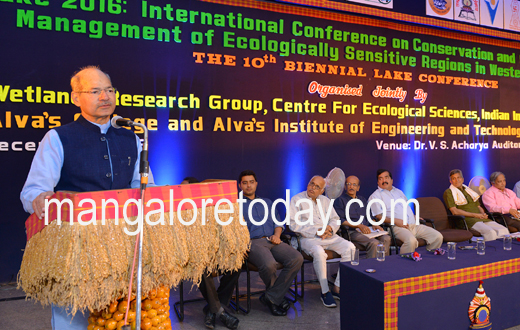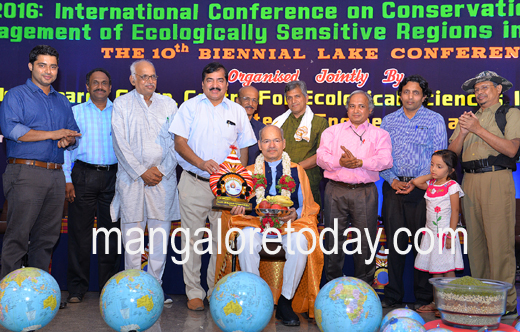 He said that only the Indian Society allows questioning without punishment and asked the students to question everything. He made clear demarcations about practicing and non-practicing people. Non-practicing people are those who give advice and find faults are a liability on earth. He said Gandhi and Kalam are the best example to follow in one's life. "If people don't practice, they have no rights to talk about the environment." He said that, "People who waste food from their plates, are criminals in the world of carbon emission." We must have our own discipline first. He lamented upon the fact that ministers these days don't execute their speeches. So he decided to lead us by example and said.

He requested people to have a soft corner about lakes, rivers and said choose any water body that is closest, involve more people and think about the conservation so that it is possible to utilize the water. He added and said; doing this work is next to meeting God. The guidance from the practicing people with purity and genuine efforts and the results will follow with a sense of satisfaction. He predicted our states to be, "We would end up holding a water bottle in one hand and an oxygen bottle in another." He said without doubt that the Western Ghats, the Himalayas, the North East are collectively the "Lungs of India." He asserted that "development and environment go hand in hand."

He promised stringent action as a solution against builders, bureaucrats, politicians who might come in the way of the conservation. He unveiled a new plan of monthly state wise "Environment Protection Calendar" to have practical involvement from the society. He urged the youth to utilize their power for the country and said to not to lose hope immediately as patience is difficult. He advised to stand up, have a voice and organize people for a worthy cause.

Alva's Education Foundation Chairman Dr M Mohan Alva, Lake 2016 Chairman Dr TV Ramachandra, Scientists Dr Subhaschandra, Dr Harish Bhat, Alva's Education Foundation Trustee Vivek Alva, Alva's College Principal Prof Kurian, Convener Lake 2016 Dr Rajesh were present among others.


Write Comment
|

E-Mail
|
Facebook
|

Twitter
|

Print