Hypocrisy! Age restriction not applicable to politician going to Gym
Mangalore Today News Network
By Narendra Nayak

Mangaluru, August 6, 2020: I am a senior citizen born in 1951 and like to keep myself fit through a diet and an exercise regimen. My BMI is 20.6 as of now. I have been a member of the Mangalore City Corporation swimming pool since 1990 and was using the gym of the department of youth affairs at Mangala Stadium when I had joined the pool. Later on after it was shifted I rejoined the gym 3 years ago because weight bearing exercises are needed to prevent bone demineralisation particularly for senior citizens.

All these facilities were closed in March, 2020 because of the covid 19 pandemic. In the last week of March I got a fever that lasted for more than a week with a sore throat with loss of appetite and some other symptoms of covid19. I was not eligible to be tested for covid19 at that time because I did not have a temperature of above 102*F or history of travel abroad or was the primary contact of a reported positive case. I still do not know whether I was ill because of that. However, I recovered with loss of weight and a little bit of breathlessness. That also caused weakness and now I am making up for it and thought will be good when I join the gym when it opens!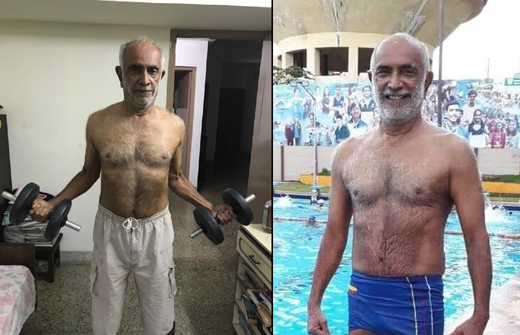 The gyms were supposed to open on the 5th inst, but when I went to mine they said they are waiting for detailed guidelines. But it looks like I will not be allowed to use it because the present rules prohibit anyone above 65 or below 10years of age or pregnant from using such facilities despite of my having paid membership dues upto the year end.However, those who are 64days and 364 days old can use it! I am sure that the same age limit will be applied to the swimming pool when it is opened! A number of rules for use like hand sanitization, use of masks etc have been made which are understandable and have to be followed by everyone. Besides checking for symptoms like fever, cough etc has been made mandatory.

If I show any of these symptoms, I will not be allowed entry! But the ban only on those above 65 is ridiculous because we see a 77 year old as a CM of Karnataka going around everywhere, a PM who is a few months older to me going into places where even corona positive cases are reported, I also see a nonagerian Rajya sabha MP doing active politics and also hitting the gym! While he and the affluent political class can afford to have their own facilities, we the common citizens have to depend on public ones, While I agree that we are more vulnerable due to co- morbid conditions, even those below 65 and have them are equally so! Saturated fat including desi ghee are bad for the heart, consuming sweets is bad for diabetes particularly for senior citizens but we do not see any sweet shops where they are not allowed or desi ghee shops where they will not be sold those or not allowed to consume them! Such decisions are all taken by the individual concerned and may be in consultation with their health care providers!

After all the inactivity of these months when I could do only some exercises for fitness, I was happy that the gym is going to be reopened but to my dismay I find that I cannot use it! The same type of rule was made for lawyers and one of them challenged it as it was a matter of livelihood for them and the govt of India said it was only advisory! Similarly going to the gym and the swimming pool (when it opens) are a matter of physical fitness for me and probably because of that I could survive the bout of illness of fever and other symptoms of covid19 though not proved!

So, I request that the decision whether to use or not to use the facilities which are open to all to the individuals concerned who could decide after consulting their health care providers than make rules which are not applicable to the law makers themselves. This is also discriminatory to a section of the citizens whose rights are being arbitrarily curtailed.


Narendra Nayak, is a senior citizen who wants to be fit and active

Write Comment
|

E-Mail
|
Facebook
|

Twitter
|

Print