Huge building blocks historical Tagore Park sea view
Mangalore Today News Network
Mangaluru, Mar 13, 2015 : Most youth who grew up in this city in past years will recall a historic monument and a famous park in the middle of the city around the much loved 'old lighhouse' . These are facing death throes, thanks to an ignorant, careless and corrupt MCC - Mangaluru City Corporation.
The historic Tagore Park, and the Old Light House, was a must-see spot for the public, giving a panoramic view of the Arabian Sea and a birds eye view of the city. Well, that's a thing of the past a monster has sprung up, blocking this scenic view fully forever.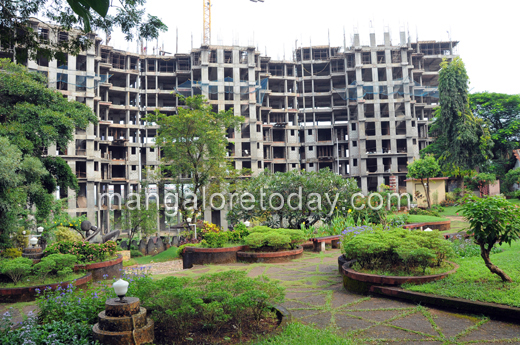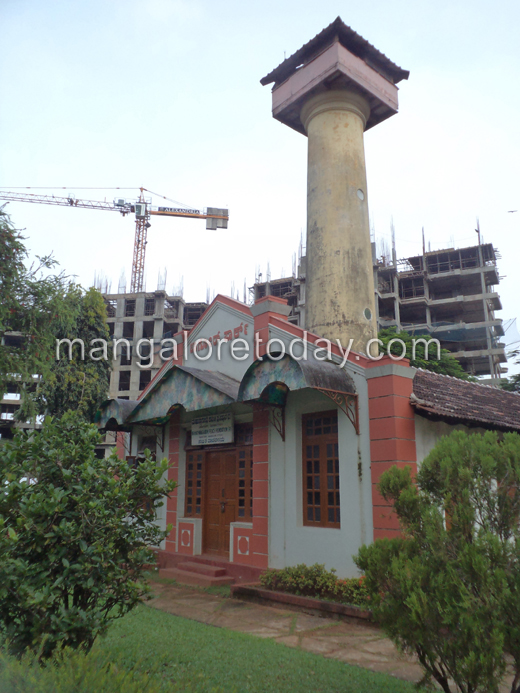 It also houses a historic monument - probably not seen in any other city - a lighthouse in the heart of the city. This was built by erstwhile ruler of Mysuru, Hyder Ali. The park also has a deeper significance: It is said that when Nobel laureate poet Rabindranath Tagore visited Mangaluru in 1922, he had sat down at this place to rest and also appreciated the view of the sea.

It must also be pointed out that one more classic city 'lighthouse' at Hoige bazar, over a 100 years old built by British, which can be a picturesque spot apart from guiding small craft and boats to the old port is facing extinction and is in a dilapidated condition now.

Ismail N, secretary, Mahatma Gandhi Peace Foundation, whose office is located in the premises of Tagore park , says that pleading with the mayor and corporation authorities has not helped. It's akin to talking to a wall. We have spoken to the previous mayor, now there's a new mayor. God only can help us citizens.

There is another angle to this official apathy. The park is in a dilapidated state. Funds are not properly released. The only bore well inside the park to water the garden is defunct. The motor which was taken for repairs three years ago, hasn't come back.

Workers maintaining the site find it very difficult to water the garden as the water supplied from a water tank nearby cannot be pumped futher. In the afternoons, dust blows into the park along with gunny sacks and rubbish because of the building. It is not covered, as they do for other buildings. Visitors also face problems when the sea wind blows landward during evenings.

Corporation town planning officer Balakrishna Gowda says permission for construction was given as the Mangalore Urban Development Authority had approved the plan. Asked if he doesn't realize the building is overshadowing the historic park, he becomes deaf.

The old and young familiar with the park, say, that this is the oldest park in the city, steeped in culture and heritage, apart from personal emotions of lakhs of local people and visitors. The city's strange development, is killing it's character and the building up is faster than expected and a death knell to this lovely city of old.

Write Comment
|

E-Mail
|
Facebook
|

Twitter
|

Print