Historic event to be marked at Kankanady cloister on May 17
Mangalore Today News Network
Mangaluru, May 13, 2015 : At media briefing on May 12, the Prioress & Community of 'Cloistered Carmel' opp Fr,Muller's Hospital at Kankanady Circle Mangaluru, released the progrrame information of the Historical Celebration in Connection with the rare spectacular event of canonization of the co-foundress of this Carmel Convent and who lived in Mangalore 1870-72. On May 17, 2015 Sunday, Pope Francis will raise Blessed Mary of Jesus Crucified (Sr.Mariam Baouardy) to Sainthood in the Vatican.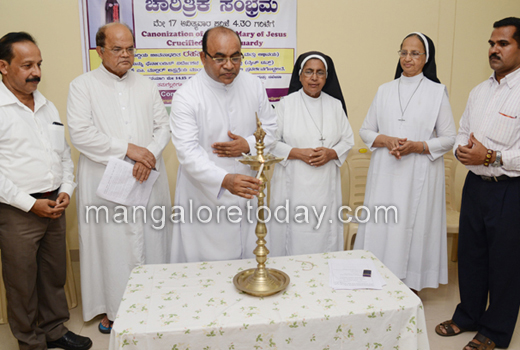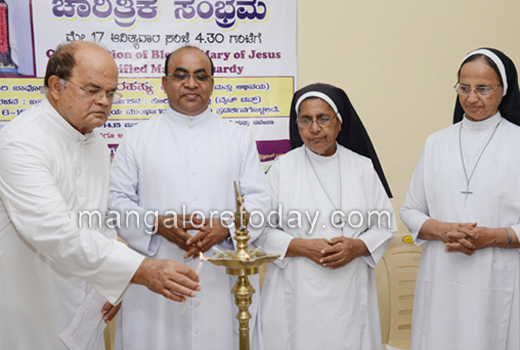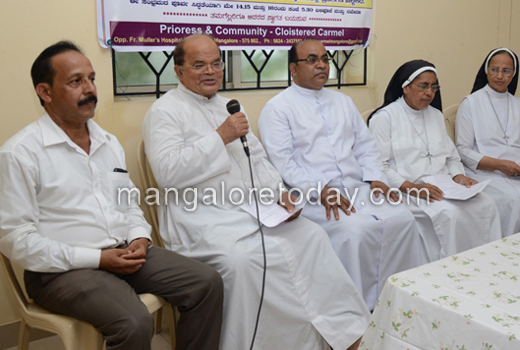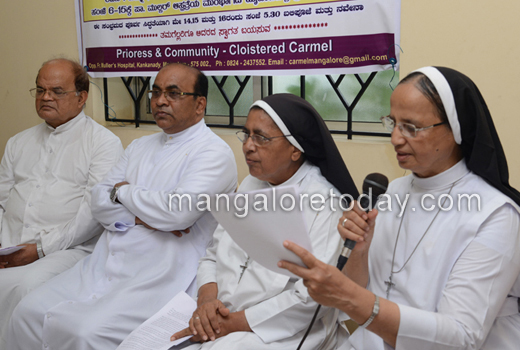 It was announced that there will be a preparation for this great event a Treduum (3 day prayer) on 14th, 15th, and 16th May 2015 at the Cloistered chapel here. Eucharistic celebration and special prayers will be held on these days at 5.30 pm.


On may 17th Sunday, the solemn celebration will be at 4.30 pm. Most Rev Dr. Aloysius Paul D'Souza Bishop of Mangalore will be the main celebrant.


At 6.15 pm following the Mass, there will be a 'light and sound' show on the life of the new Saint Mariam Baouardy named "Hidden Treasure" by the famous 'White Doves' group at the entrance ground of Fr.Muller's Hospital.


Bishop of Mangaluru Dr Aloysius Paul D'Souza will be presiding over the valedictory programme. Chief guests Msgr Denis Moras Prabhu, Fr Pius James D'Souza, Fr Joe Tauro, Fr Richard Coelho, Sr Linette, Fr Scervin, Sr Jacintha will be present. Guest of honour MLA J R Lobo, MLC, Ivan D'Souza, Roy Castelino and Elias Fernandes will be present. At the pressmeet Fr.Ravi Santhosh Kamath SJ made observations regarding the life of the new Saint.

The celebrations have been organized by sisters of cloistered Carmel, Apostolic Carmel, Carmelite fathers and Sacred Heart Fathers of Betharram. This event is indeed a spectacular historic happening marked in Mangalore at this ancient spot. A thumbnail history follows:

Pioneer Nun declared a saint

The announcement from the Vatican in April 2015 that a pioneer Carmel nun who lived in Mangalore, 1870 to 1872, is to be canonized on May 17, 2015 came with a lot of joy. Few would be aware of a unique and enigmatic French Arab Nun; " MARIAM BAOUARDY", her religious name "Sr Mary of Jesus Crucified" in 1870 came from France with a band of Pioneer 'Carmelites' and lived in the present Carmel Convent, St. Ann's, now in the centre of the city beside Rosario Cathedral one of the oldest churches of the region.

BRIEF LIFE :

This holy mystic MARIAM BAOUARDY, was born on January 5,1846 in Abelin, upper Galilee, as a result of her parents pilgrimage to the birth place of Christ - Bethlehem. Orphaned even before she was three she was adopted by relatives. She embraced many sufferings and developed a special love for religion and holiness. Her pious nature compelled the Carmel prioress to admit her as a novice nun and she was sent to Pau in France as part of the initiation in May 1867.

The following year the then 'Bishop of Mangalore' - Carmelite Marie Ephrem on his visit to the Vatican obtained permission and he mustered a pioneer group to serve India. Strangely, the fervent novice MARIAM BAOUARDY was the youngest chosen for this mission. Destiny thus directed her to India and Mangalore.

On November 19,1870 the courageous group after a grueling journey of near 100 days landed at Mangalore, via Madras (Chennai) and Calicut (Kozikode), the voyage sadly took the lives of four of the group not unusual in those times. Commencing their mission of prayer, penance and work for God's blessing on this region. They took up temporary shelter with the newly established "Apostolic Carmel" convent even now flourishing, not far from old port or 'Bundar' in Mangalore city center. St. Ann's convent as it is still called, was formerly the barracks of the British military and later, even when the convent opened the first Post Office of Mangalore was housed here. The tiny room or cell where the holy nun lived and prayed and the old oratory/chapel where on November 21, 1871 she took her first religious vows are treated as sacred and preserved even today. A memorial pillar is preserved beside the small plant that the saintly nun sat under meditating just out side her cell. Mariam was often referred to as the 'Little Arab' among her community.


In keeping with her vows, she was called upon to return to France and left Mangalore on September 23,1972. After an exemplary holy life in Pau,France; she was sent to her mother land where she laboured hard to establish a large convent in Bethlehem, the place of Christ's birth. She died at the young age of 33 on August 26,1879. The important convent she founded in Bethlehem, reflects her greatness today. Many miracles are cited. She was declared "Blessed" the final step before sainthood, on November 13,1983 at the Vatican. It is indeed a miracle that this holy Bl Mariam, has succeeded in the strict process of sainthood and the Vatican has announced her official 'Canonization' in the church on May 17, 2015.

TODAY IN TIME :

Time changes traditions and perspectives and a lot more. Since, 1882 the Cloistered Carmel Convent and Sacred Heart Chapel at the Kankanady Circle here, has been a veritable land mark with Fr.Muller's Hospital opposite. The majestic cloister a 'power house' of prayer and meditation, is a solace to the region. A small shrine, with a few spartan belongings relics of Bl.Mariam, was opened here a few years ago. Blessed Mariam Baouardy had a peak role in the establishment of this cloister the first here. It is a credit to Mangalore that holiness of this caliber whatever the roots or creed, inspires people for upliftment to greater heights. Even in these modern times, the prayerful contemplative nuns of Cloisterd Carmel are shut out from the world voluntarily to Glorify God in prayer and good works. Presently there are 13 nuns at this famous Cloistered Convent. In India it has given rise to 34 convents of this order of nuns. They are preparing with hopeful support for the big event. That another holy person, very soon after St.Joseph Vaz of Mudipu fame, who lived in Mangalore is a full fledged saint is indeed note worthy.

Write Comment
|

E-Mail
|
Facebook
|

Twitter
|

Print