Hinduism facing trouble from people within community too: Pejawar seer
Mangalore Today News Network
Mangaluru, March 02, 2015: All roads in the area lead to the sprawling Nehru Maidan in the heart of this Port city from noon on March 1. Speaking at the Bruhat Hindu Samajotsava organised by Vishwa Hindu Parishad and other organisations on the occasion of the golden jubilee celebrations of the Parishad at Nehru Maidan here on March 1.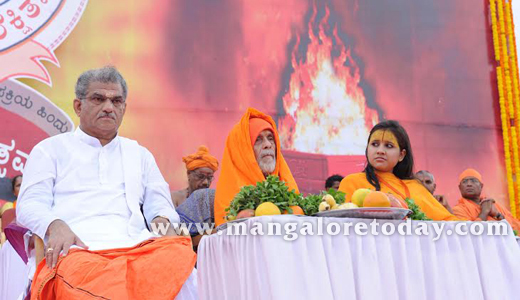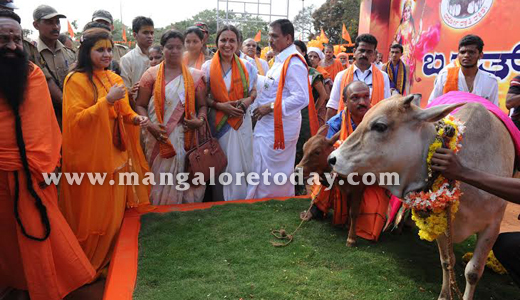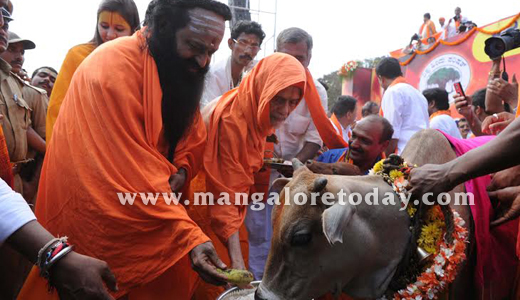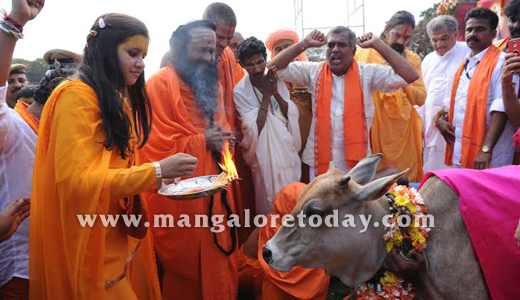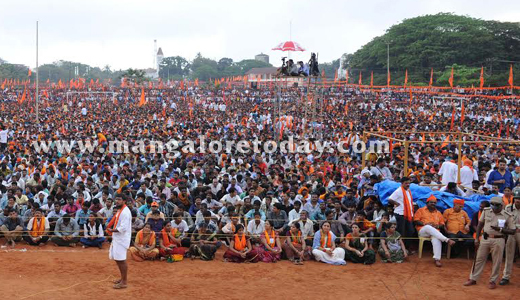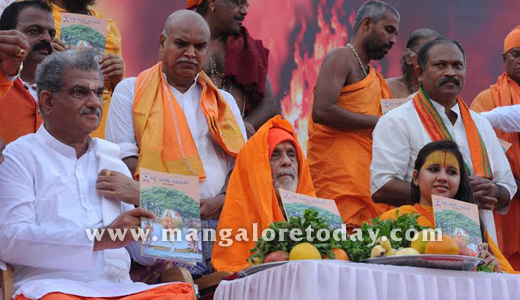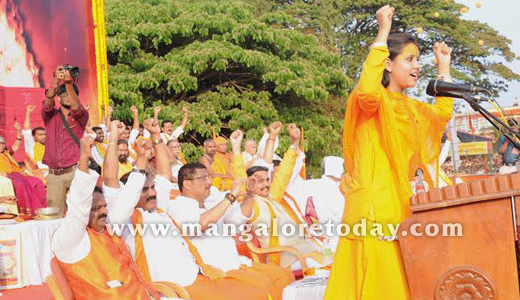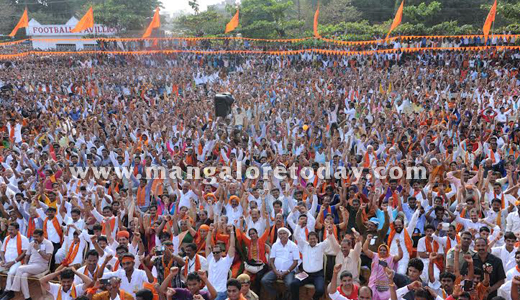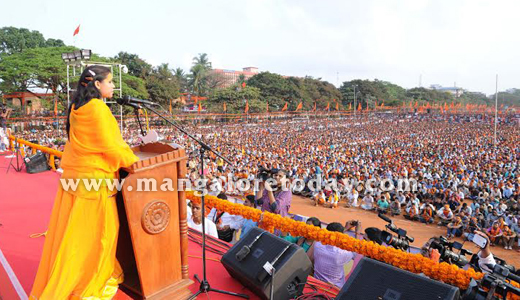 Udupi Pejavar Mutt seer Vishwesha Theertha Swamiji stressed that Hindu religion has not only suffered set backs from people of other communities, but chiefly from within the community which has diluted it's progress.

Bhagavad Gita considers everyone human and equal and it never disparages anyone due to his/her birth. It is the lack of knowledge of this sacred scripture, Bhagavad Gita, that causes the half educated man to behave inhumanly.
Those who consider themselves as intellectuals don't show courage to speak on Quran or Bible, but they just pass baseless comments on Gita. The Gita does not advocate a caste system based on people by their birth he said. He criticised those who oppose re-conversion of those who converted to other religions under pressure, due to poor moral standards and false perceptions. He held forth "I oppose conversion and re-conversion both, if it is by pressure," Meanwhile, the seer said that those who re-convert to Hindu community may select any of the caste of their wish, even the Brahmanism.

The seer appealed to Hindu youth to be ready to struggle for the community, and asked them not to attack other communities. Don't pelt stones on churches, let us work together for the upliftment of the poor of our own community.

Dharmasthala Dharmadhikari Dr D Veerendra Heggade said that Vishwa Hindu Parishad has performed a lead role in uniting Hindu society in the past 50 years. Committed dedication to Hinduism and harmony towards other religions should be our leading principle, he said. It has consistently organised many an activity for the financial and religious equality of people. Meanwhile, Heggade opined that Samajotsava was not just a celebration, but a forum to decide the future. Hindus should show its strength and unity when challenged and not otherwise.

The community must move forward on its ability to have positive thinking. The rituals and culture of the community should be developed rationally. The community should feel confidant and secure others should not feel insecure.

VHP Central Advisory Committee Member Sadhwi Balika Saraswati, in her keynote address, commencing with Kannda greeting 'Ellarigu Nanna Namaskaragalu,' going on to Strike a belligerent note, diametrically opposite to the other local speakers said that courts will not decide Ram Mandir issue, because it is the right of Hindus. Not one Owaisi, but the entire Pakistan cannot stop us from building Ram Mandir. "He should remember that Hindus can build Ram Mandir even in Islamabad," she said.

She said that laws are being held valid only for Hindus who are ever tolerant . "In a neighboring state and in Assam, I can see people performing Namaz five times a day blocking roads and traffic which is against law. They don't follow the orders of Supreme Court. They get subsidy for Haj pilgrimage, but we get nothing for Amarnath Yatra. Ghar Wapsi is being highlighted as a serious crime in media, but one can understand the pain only when our girls get converted into other religion overnight. Conversion is still going on in Jharkhand and many other states."

She opined that the community can stop cow slaughtering by not selling cows and treating them as mothers. Every woman should take care of at least one cow to stop cow slaughtering in the nation. Meanwhile, Dr Heggade released 'Amruta Sinchana,' a souvenir of Vishwa Hindu Parishad.

Resolutions : Two resolutions were passed in the Samajotsava including banning narcotic drugs in the district and another resolution to demand the Central government to implement a strong law to stop illegal cattle trafficking, cow slaughtering and religious conversion. At about 2.30 pm a huge procession from Ambedkar Circle (Jyothi) to Nehru Maidan with nine tableaus and thousands of people marked the celebrations.

Sri Rajayogi Ramananda Swamiji, Rajashekharananda Swamiji, Sri Charukeerti Bhattaraka Swamiji, Sri Jitakamananda Swamiji and others were present. There was a visible generation gap, with the young specially girls turning out in mod out fits. A shift in carrying forward the Hindu ethos in the region came to the fore with the youth participants in majority it seemed. The crowd consisting of a huge number of women and children, was seen as unprecedented, there was a relaxed atmosphere with a spirit of celebration all along.

Write Comment
|

E-Mail
|
Facebook
|

Twitter
|

Print