High temperatures heat up Mangalurians
Mangalore Today News Network
Mangaluru, Mar 27, 2015 : In 2014, last year, the city had recorded a maximum temperature of 37.4 degrees Celsius on March 17, close to the all-time high of 38.1 degrees Celsius recorded on March 13, 1985. Cloudy weather, prevails in the last few days and has brought down the mercury levels to some extent with the maximum temperature on March 25, at around 35 degrees Celsius and the minimum at 26.8 degrees Celsius.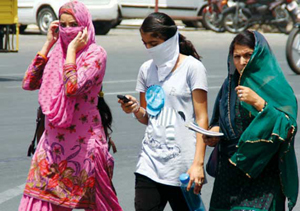 IMD - Indian Metrological Department has forecast that the maximum temperature might reach 36 degrees Celsius by the month-end with the minimum temperature reaching 28 degrees Celsius. The high temperatures in March and rain at isolated places were mainly due to a depression that ran from the Lakshadweep area to Gujarat and Rajasthan, according to the department. With no such depression at sight in the near future, temperatures are expected to remain normal.

NOTE : Coastal Karnataka is unlikely to witness more than the normal temperature in the coming days as it would start to get pre-Monsoon sea breezes from April (Westerly winds), according to Puttanna, who just retired as the Director of IMD, Bengaluru. Puttanna has predicted that temperatures in interior and northern Karnataka, however, are set to go up, beyond 40 degrees Celsius in places like Kalaburagi.

Health experts advise :

Drink a lot of clean water and avoid direc scorching sun to prevent summer illnesses. The coastal region has been experiencing increasingly hot weather in recent years. People should take several precautions, says District Health Officer, Dakshina Kannada.

Water may be supplied in tankers due to scarcity and it is a must to drink such water only after boiling and filtering. People should desist from consuming cut fruits and vegetables kept in open for sale.

Keep the body cool by various methods during summer, says a consulting physician with Vedam Ayu Ayurveda Multispecialty Hospital, Pandeshwar. Consuming Cummins juice ( jeerige kashaya ), boiled barley water, eating fruits and vegetables which have more water content, e g: Water melon, cucumber...etc., would keep the body cool. While unavoidably going out in the sun people should be protect themselves either by using umbrellas or covering the head with cloth cover. It is better to wear cotton clothes, preferably white.

Baths, twice a day preferably with lukewarm water is good. In case of sun burns, applying mixture of milk cream and turmeric powder before bath, would bring relief, he said.

Write Comment
|

E-Mail
|
Facebook
|

Twitter
|

Print