Hands-on science contest thrills city students
Mangalore Today News Network
Mangalore, July 28, 2014: The hands-on science contest - 2014 organised by the Science Forum of St Agnes College in association with Sunday Science School, Bangalore, and Centre for Advanced Learning, Mangalore, gave a rare opportunity for science enthusiast students to design an air powered electrical car by putting their creative ideas to test. Within the given limitations, they had to try their best to design a unique car.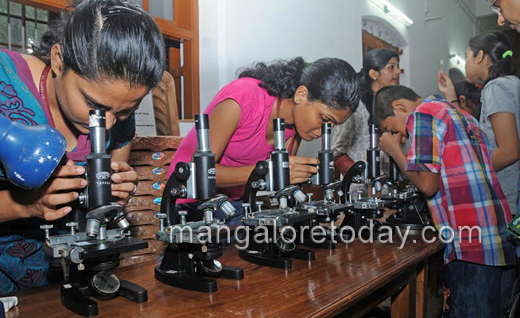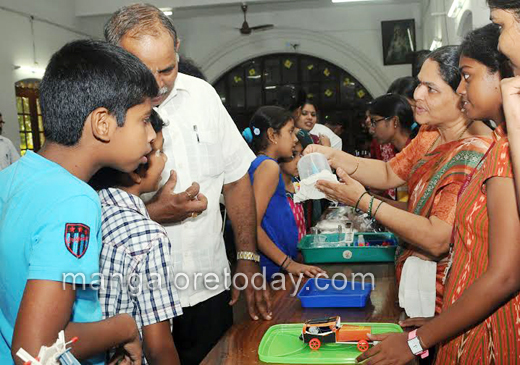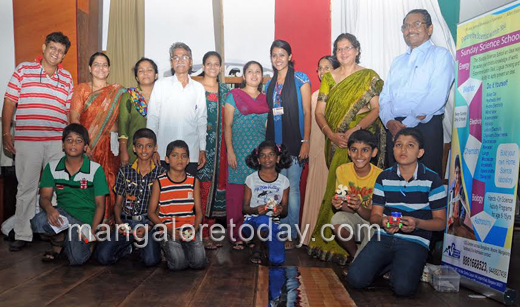 This provided an arena for the students to prepare the air powered electrical car under the theme 'to reduce pollution in the environment.' Over 80 students studying in class V to IX Std from various schools, had gathered at St Agnes College Auditorium July 27 with a zeal to do their best.

The participants were got a basic car making kit and instructions days earlier. The test was fro the students to put together a car that travels in a straight line on the specially designed tracks at the highest speed. Participants were permitted to modify the shape of the car and its wheels, use add-ons, change some functional components and aerodynamics was specific. However, they could not omit the DC motor provided in the kit and had to use 3V AA batteries only.

Expert engineers from Bangalore, Ravi and Ashwin, judged the event based on speed and other features of the model assembled. The participants demonstrated their models on the track provided at the venue as they were called up to do so.

One student from Delhi Public School, said that the contest was "awesome" , "Apart from displaying my creativity, I got a chance to know the ideas of others. I have not opted for add-ons to the car and have maintained it light so that it can move faster," he said.

Another student from Mount Carmel explained he tried to improve the model using balloons and modified propeller, but at the end had to retain the original version as his attempts did not work. "After all, science is all about experimenting and I am glad that I have experimented with this car model".

Programme Convener Prof Jayanth from the Department of Chemistry at St Agnes College, stated the criteria to select the best model was speed and design. "Though three participants are selected for the prize, our main intention is to sow the seeds of creativity among students".

Sadly some interested students were disappointed for not being able to participate in the contest since there were only a set number of kits available. The hurdles of life are existent every where.


Write Comment
|

E-Mail
|
Facebook
|

Twitter
|

Print