Grace time for helmets, Mangaluru pillions given 12 days
Mangalore Today News Network
Mangaluru, Jan 21, 2016 : The rule will be enforced from February 1, says Mangaluru city Traffic Police assistant commissioner of police (Traffic) Uday Nayak, who said that awareness among the general public about the need for pillion to wear helmets for safety is underway for now. Though the helmet rule, which mandates that all riders and their pillions have to compulsorily wear the helmets across Karnataka since Jan 20, Mangaluru riders will have 12 day grace time.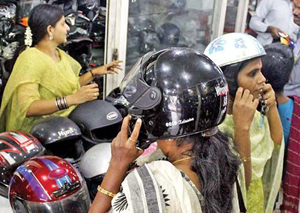 This temporary reprieve will also give the riders much needed time to purchase helmets. Surprisingly, the demand has not shot up and is slowly picking up. Owners of motor accessories say, no rush in demand, but stocks are good.

Regarding helmets for kids : ISI (Bureau of Indian Standards) helmets for children above the age of 12. For kids below the age of 12, there is no agency which manufactures ISI helmets. We have helmets even for kids below the age of 12 which are better than ISI certified ones. Even otherwise parents have ensured that their school going kids here have been wearing protective headgear (helmets) which are not ISI certified.

There are plenty of ISI helmets available in the market priced in the range of Rs 500 to Rs 1,500 for full and open face. Nayak says: In case customers feel helmets are way too expensive here they can get online at good prices. The moratorium will help them get the helmets online.

The helmets sold by local shops are expensive, one can search online for good deals. With Republic Day sales coming hopes to get good deals are better.

If pillion is found without a helmet, traffic police will levy fines on the rider and also crackdown against those wearing sub-standard headgear (without an ISI mark). While the first violation will draw a fine of Rs 100, a second one will lead to a penalty of Rs 300. Any subsequent violations could result in suspension of the rider's driving licence.

Regarding non-ISI helmets, Nayak said first the drive will try to ensure wearing standard protective gear. They should realise that skimping on a few hundred rupees will not only endanger their lives but also in the long run, the fine amount will be more than the cost of buying a ISI mark helmet.

Write Comment
|

E-Mail
|
Facebook
|

Twitter
|

Print