Govt to adopt SKDRDP de-addiction programmes
Mangalore Today News Network
Belthangady, Oct 5, 2014: Speaking to the office-bearers of Akhila Karnataka Janajagruthi Vedike at a workshop and felicitation rpogramme to people freed from alcohol addiction, organised by Vedike under the aegis of SKDRDP, at Belthangady on Oct 3, Health and Family Welfare Minister U T Khader stated, The government will formulate a programme for alcohol de-addiction on the lines of the de-addiction model developed by Sri Kshetra Dharmasthala Rural Development Programme.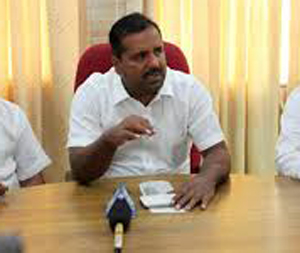 Apart from helping the alcohol addicted people to come out of the addiction, the government will also contemplate on introducing a programme to help addictionfree people to build a new life,
Minister Khadar, hailed the efforts of the Vedike in helping people to lead an addiction-free life, said that all the de-addiction camps in the State were private initiatives. The government too will adopt such efforts to introduce alcohol de-addiction programmes based on the successful model of SKDRDP.

Accordingly, the government will also plan to help those who have become addiction-free to start fresh new lives. It could also consider assisting them in availing banks loans in a hassle-free way would help them to build their lives, he said. He also instructed the medical shops not to sell medicines to the people, especially the youth, without prescription.

Earlier, inaugurating the programme Dharmadhikari D Veerendra Heggade hailed the decision of the Kerala government to ban the sale of liquor and batted for the Karnataka government to follow the same initiative. Banning the sale of alcohol will lead to reduced consumption and save a lot of resources, he said. Heggade also emphasised on the need to create awareness about the impact of alcoholism among youth, so that at least small percentage of youth become sober.

Vedike submitted a memorandum to the government with a list of demands including, withdrawal of the system of fixing excise target and gradually ban the sale of consumption of liquor, form a committee to make a scientific study on social and financial impact of liquor consumption, discuss with the district or taluk Janajagruthi Vedike before issuing license to liquor shops in village level, include chapters to create awareness about alcohol and other bad habits in textbooks.

De-addiction camps, gives hope : Narrating her story with her mother and father stood beside her, Chanchala said that her family suffered a lot with her father addicted to liquor. Chanchala stood on stage before the dignitaries and a large gathering at a programme organised by Akhila Karnataka Janajagruthi Vedike in Belthangady on october 3, confident. And there was a reason behind her confidence. Her father is now out of the alcohol addiction and her family was leading a happy and comfortable life.

Chanchala said "My family including mother and two sisters faced a lot of insult and hardship due to my father's addiction to alcohol. At times, we all felt like ending our lives. As my father used to spend all his earnings on drinking, I too joined the job to help my mother in managing the family," she said. Life changed for good after Mohan Poojary joined the de-addiction camp organised by Janajagruthi Vedike under the aegis of SKDRDP, where he overcame addiction. He quit consuming liquor one year ago.

Same is the story of another camp beneficiary, Kanthappa Poojary from Kashipatna. Explaining his story before the audience, he said that he had lost everything right from money to gold belonging to his wife due to drinking. "But, the deaddiction camp changed my mind and I am a different man now," he said. Amidst several stalls at the programme venue, there was one particular stall looked after by a beneficiary family. Honnappa and Yashoda couple from Ilanthila in Belthangady taluk, along with their son

" I was admitted to hospitals and underwent medical treatment, to quit alcohol addiction, I did not succeed. We had lost all our money and property due to drink. But, once I was admitted to the camp, I stopped consuming alcohol and since then I have been persuading others to stop drinking, now life is happy" he told media .


Write Comment
|

E-Mail
|
Facebook
|

Twitter
|

Print