Govt. Wenlock Hospital now equipped with new blood component separator
Mangalore Today News Network
Mangaluru, Dec 30, 2015: Government Wenlock Hospital here no longer depends on other blood banks in the city to separate platelets, red blood cells and plasma from the whole blood. It has upgraded its blood component separation unit to meet the demand for blood components among patients admitted in it and other needy persons. A report in this regard appeared in this web site recently.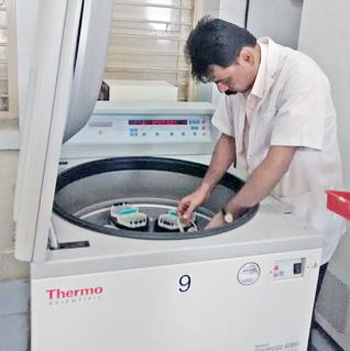 The Regional Blood Transfusion Centre at the hospital had been getting good quantity of blood units for patients admitted in the hospital. But, it had to rely on the blood component separation facility at blood banks in private hospitals.

Although the centre procured a blood component separator a few months ago, the capacity of the machine was too small to meet the demand. Moreover, this blood component separator stopped working a few weeks ago.

During a recent visit to the hospital, authorities highlighted before Health Minister U.T. Khader the need for installing a blood component separator of higher capacity. The Minister acted immediately on the proposal and a new machine was installed in the last few days.

Dr. Sharat Kumar, Senior Specialist at the centre, said new blood component separator helped separating blood components simultaneously from 12 blood units. After subjecting these blood units to nearly 10 minutes of centrifuge in the component separator, each blood unit is placed in another unit that separated packed Red Cells, plasma and platelets after removing leucocytes. With the new machine, the centre has separated blood component from 40 whole blood units. It now has 40 units of fresh frozen plasma, 40 units of packed Red Cells and 25 units of platelets. Dr. Kumar said that the technical problem in the operation of the old blood separation unit will be resolved shortly and it will further strengthen the process of separation.

H.R. Rajeshwaridevi, Medical Superintendent of the hospital, said that the centre was now capable of providing quality blood components to not only those admitted in the hospital but also other needy persons admitted in different hospitals in the district.

Write Comment
|

E-Mail
|
Facebook
|

Twitter
|

Print