Gandijiís Ahimsa, love for mankind is true Nationalism that made him Mahatma: Senthil
Mangalore Today News Network
Mangaluru, October 2, 2019: "Mahatma Gandhi did not become a Mahatma or Father of the Nation overnight. The principle of Ahimsa which he advocated as well as the love he had for mankind made him a Mahatma. This is true Nationalism," said Dakshina Kannada's former deputy commissioner Sasikanth Senthil who recently quit administrative services.

Senthil was delivering a talk on "Gandhi and Nationalism" during the inaugural of "Gandhi 150: Chintana Yatre" organised by Samadarshi Vedike and Gandhi 150 Birth Anniversary Celebration Committee in asosciation with various organisations at Shree Brahma Baidarkala Garodi on October 2, Wednesday.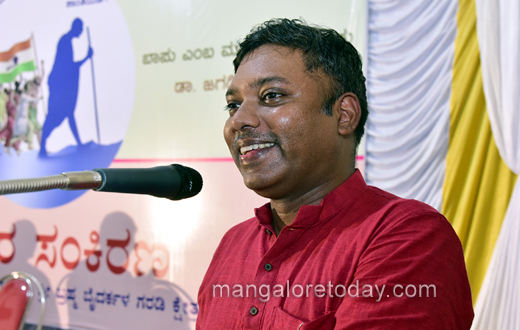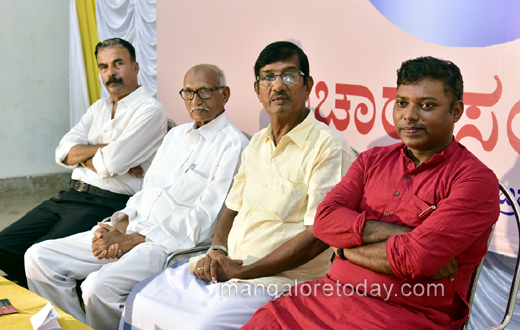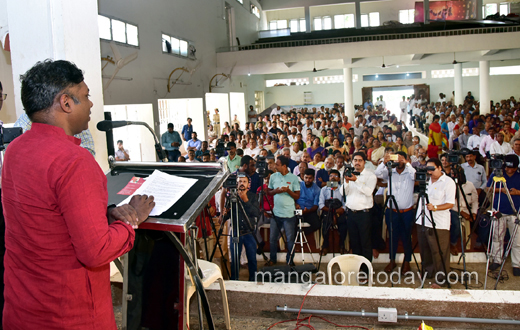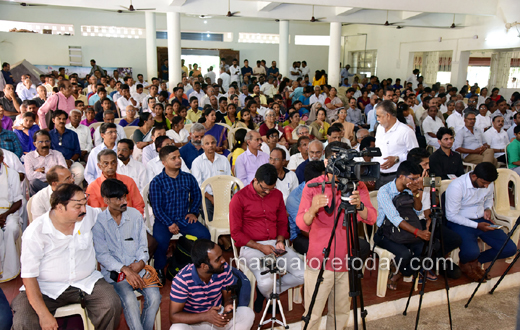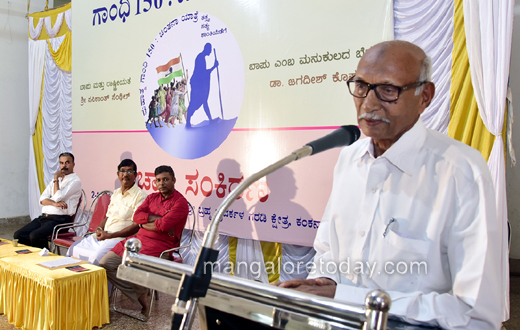 "Gandhiji became a Mahatma by treading the path of righteousness, he will always remain as the Father of the Nation," Senthil said.

"Gandhiji had never accepted Nationalism that encouraged violence ; he had succeeded in uniting the society through Ahimsa and his love for mankind. Be it Dandi March or Ahimsa movement, he always stood by these ideals. This is our true strength and not violence, the younger generation needs to understand this" he said.

Senthil said he strongly believed that Gandhian ideals and thoughts are the guiding lights of the society. "In 2001 when I was preparing for the IAS exams, I had decided to learn much about Gandhiji, It was then that I learnt that we can love Gandhiji, hate him, discuss about him or even target him. It was owing to this reason that I was greatly influenced by the Mahatma and his ideals," Senthil further added.

"Today we do not see the kind of Nationalism that treats human beings with love. Therefore Gandhiji is more relevant now than in the past. Gandhiji's Nationalism which advocates love for mankind is more important today for us and our children," said Senthil.
"A nation is a cultural and psychological concept where people have a sense of unity. The state is a political concept which has sovereignty, population, government and territory in it. There are nations that are divided into states and there are states with many nations within," he reminded.

"Nationalism is not showcasing the muscle. It is standing up for the underprivileged and protecting the diversity of land. These are testing times. We are witness to a time when many of us are asked to prove our nationalism through innovative methods. Sometimes you are asked to say a slogan in the praise of Bharath Matha, on which one needs to introspect," he stressed.

Journalist Jagadish Koppa delivered a talk on 'Bapu: A Guiding Force For Mankind'.

Thinker Jagadish Koppa, Garodi Committee President K. Chittaranjan, senior physician Dr Srinivas Kakkilaya and others were present.
Senthil says no to entering electoral politics

S Sasikanth Senthil, who recently resigned from the Indian Administrative Services (IAS), said that there were no plans to enter electoral politics.

He told reporters on Wednesday, "I am working at the grass root level, where I am trying to understand the problems faced by people in a better manner and looking at the role I can play in solving their problems."

He added, "I have been meeting people after I resigned from IAS. A distance was maintained when I was a public servant. Now, when I am with the crowd, I learn a lot. The interaction is enriching for me. My understanding of a problem is much different when I am with them."

The former bureaucrat also declared that he was better equipped to do good work and express his feelings. He said, "Dakshina Kannada has been the best place to work. The people and elected representatives in the district are good."

Senthil said that the decision to tender resignation was purely personal. "I took this decision as it was unethical for me to merely continue looking at the current issues that are bothering the country. There is no negativity about my resignation," he added.

'No change in decision'

"The government is yet to accept my resignation. It will take its own procedure and time. But there is no change in my decision," Senthil said firmly, adding, "In the past 10 years, I could not give time for my family. My wife is happy that I am able to spend time with her."

To a query on Prime Minister Modi being termed 'Father of the Nation', Senthil said, "It is not right to speak about it when we are observing the 150th birth anniversary of Gandhi. All of us have a right to speak. It is left to us to accept or oppose it."

Many officials who had worked with Senthil participated in the programme out of sheer respect for him.


Write Comment
|

E-Mail
|
Facebook
|

Twitter
|

Print