GP Polls: BJP backed candidates gain upper hand in Dakshina Kannada
Mangalore Today News Network
Mangaluru, June 6, 2015: BJP supported candidates have gained an upper hand in the Gram Panchayat elections in Dakshina Kannada district except in Mangaluru taluk where both the BJP and Cognress supported candidates bagged equal number of seats. The counting of the votes cast in the May 29 elections was held on June 5 and the process continued till late night.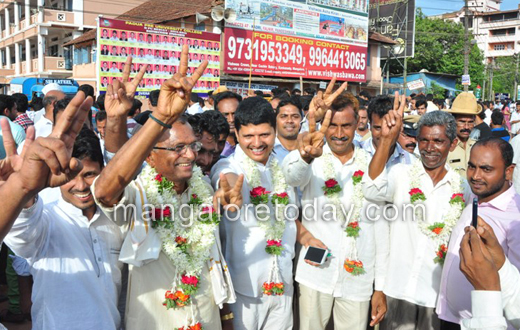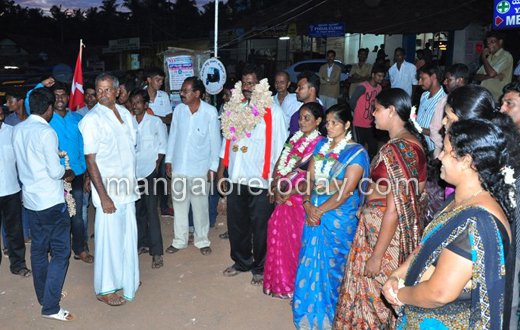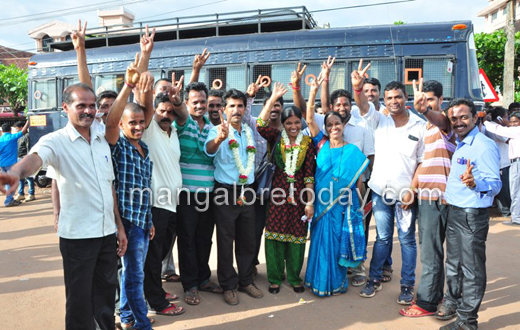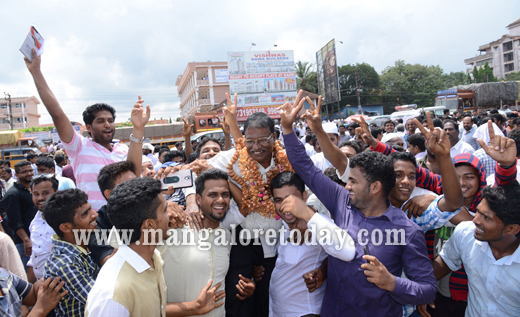 Of the 13 Gram Panchayats in Mangaluru (North ) six each went to the BJP and Congress, while one GP went in favour of the JD(S) supported candidates.

In Mangaluru constituency, Congress backed candidates won in eight Gram Panchayats while three went in favour of BJP supported candidates. BJP backed candidates won in 23 Gram Panchayats while 23 went in favour of Congress supported candidates.

There was a hung verdict in five gram panchayats.
In Mulki-Moodbidri constituency, BJP supported candidates won in 17 panchayats out of the total 31, while Congress backed candidates won in nine Gram Panchayats. In Muchoor GP and Muttoor all the 13 and 11 seats respectively went in favour of BJP backed candidates.

In Sullia,23 Gram Panchayats were wrested by BJP supported candidates, while Congress backed candidates had to be satisfied in five Gram Panchayats. Interestingly, in nine panchayats all the winners were BJP supported candidates.

In Bantwal, too BJP backed candidates gained an upper hand by winning 20 GPs while Congress won in 17. There was hung verdict in two other panchayats.

In Puttur,BJP won in 31 Gram Panchayats and Congress backed candidates in ten GPs namely Nettanigemudnoor, Badagannur, Nelyady, Kadaba, Bilinele, Mundoor, Narimogaru, Nidpalli and Balnad. In Uppinangady, the Congress and BJP backed candidates won in equal number of seats.

In Belthangady, 22 Gram Panchayats were won by BJP supported candidates, 17 by Congress supported candidates and JD(S) in one Gram Panchayat. There was a hung verdict in six GPs.

Highlights :
2 staff collapse at counting centre: At the counting centre at Padua High School in Mangaluru, two counting staff suddenly fell ill and had to be hospitalised. If a staff named Bhoja Devadiga collapsed and was rushed to the hospital in the morning, another staff named Shivaprasad too had to be hospitalised in the evening.

2 ZP members taste defeat in GP polls: Two women members of DK Zilla Panchayat who had contested the Gram Panchayat elections from Paladka and Balila had to taste defeat. The defeated candidates are Suneetha Sucharitha Shetty who had contested from Balila and Saraswathi Kamath from Mupperiya.

Vittal Malekudiya loses: Vittal Malekudiya, a post-graduate in mass communication and journalism who was arrested a few years ago on the charges of Naxal links, had contested from Naravi but had to face defeat.
13 ties:
While Mangaluru taluk had two at Belvai and Addoor, there was one in Belthangady taluk at Patrame. Puttur had one at Olamogaru and Sullia the highest at five at Sampaje, Jalsoor, Kalmadka, Amarapadnoor and Mandekolu. Bantwal taluk had four at Kedila, Kariyangala, Cheluru and Sajipa muda.

In Bantwal Taluk, at Kedila the tie was between Bharathi and Beefathuma where winner was beefathuma after draw of lots. At Kariyangala, the tie was between Kishore and Raju Kotian and winner was Kishore. In Cheluru, the tie was between Mangala and Shanthi pinto and the latter was declared winner. In Sajipamuda, between Srinath shetty and Hameed, the former was winner by draw of lots.


Peaceful Counting: Deputy Commissioner A.B. Ibrahim has informed that the counting process across the district was peaceful. However, the police had to resort to a mild lathi charge on a couple of occasions to quell the large crowd in front of counting centre in Mangaluru, but was of little help.
Gram Panchayat Elections Winners list

Seventh Round:
1.Kemral - Shesappa T Salian, Pramila D Shetty, Leela
2.Kemral 2 - Deepak D Kotian, Mayyadi, Sumalatha, Revathi Shettigar
3.Thenka Mijar - Prakash, Lakshmi, Karunakar Shetty
4.Permude - Pushpa, Ram Prasad, Violet Fernandes, Naveen
5.Kandavar - Amarnath Shetty, Harinakshi
6.Someshwar - Shailendraa, Sungandi, Harishchandra
7.Shirthadi - Rajesh Suvarna, Shobha, Santhosh
8.Valpadi - Pradeep Kumar, Ratna
9.Nellikaru - Sarswathi, Jayanth Hegde, Bharati, Uday
10.Someshwar - Raviraj, Novitha Gatti, Shalini V Shetty, Madhava
11.Someshwar - Sujatha, Rekha, Gopalakrishna, H Prakash


Sixth Round:
1.Kandavara - Mamatha, Giriyappa, Yadava
2.Kandavara 1 - Veena Teresa D'Souza, Adra Monu, Herold A J Lobo,
3.Belvai 4 - Sujatha Gangadhar, Narayan Amin, Manimala S Shetty, Bhasker Acharya
4.Permude - Geetha, Sashikala T, Sudhakar Shetty, Jagannath Shetty
5.Shirthadi - Ananda K, Tulasi, Latha Hegde
6.Kondemula - Pushpa, Jayanti, Ramananda Poojary
7.Someshwar 7 - Kishore, Hemalatha, Gopalkrishna Rao
8.Puthige - Nagaraja Karkera, Sashikala Rao, Vanitha Nayak, Nagaraj alias Nagavarma
9.Moodshedde - Vasanti Jogi, Vanitha Shetty, Anil Kumar
10.Moodshedde 8 - Poornima Ramesh, Ashok Shetty
11.Kandavara - Mamatha, Giriappa, Meena


Fifth Round:
1.Chelyaru - Jayashree G K, Rajesh Shetty, Yashodha, Latha
2.Bala - Sampa, B Adam, Francis Pinto,
3.Moodshedde - Vedavathi, Laxmi Janardhan, Yuvaraj
4.Bajpe - Lalitha Nayak, Lokesh Poojary
5.Yekkaru - Nafisa, Gracy Sequiera, Moideen Khan
6.Kilpadi - Gopinath Kodangar, Abdul Shariff, Savithri
7.Daregudde - Muniraj, Santhosh, Surekha, Pushpa
8.Padumarnadu - Sundari, Sampa, Yashodhara H, Srinath
9.Hosabettu - Vinoda, Laxmi Poojarthi, Manoja B Alvares
10.Belvai - Ashalatha, Anitha, Rolson Viraj Pais, Suresh K Poojary
11.Bajpe - Mamatha, Nazir, Umirath
12.Chelyaru 2 - Jyothi C H , Chandravathi, Jayananda Chelyaru
13.Kallamundkuru - Lazarus D'Costa,
14.Kallamundkuru - Yogini, Joachim Correa
15.Puthige - Sumithra, Subha R Hebbar, Sashidhar S Anchan Yenekripalla
16.Kinya - Mohammed, K B Abusale
17.Konaje - Babitha B, A Ravindra
18.Manjanadi - Hasiamma, Nalinakshi, Ismail Doddamane
19.Talapadi - Gopalakrishna Mylanta, Vasanti, Sitha
20.Harekala - Razia Banu, Cynthia Menezes, Abdul Mazid
21.Harekala - H Shalih,Abdul Sathar,
22.Adyar - Krishna Poojary, Prathima, Savitha
23.Thenka Yedapadav 4 - Gopala, Prema,
24.Paduferrar 2 - Sandhya, Bhaskar Malli, Lenny Fernandes, Noor Ahmed,
25.Adyar 4 - Sundar Suvarna, Yaqoob, Rekha, Tulai
26.Belma 5 - Bhavani, Vijaya, Sathish Kumar, Abdul, Razak
27.Pavoor 6 - Chennamma, Leelavathi, Mohammed Inoli
28.Pavoor 5 - Saina, Rufina Lewis
29.Someshwar - Yogish
30.Boliyar 5 - Jayanti Nayak, Abdul Jabbar B K, Abdul Shakoor

Fourth Round
1.Iruvail - Naveen Balipa, Jayashanker
2.Padu Panambur - Mohan Das, Vanaja, Sampavathi, Dinesh Kulal
3.Bajpe 1 - Yashoda, Nirel Fernandes, Trishul Shetty, Sudhakar Kamath
4.Bajpe 2 - Vamana, Suma Shetty,
5.Tenka Mijar - Geetha, Umavathi, Hariparasad Shetty, Hasanabba
6.Adyar 3 - Ganesh Rai, Mahabala Poojary, Nalini, Hemalatha Belchada
7.Boliyar 3 - Umavati, Vidhya Shetty, Rohinath Shetty, Satish Acharya
8.Konaje 7 - Gopika, Abdul Khader, Flavy D'Souza, C M Mohammed

Third Round:
1.Mallur- Abdul Lateef, M K Yusef, Sarojini,
2.Mallur 2- Meena Pereira, Hassan Bava
3.Mallur 3 - Demmale Ahmed Aliabba, Yamuna
4.Tenka Yedapadv - Geetha Nayak, Cheluvamma, Rukmaiah Nayak,
5.Athikari Bettu 2 - Sharada Vasanth, Sumati, Manohar Kotian
6.Athikari Bettu 1 - Sharada, Kishore Shetty, Dayananda Mattu
7.Malavoor 1- Abdul Khader, Prescilla D'Souza, Lakshman, Vinoda Poojarthi
8.Bala 1- Ranjini, Sowmya, Mohammed Sarfraz Nawaz, Bhaskar Rao
9.Ambla Mogeru 3 - Rajeeva, Dayananda Shetty, Reshma Mildred D'Souza, Mohammed Iqbal
10.Belma 3 - Mariamma, Sharmila, Aksa Usman
11.Someshwar - Sumati R Shetty, Veena
12.Kallamundkur 1 - Yashodha, Geetha Shetty, Vasanth Nayak, A Satish
13.Kallamundkur 3 - Prem, Sharmila Serrao, Sukhananda Shetty
14.Kinya 02- Kusuma, Ashalatha, K A Ummer Farooq
15.Kinya 03 - Hameed, Hasiyamma
16.Malavoor 3 - Seetha, Nazir,
17.Pucche Mogeru 2 - Gunavati, Micheal Noronha
18.Puthige 2 - Chndrashekar, Bharati
19.Badaga Yekkar 1 - Savitha, Sujatha, Vikram Mada
20.Manjanadi 9 - Malathi, Eliyas
21.Manjanadi 10 - Shamina, A M Ismail,
22.Tenka Mijar 3 - Rukmaiah Gowda, Lolakshi Karunakar Shetty, Devaki Gowdthi, Chaithanya Bhat
23.Niddodi 1 - Sunitha, Sundara
24.Kella Puthige 1 - Monappa Moolya, Yamuna, Sujatha
25.Belma 4 - Mohammed Kabir, Suhaila Usman

Second Round:
1.Kandavara_ Thimappa, Sumati Salian, Sunanda,
2.Tenka Yedapadavu - Jaji Mane Sanjeevi, Baby, Sukesh Shetty, Vittala Poojary
3.Padu Ferrar - Shalini, Sharada, Yashwant Poojary, Girija, Hemalatha, Devappa Shetty
4.Someshwar Purushotham, Mamatha, Nalinakshi, Gajanand, Shobha, Sujatha, Ramesh, Basheer, Shwetha, Shyamaraj, Vatsala, Devanand Shetty
5.Ikala - Divakar Chowta, Sundari Salian, Rajesh Shetty, Sundari, Ravindra, Rekha Shetty, Pavithra Prakash, Sudhakar Salian
6.Beluvai - Jayakumar, Vandana Prabhu, Shalini Achar, Sadananda Shetty
7.Boliyar - Zeenat, Rajeshwari, John D'Souza, Prashanth Gatti, Shambhavi
8.Munnur - Leela, Naveen D'Souza, Kiran Shetty, Ashalatha
9.Yekkar - Sheela, Sudeep, Suresh Shetty
10.Manjanadi - Seetha Nayak, K P Ashraf, Ismail, Sujatha, Prema, Abbas, Hassaina, Kunnibava, Anita, Abdul Khader, Kauser Banu, Harinakshi, Ibrahim, Padmavati, Stephen
11.Pavoor - Jayanti, Abdul Majid
12.Kilvadi - Sundarmulya, Dinesh, Srikant, Sunitha Acharya, Dhamayanti Shettigar, Shantha, Nagaraj, Yashoda
13.Belma - Yusuf Bava, Vinoda, Abdullah
14.Kemral - Nagesh Anchan, Hariprasad Shetty, Rohit Kumar, Malathi Achar, Mamatha Ramesh, Tulasi, Sudhakar Shetty
15.Eruvail - Vedavathi, Razak, Ashok Kumar
16.Shirthadi - Trishala, Sukesh Shetty, Latha, Zamila, Praveen Kumar
17.Paladka - Bhavani, Leeladhar, Venugopal Shetty, Praveen Sequeira
18.Nellikaru - Yashodha, Lalitha, Sundar Poojary, Harish Achari
19.Permude - Kishore, Vinoda
20.Moodshedde - Jayashree, Bhasker Amin, Harish, Umesh, Yogini, Hariprakash Shetty
21.Neermarga - Mamatha, Kishore Kumar, Sachin Hegde, Yashoda, Girija, Sashi Kumar, Abdul Hameed
22.Harekala - Mohammed Haneef, Devaki, Naseema, Mohammed Ashraf, Poovappa, Basheer
23.Bala - Vanaja, Sashikala, Sudhakar Shetty
24.Kilinjaru - Mohammed Sheriff, Razia, Bhavani,
25.Jokatte - Sulochana, Abubeker, Ravindra, Parvati, Sarasvati

First Round:
1.Paladka - Yenkappa, Sharada, Savitha, Felcy Pinto, Sathish Marla
2.Kandavara - Sharmila, Sumati Salian,
3.Paduferrar - Yamuna, Ganesh Sapaliga, Shantha
4.Tenka Yedapadav - Gangamma, Chandravati, Nagesh Nayak,
5.Ambla Mogeru - Kamala, Divya, Rajesh, Dhanalakshmi Bhat, Mohammed Rafiq, Manohar, Sunitha
6.Pavoor - Reema D'Souza, Vamana Sapaliga, Vivek Rai, Ravikala
7.Talapadi - Mohammed Farooq, Jaiunnisa Patel
8.Konaje - Rajeevi, Devendra Gowda, Lalitha Rao, Nazer, Gulabi, Geetha, Harishchandra, Catherin Fernandes, Mohammed Iqbal
9.Adyar - Kateeja, Abdul Samad, Surendra Kambli
10.Kemral - Asha, Sumati Poojary, Suresh Panja,
11.Belma - Hussainar, Nazeem, Razia, Abdul Sattar
12.Mennabettu - Sushila, Sunil, Margon William, Meenakshi
13.Ikala - Sarika, Sanjeeva Shetty,
14.Moodshedde - Geetha, Gopalakrishna, Rohini, M K Ummer, Prescilla D'Souza, Kishore Shetty, Pramila Shetty
15.Jokatte - Surendra
16.Malavoor - Kala, Sashikala, Lakshmana Bangera, Bojaraja Kotian
17.Kemraje - Sushila, Leena D'Souza, Mark D'Souza, Saroja, Sadiq. Sadananda Shetty
18.Yekkaru - Puspharaj Gowda, Mallika
19.Chelaru - Muddu Suvarna, Rekha, Pushpa, Roshan, Shanker Shetty, Puspha Poojary
20.Kinya - Malini, Mahabala Punja, Maimuna, Sirajuddin
21.Boliyar - Kamala, Riaz, Vidhya
22.Someshwar - Naveen, Manoj Kumar,
23.Munnur - Vanitha Shetty, Harish, Leelavathi
24.Thodar - Pramila, Praveen Kumar
25.Valpadi - Leela, Vasanthi, Lakshman Suvarna, Arun Kumar Shetty
26.Shirthadi - Sushila, Vivian Pinto, Christina Maria, Yashodhara Punja
27.Padumarnadu - Pramila, Vidhya Hegde, Ramesh Shetty
28.Beluvai - Jaya Kumar, Shalini Acharya, Vandana Prabhu, Sadananda Shetty
29.Hosabettu - Sunitha, Flavian Mendis, Yogish
30.Daregudde - Prashanth Kumar, Sunanda, Vanitha, Jayakumar, Subhashchandra


Write Comment
|

E-Mail
|
Facebook
|

Twitter
|

Print