Fr Dionysius Vas is the new Rector of St Aloysius College
Mangalore Today News Network
By Mahesh Nayak
Mangaluru, March 5, 2016: Father Dionysius Vas, SJ has been nominated as the new Rector of St. Aloysius College in the city. He will be succeeding Father Denzil Lobo, SJ who has been serving as the head of all Aloysian institutions since May 2013 and is completing a three year term.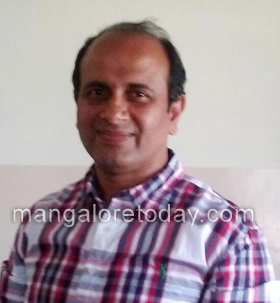 It is learnt that Father Denzil will continue to function in his position as the Director of Aloysius Institute of Management and Information Technology (AIMIT) from its campus at Beeri in the outskirts of the city.

Confirming the new appointment Father Swebert D'silva, Principal of St Aloysius College said the date of formal hand over of charge is yet to be announced. "The intimation of Father Dionysius appointment as the new rector came to us only last night. A formal announcement is yet to be made," he said.

Now running 52, Father Dionysius Vas hails from Mangalore. His father was the post master of Hampakatta PO and his family used to reside at Falnir. He is an alumnus of St Aloysius and was a batch mate of Class of 1969. Following his graduation, he went on to study psychology and counseling in USA.

Upon his return to India, he was initially engaged in the training of young aspirants for priesthood. Later he was posted to Bijapur as the head of the Jesuit Mission work there and was engaged in social work and in projects for helping the poor. His last designation was that of Superior of Bijapur Jesuit Mission.

Though the mission also runs a Pre University College and a Technical School, this will be his first posting in a purely academic institution.

His classmate Sumit S. Rao, former President of District Small Industries Association, remembers Father Dionysius Vas as an excellent student, a very good athlete and hockey player, and a voracious reader.

"Father Dionysius is very soft spoken person and has very good command over English. Class of 1969 is very proud that one of our classmates has risen to the highest position in our Alma Mater," said Sumit Rao, who has been organizing alumni meets for his class every year. Father Dionysius has attended some of these alumni meets, he said.

Rector is a term used to refer to the highest academic official in institutions of higher education. Rector of St. Aloysius Institutions is a non-executive post normally bestowed on Jesuits who have put in long years of service.



Write Comment
|

E-Mail
|
Facebook
|

Twitter
|

Print