Former MIA Director M R Vasudeva's Poetry 'Akaada' released by Dharmadhikari Vee
Mangalore Today News Network
Mangaluru, May 24, 2015: The Book release and dedication function on May 23, was gracefully presided over by Rajashri. Padmavibhushan. Dr D Veerendhra Hegede, the Dharmadhikari of Dharmastahla DK. 'Akaada' a collection of 50 unique poems authored by Sri M R Vasudeva, Former Director of MIA – Mangalore International Airport, and published by 'Marpalli Prakashana' Karangalpady Mangaluru at Subramanya Sadana Sabha hall on Jail Road Mangaluru.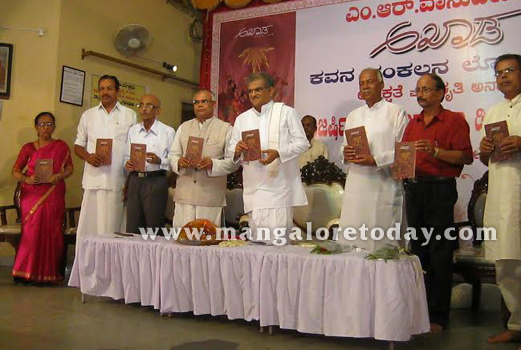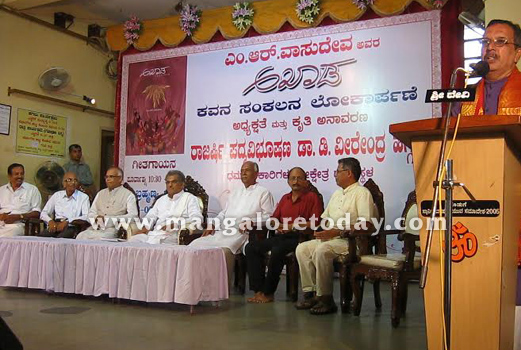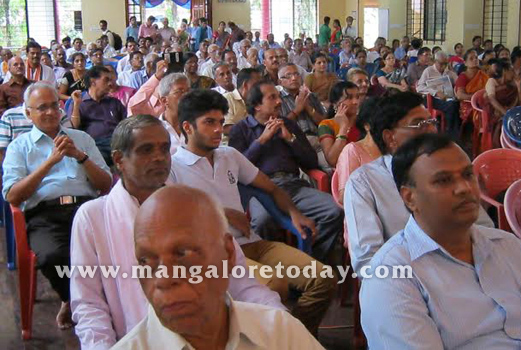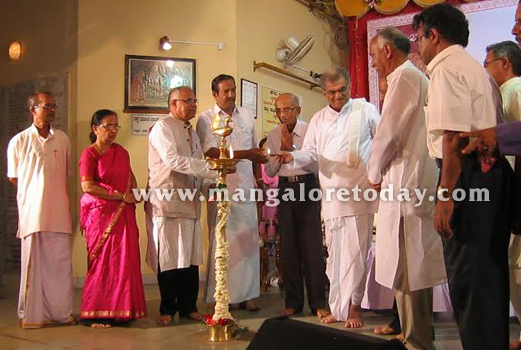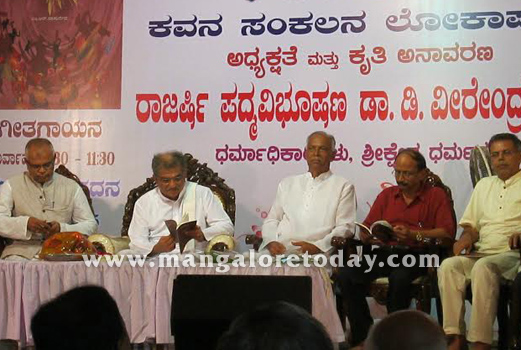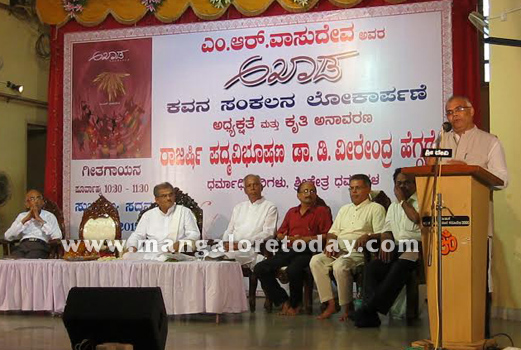 The Chief guests were Sri A Eswariah, Critic and Retired journalist Udayavani Manipal; Dr. Vasant Kumar Perla, poet, litterateur and Asst Director AIR Mangalore; Sri M R Sathyanarayana, Lawyer and Secretary IAS Coaching center , Shivamogga; Present were Sri R Gopalakrushna, Trustee Vistaar Bengaluru; Sri Harikrushna Punaruru, Former President Kannada Sahitya Parishad Bengaluru. A very large gathering of present and retired Govt officials, social personalities and general invitees graced the enjoyable function. The function commenced with recitation of a few poems by well versed musicians.


'Emotions recollected in tranquility is poetry'. The retired hard working and successful official, author of this maiden collection of poetry is the work of a great mind determined to continue contribution in a larger way to society. Sri M R Vasudeva, as his brothers who were present explained, comes from a devout and humble back ground born in Marpalli in DK but even from childhood moved all over the state and is now at home in any part of India by virtue of his service in the Central Govt. The author who saw life in the raw in theearly 1960's has come up by sheer education and hard work. He first earned an MA in statestics and has many degrees and diplomas earned through hard work all along his life; this includes a Diploma in Vedantha as well which has served well in his day to day life of truth and sincerity. His brothers are today in the pinnacle of their areas of service and have achieved a stature in the service of the society. It was the good fortune of MIA - Mangalore Internaional Airport that this illustrious person served here at a very critical time. As Director Vasudeva, has contributed a phenomenal quantum of incalculable assets to make it a leading airport in the country, it is evident from the very visible growth it has gained and the praise and international rating it has been awarded. Presently this great man is directed towards a balanced political service to common man and the cause of literature.


Light at the end of the tunnel……..seems to be the focus of this 70 page book of poetry as seen from its cover, which has to be read again and again. 'Akaad' when read by different types of people will be interpreted in very different individual perspectives. The 'allegorical metaphor' and 'philosophical' conundrum will spellbind readers in individually different ways in different states of mind and mood. As the various speakers of the day explained. Spontaneous flow of thought is the hall mark of this great thinker and Kannada linguist who has come to the fore to grow and multiply. The president Padmavishuna Dr. D Veerendhra Hegede lauded the authors contribution to the civil aviation scene of Mangalore for a good many years. After his retirement he has untiringly left no stone turned to serve the nation and it's people in various ways. Now here in this love gift and knowledge to Kannada litratrature Sri M R Vasudeva's true life goals have surfaced and be sure will go forward to great heights said Dr. D Veerendra Hegade in his presidential address which was applauded profusely by all present on the occasion.


The author humbly thanked the President and guests in warm terms and emotionally expressed that if many more people come forward to serve their fellow men with sincerity, kindness and effort Indaia can rise to greatest heights. In every body there is a special gift if these gifts are channeled and given a right opportunity every human can contribute very significantly and sustain a nation that is great from ancient times and at present is making it's mark in the world arena in ways hitherto unimagined. Nothing is just chance everything is a design of the 'Parameshwar'. This book of poetry will surely contribute in more ways than one.

Write Comment
|

E-Mail
|
Facebook
|

Twitter
|

Print