Former DK DC Senthil to launch satyagraha stir against NRC, CAB
Mangalore Today News Network
Mangaluru, Dec 11, 2019: Ex-DK DC, former IAS officer Sasikanth Senthil lashed against the passing of Citizenship (Amendment) Bill in the Lok Sabha and declared that it was a darkest day in the history of modern India.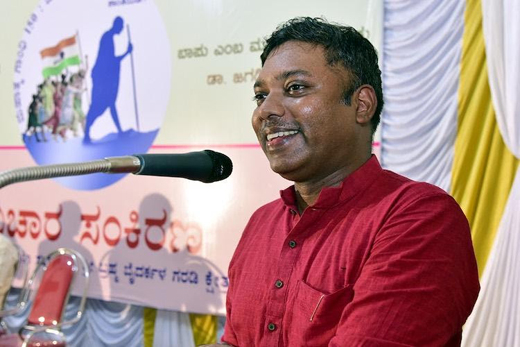 Sasikanth Senthil, in a letter to Union Minister for Home Affairs, declared on launching a "Satyagraha" or civil disobedience against the CAB and the NRC. He declared that he will refuse to accept the process of enumeration in NRC by not submitting the requisite documents to prove citizenship and will be ready to accept the action taken by the Indian state for disobedience.

He said; "If the state chooses to declare that I am not a non-citizen, I will be happy to be thrown into the many detention centres you are building all over the country. I am sure that every citizen of this great country will relate to my feelings and follow the path shown by our father of the nation in South Africa in fighting a draconian law aimed at dehumanising people for political gain."

In his tweet, he said; "I should remind that irrespective of the status of the CAB, the idea of an all India NRC by itself is a dehumanising effort. We as people of the country should now stand up for all marginalised."

In his letter, he said, "Your vehement defense of the bill on the floor of the house revealed a lot about the core ideology of hatred that drives your government. I feel completely ashamed that as a country we have let down our Muslim, Adivasi brothers and sisters and have not succeeded in assuaging their fears about the secular ethos of the country."

Further, he said, "The passing of this bill in the Lok Sabha has left a deep scar in the belief of already marginalised people, and along with the NRC, is surely an attempt to profile Muslims and adivasis akin to the Asiatic Registration Act in South Africa and the Nuremberg laws of Germany."

He also advised the Central government to increase the capacity of the detention centres. "Many of us will fill it up before you succeed in your agenda," he said.

"In the coming days you will realise that this country is made up of people who will stand up for one another and will fight every attempt by any authority to divide us...," Senthil declared. The recent action in this regard gas been creating a serious concern all over the nation.

Write Comment
|

E-Mail
|
Facebook
|

Twitter
|

Print