Forest cover in Gundia river catchment down by 10 p.c.: report
Mangalore Today News Network
Mangaluru, Sep 19, 2015 : Area under forests in the Gundia river catchment in the Western Ghats has reduced from 70.74 per cent to 61.15 per cent in the last one-and-half decade, according to a recent report from the Indian Institute of Science (IISc), Bengaluru. The Yettinahole is a tributary of the Gundia.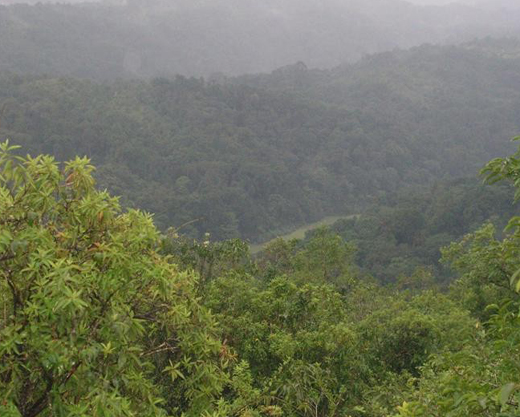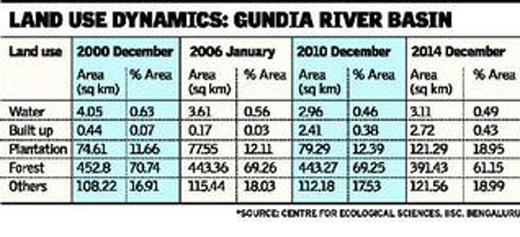 The report titled "Environmental Flow Assessment in Yettinahole. Where is 24 tmcft to divert?" has also pointed out that water yielding area in the Gundia river catchment has shrunk from 0.63 per cent to 0.46 per cent during the same period.

Contrary to the claims of some political leaders that the Yettinahole diversion project is not meant to divert the Netravati river, the report from the Energy and Wetlands Research Group, the Centre for Ecological Sciences at the institute, points out that the Yettinahole finally joins the Netravati through the Gundia river.

The report said that the Yettinahole is one of the perennial water sources in the Western Ghats.

It said: "Yettinahole, originating at an altitude of 950 m in Sakleshpur taluk of Hassan district, is a tributary of the Gundia (which joins the Kumaradhara) and finally drains into the Netravati."

It said that the Gundia is formed by two streams — the Yettinaholé and the Kempuholé. Then, Gundia is joined by two more streams — the Kadumaneholé and the Hongadahalla — to form a river course. The Gundia catchment region is surrounded by the Hemavathi river watershed on its right, the Barapole river catchment on its left and the Netravati in the downstream.

The report, released in April, said that the area under forests in the Gundia river catchment has been reduced by 61.37 sq km that is from 452.80 sq km in December 2000 to 391.43 sq km in December 2014.

Water yielding area has shrunk by 0.94 sq km, from 4.05 sq km to 3.11 sq km, during the same period. At the same time, the report pointed out that the area under plantation went up by 46.68 sq km in area, from 11.66 per cent (74.61 sq km in area) to 18.95 per cent (121.29 sq km in area).

It said that a sustainable option to meet the water requirements of arid regions is through decentralised water harvesting (through tanks, ponds, lakes, etc.), rejuvenation or restoration of existing lakes/ponds, recharging groundwater resources, planting native species of herbs and plants in the catchment, and implementation of soil and water conservation through micro-watershed approaches.
Courtesy :The Hindu

Write Comment
|

E-Mail
|
Facebook
|

Twitter
|

Print