Flood victims lose homes, farmlands, stranded in hills
Mangalore Today News Network
Sullia, August 19, 2018 (DHNS): Continuing rain and landslides have left several families living on the hills homeless. About 18 houses were reportedly damaged on August 17. About 200 people were shifted to temporary shelters in Kallapur, Parapu, Panemangaluru, Kasaba and Kulkunda. Several acres of crops were flooded in Puttur, Kadaba, Belthangady and Sullia Taluks.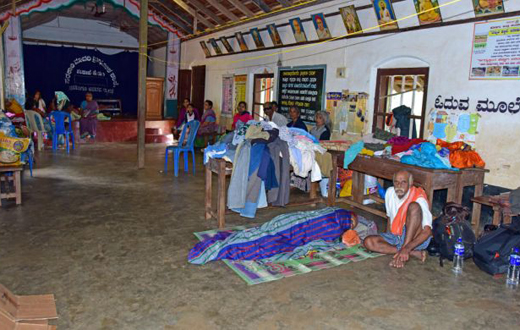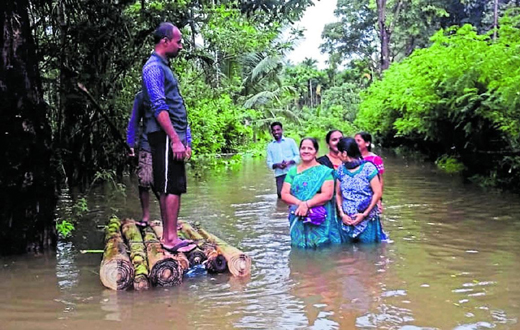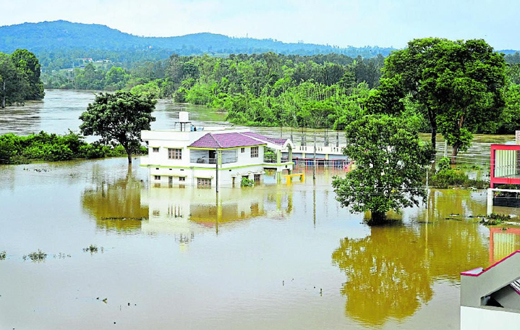 At the gruel centre at DK ZP Government Higher Primary School at Sampaje, the victims were seen worrying over the condition of their houses and farmlands.

A victim rescued on August 18, Saturday, said, "Landslide hit our house. We were staying at our uncle's house and were cut off from others. Today, we were able to reach out to our relatives who in turn informed the toll-free number to rescue us."

Another lady victim, said, "Landslides are occurring at Monnangeri regularly. We were stranded at home. Now, we have left all our cattle, dogs to fend for themselves and are staying at relief camp."

Another victim taking shelter at the gruel centre, said, "On hearing a loud thud (of a landslide), I along with my daughter, who is studying in Class IX, we ran for life. We have left behind our dog, domesticated fowl, cat, cash, gold ornaments back at home. I have household things worth Rs 10,000 at home. I do not know whether my house is still intact, and what would have happened to my cattle and dogs."

A worried lady said, "We heard a huge sound all of a sudden at 9 am on Friday. In fact, even now the sound reverberates in my ear. We (four members of the family) ran for help. We were later rescued by the Sampaje panchayat officials. We do not know the fate of our house and arecanut trees. We had felt tremors a few days ago in the region," she said.

"Sensing danger, we left our house. We do not know what is the condition back home."

Meanwhile, a team of 14 doctors from KVG Medical College are camping at the gruel centre taking care of the medical needs of the victims. a doctor said, "There are patients with diabetes, hypertension and fungal infection in legs, who are being treated at the centre."

Village accountants of Sampaje and Sullia, Ramesh and Shivaraj, respectively, who are overseeing arrangements at the gruel centre, said, "The donors have supplied rice and vegetables to the centre. The food is cooked at the centre for victims.

"The local residents and the youth organisations are lending a helping hand. Even the sandals, clothes, bedsheets are supplied to the victims. We are supplying even hot water for bathing infants at the centre."

Stranded on hills rescue awaited :
The trauma of floods and having lost their houses before their own eyes, the people of Kodagu have been fending for a way out to save their lives. While some have abandoned their homes out of fear and have been searching for places of shelter, many others are still stranded on the hills, desperately waiting for the floods to recede. There is no access to food in remote areas.

Hundreds of people were rescued by the disaster management team, comprising military personnel on August 18, Saturday.

Kaveramma, who has been sheltered in the gruel centre at Omkara Sadana, said she was dwelling on the hill at Makkandur.

Her family members, who were preparing to go to work, witnessed a couple of landslides on the hill. Anticipating trouble, the family members rushed out of the house grabbing the necessary items and reached the other side of the hill. There were hundreds of people from several other families too, who ran out of their houses. Another labourer woman said that they had built a house in 1991, after lot of of effort. The entire hill on which the house was built has been washed away.

A lad studying in class 9, said the whereabouts of one of his friends were not known. He said his friend was living with his mother. "Please help me find him," he said, at the gruel centre.

Thousands of hectares of coffee plantations have been washed away.

Local people fear the worst as hills face the threat of collapse. People have been spending sleepless nights. Hoping to find a suitable shelter, they are bound for Madikeri. All gruel centres are packed. It has been estimated that more than 1,000 houses have collapsed and thousands of people have been displaced in the district. Several villages have been washed away completely.

Write Comment
|

E-Mail
|
Facebook
|

Twitter
|

Print