Fishermen enraged over Government funding provision
Mangalore Today News Network
Mangaluru, Feb 18, 2018: Maximum assembly constituencies of Karnataka are on the coast in the three districts of Dakshina Kannada, Udupi and Uttara Kannada, having a sizeable Mogaveera (fishermen community) population, the 13th budget of Siddaramaiah has doled out some goodies to fishermen like subsidy for nets, cold chain storage facilities and low-interest loans, with an eye on the ensuing assembly polls.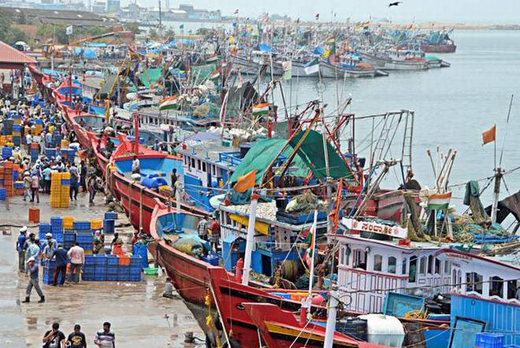 Schemes mentioned in this budget have not enthused fishermen who are in the low and middle income groups. The budget set aside Rs 2.5 crore to provide 35 mm square meshed nets in the cod end, free of cost, to 2,500 trawl boats at Rs 10,000 each, for this purpose. A prominent fishermen community leader said this was probably influenced by fisheries minister Pramod Madhwaraj, who had chaired a meeting to ban bull trawling and light fishing. Sources say those engaged in bull trawling use 22 mm nets which catch juvenile fish, affecting marine bio-diversity. "Those involved earn crores through bull trawling. Do you think a mere Rs 10,000 will force them to use 35mm nets?'' they questioned, saying the proposal will not have many takers. They said the nets cost Rs 40,000 each, hence the subsidy works out to only 25%.

Regarding establishing 10 cold storage units at an expenditure of Rs 10 lakh each, under the 'Mathsya Jopasane Yojane,' for fish sellers to preserve unsold fish in cold storage units in fish markets, they said it should have been done a decade back. "We now get sardines and low-value fish which do not require cold storage. The premium quality fish available is not enough to preserve them in cold storage. Instead, the budget should have laid emphasis on setting up Kulai Jetty and upgrading Bunder Jetty, which is the need of the hour,'' fishermen said. ""Moreover, each cold storage unit will cost close to Rs 90 lakh, and the subsidy amount will work out to 10% of the actual cost, which is not encouraging," fishermen said.

However, they say the loan being given from commercial/rural regional banks will help fish sellers. Farmers in Bantwal taluk welcomed the move to construct a vented dam to prevent salt water from intruding into the Netravathi river at Harekala.

Konkani cultural activist Eric Ozario welcomed the government's move to establish a Konkani Study Chair at Karnataka University, Dharwad, at a cost of Rs 1 crore. "But it should fulfil its objectives, unlike the chair at Mangalore University,'' he remarked. The tourism industry was not enthused with the house boats and floating canteen facilities mentioned in the budget, saying the proposal's effectiveness will only be known when concrete details come out.

Write Comment
|

E-Mail
|
Facebook
|

Twitter
|

Print