First timer Vedavyasa Kamath moves in the name of Modi
Mangalore Today News Network
Mangaluru, May 08, 2018: On May 7, Monday when 40-year-old D. Vedavyasa Kamath, BJP candidate in Mangaluru City South constituency, began his campaigning in the Ashok Nagar area.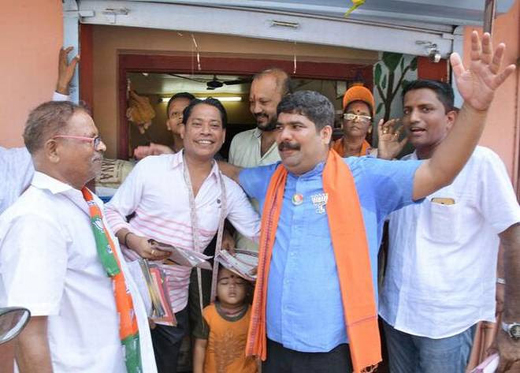 He, along with his party activists, straight away entered Sri Ramanjaneya Bhajana Mandir in Ashok Nagar. After praying before the presiding deity and taking prasada from the archak there, it was day-out for Kamath.

The candidate walked through the area with party supporters holding two huge party flags and sets of handouts.

"Vote for an youngster like me. Give me a chance," he appealed to men and women with folded hands and handed over a set of handouts as they opened their doors. He spoke well of Prime Minister Narendra Modi's work at every house and shop he stopped.

Asking people to analyse PM Modi's administration and appealing to them to vote for the BJP, he raised a slogan in favour of Modi and Bharat Mata.

The Modi card appears to impress many as they also joined him in raising the slogan, while some simply smiled and some said "jai". Seeking the blessings of many voters in the area, he also bowed down to several middle-aged and senior citizens in paying his respects. Though some embarrassed by it, withdrew immediately, he ensured that they too raised the slogan along with him.

The handouts contain details about his proposed projects for the constituency, the funds released by the Union government for Dakshina Kannada in the past four years, and also an introduction of his to the voters.

A senior citizen Kamalaksha told Kamath at Ashiyana Layout: "Don't forget to visit us after the election. Come here every month like this."

Smiling and nodding his head, Kamath returned as a woman in the house complained in the background: "We don't get water proper supply."

During his door-to-door visit, Kamath met Vijay Rao, his classmate in school, and hugged him. So was it with Rajendra, an automobile mechanic, whom Kamath said he knows him from his school days. In Chanda Chandeshwari Kshetra, a temple, a Class VIII student Nihal took a selfie with Kamath.

After having breakfast at about 10.30 a.m. in a friend's house where the house warming ceremony was going on, Kamath headed towards a newspaper office where an interview had been fixed.

After an hour-long interview there, he went towards the government offices in the Public Works Departmnt building in the Hampankatta area and the Commercial Tax Office seeking votes, before taking a break for lunch. In the evening, Kamath visited the Bengre area seeking votes of fishermen and others.

Write Comment
|

E-Mail
|
Facebook
|

Twitter
|

Print