First seer of Sri Rajarajeshwari Mutt of Kshatriyas gets 'Sanyasa Deekshe'
Mangalore Today News Network
Udupi, July 12, 2016: Bharatharaje Urs was renamed 'Sri Vishwadhiraja Theertha Sripada' by Paryaya Pejawar Mutt seer Sri Vishwesha Theertha Swami after accepting 'Sanyasa Deekshe'.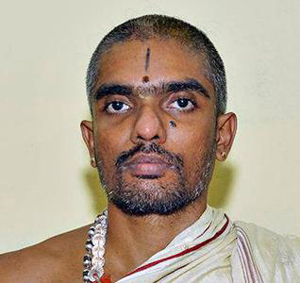 Sri Vishwadhiraja Theertha Sripada was now considered as the 'peethadhipathi' of the newly-established Sri Rajarajeshwari Mutt for Kshatriyas. The 34-year-old new seer, who is an electronics and communication engineer from MIT, Manipal Institute of Technology, hails from Chikkamagaluru.

His parents are Hemraj Urs working in MCF, Mangaluru, and mother S P Jyoti, a former employee of Health Department. The pre-rituals of the ceremony began from July 9, Saturday and were led by priest Gopalakrishna Acharya.

On Saturday, rituals like 'Pavaman Homa' and 'Tarpana for God and Goddesses' were held. These rituals are held to make him come out of the guilt or sin committed in the life time prior to the 'Sanyasa'. On Sunday, the various rituals continued and made the new seer to break all his relations with his birth.

The seer on July 10, Sunday performed 'Ashtaka Shraddha', 'Agni Karya' and 'Shakal Homa'. He later shaved his head and beard and performed 'Sakrata Jalapana'. He also performed 'Jagarana' all night and had only curds and baked rice as food.

On July 11, Monday, the seer performed the rituals in the wee hours before taking 'Sanyasa Deekshe' from Pejawar seer. 'Veeraja Homa', 'Tatva Mantra Homa' and 'Kalsha Sthapana' were held. Finally, he took a holy dip in Madhwa Sarowar near Sri Krishna Mutt. He declared that he is no one to his yesteryear parents and he is no more to them. He offered 'Tarpana' to all the God and Goddesses. He also discarded all his lavishness and clothes, finally adorning the orange cloth (Kavi) as his attire.

He also performed the 'Homa' which signified his complete detachment from the worldly pleasures and his acceptance of the spiritual and ritualistic life.

Following all these rituals, the new seer came to Paryaya Pejawar seer and sought his blessings through the offering of 'Deekshe' and 'Manthropadesha'. The Pejawar seer gave 'Deekshe' by keeping a 'Saligarama' as mark of the blessing on the head of the new seer and offered him the ritualistic 'Abhisheka'. He was named as Sri Vishwadhiraja Theertha Sripada.

Later, speaking to the media, the Pejawar seer said the new seer was in touch with the mutt. He is a disciple of the Sanskrit College. He strongly believes in Madhwa Siddhantha, he added.

"He is determined to be a seer. He has also the dream of serving society through spiritual means," Sri Vishwesha Theertha Swami said. He has given all support to the new seer.

Sri Vishwadhiraja Theertha Sripada said presently the world is full of sadness. Grievances have over cast the world and people are becoming greedy. Environment is polluted due to development. The development which has created the destruction of environment is totally meaningless. The people are becoming materialistic. The spiritual life is missing. There is a need to reinvent spiritual means., and that was his guide.

Write Comment
|

E-Mail
|
Facebook
|

Twitter
|

Print