First pontifical mass at Rosario Cathedral, Bishop Rev.Dr. Peter Paul Saldanha, Sept 16
Mangalore Today News Network
Mangaluru, Sep 17, 2018: The historic Rosario Cathedral, is the official seat of the Bishop of Mangalore diocese, in keeping with the principles of the church, the newly anointed Bishop Rev.Dr.Peter Paul Saldanha was the admiration of his people as he celebrated his first solemn pontifical mass here on September 16, Sunday as announced. He was received at the main entrance with new joy and music and acconpanied to the cathedral.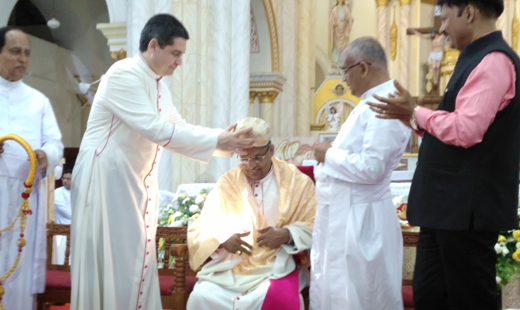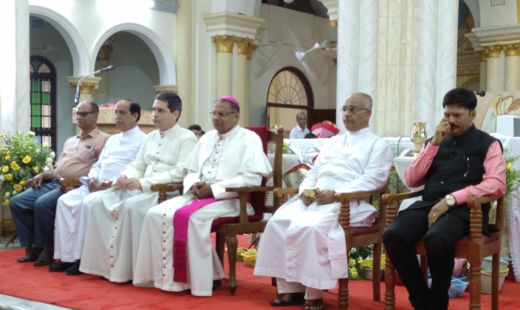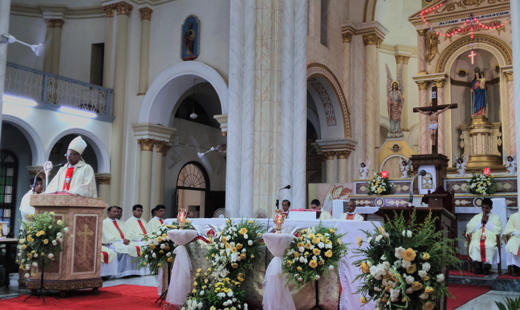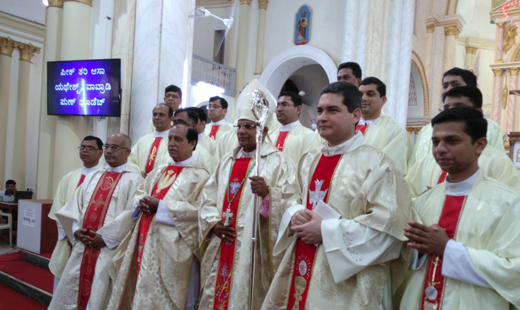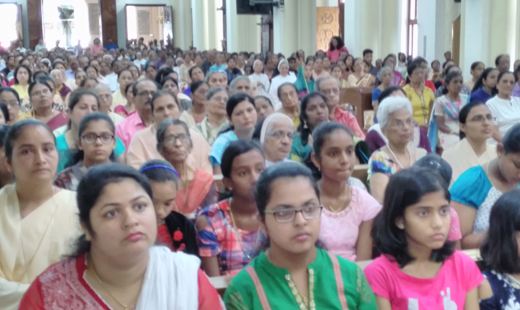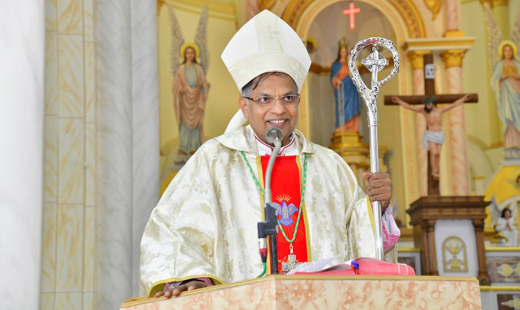 After spending a few minutes in silent prayer kneeling as is the custom he robed for mass. There were several priests to concelebrate; Msgr Javier D Fernandez, representative of Nuncio, Msgr Denis Moras Prabhu, Rev J B Crasta, and at least 20 other priests. The mass was in Konkani the official language of the diocese.

The Psalm of the holy mass was - 'In the land of the living I will walk with the Saviour" He put all at ease saying, 'Well I am not accostomed to walk with a staff, so if I falter a bit don't worry," and the laughter was an equalizer. In his brief homily in comfortable Konkani, he pointed that the key of the cross was life and the Bible was it's center. All Catholics must read and recite the scriptures as much as possible even if it is on Youtube and so on - it must soak into each and every one in homes, and bring peace and blessings beyond measure. The gathering was generally in raptures to see the new bishop in their midst and the rector of the cathedral said he will remember his church regularly, be with the people and grace will go forth with the blessings of Mother of the Rosary.

Soon after the solemn mass, a short felicitation was held and all honour was duly accorded to the new bishop and dignitaries present. In his response Bishop Peter Paul Saldanha said, "All pomp and sacred attire of the bishop and church glitters only when it is in use amidst people who value the person / priest. If he is alone and wearing all the regalia prescribed by the church authorities it would have no shine and value. without believers all would be simply meaningless. The Bishop pointedly said that the spectacular ordination celebration the previous day was symbolic of unity that brought all together, the aim is that it must develop to be larger and continue in to new ways always. I am a Bishop for some time with a mission, but the invisible Christ must be the center of action and grace, with co-operation from all.

Write Comment
|

E-Mail
|
Facebook
|

Twitter
|

Print