Finger to be inked to check multiple exchange of notes
Mangalore Today News Network
New Delhi, Nov 16,2016: Banks will use indelible ink from Wednesday to mark the fingers of people exchanging currency. The procedure is intended mainly to stop people from repeatedly visiting banks and choking queues.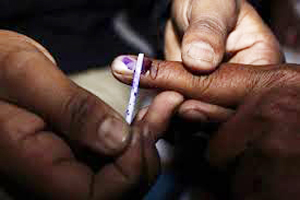 A small mark will be made on a finger of the right hand of those exchanging the scrapped Rs 500 and Rs 1,000 notes for the new ones to prevent crowding at banks, Union Economic Affairs Secretary Shaktikant Das said.

State connection
Mysore Paints and Varnish Ltd, which has supplied indelible ink to the Election Commission since 1962 to mark voters, will now supply the material to banks.

The ink is scheduled to reach banks and post offices by Tuesday night. Banks in major cities will start marking customers right away, the official said.

An assessment by the finance ministry found that bank counters were getting overcrowded because the same people were turning up repeatedly to exchange old notes.

An expert committee comprising officers from the Department of Economic Affairs and the Department of Financial Services is preparing a standard operating procedure for ink-marking.

"Ideally, the mark should have been put on the left hand, as when a person casts his vote. But with by-elections due in some states, a similar ink mark for currency exchange or withdrawal will lead to difficulties. So the mark will be put on the right hand," an official said.

The move comes amid long queues at banks, a full week after Prime Minister Narendra Modi announced withdrawal of old Rs 500 and Rs 1,000 notes in the biggest-ever crackdown on black money, corruption and counterfeit currency.

With reports of organised rackets using Jan Dhan accounts, opened mostly by the poor, to park illegal incomes, Das said accounts with deposits of more than Rs 50,000 would be closely monitored. An official quashed rumours suggesting that the new Rs 2,000 notes colour were fake because they were bleeding colour.

All genuine currency, including Rs 100 notes, bleed some colour because of the nature of the ink, he said. "When you rub a note with a piece of cotton, and it doesn't leave some colour, it is a sign that the note is fake," he explained.

What's the ceiling?
A person can exchange old notes worth Rs 4,500, but only once till November 24. Any cash in excess can be deposited into a bank account and withdrawn by cheque. The ceiling for such withdrawals is Rs 24,000 till November 24.

Stormy session

The Opposition is set to attack the Centre over demonetisation in the winter session beginning Wednesday.

Courtesy: DHNS

Write Comment
|

E-Mail
|
Facebook
|

Twitter
|

Print