Federation Cup: Shot putter Inderjeet Qualifies for 2016 Olympics
Mangalore Today News Network
Mangaluru, May 2, 2015: The second day at the Championship sports at Mangala stadium was a day for the big, strong men to make a mark in the Federation Cup. Inderjeet Singh, was in the fore front with a spectacular performance to win the gold in men's shot put. Though not as impressive, Karnataka's Abhishek Shetty also made a a bid fighting spirit, with a comeback triumph in decathlon.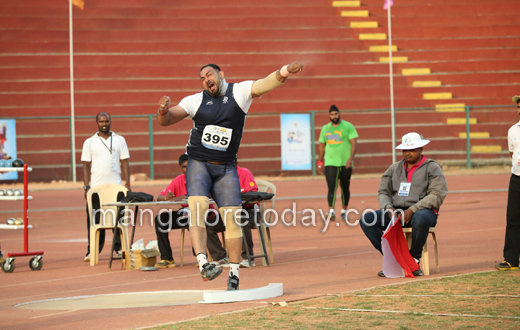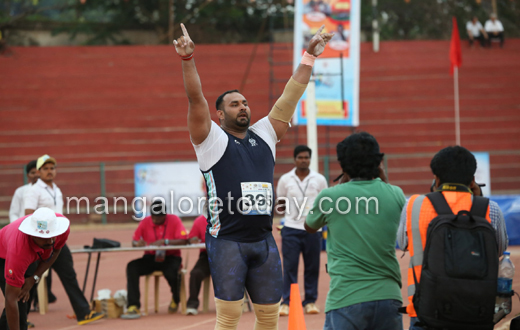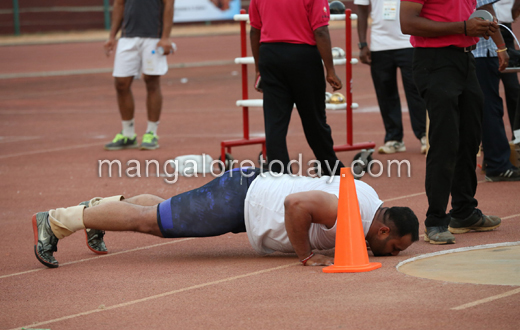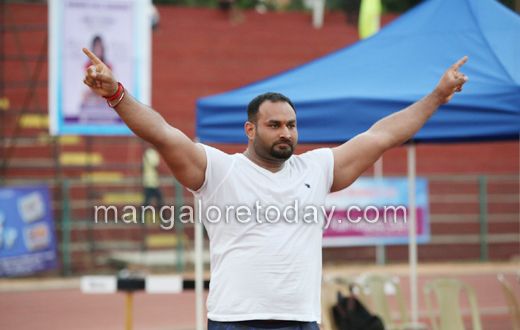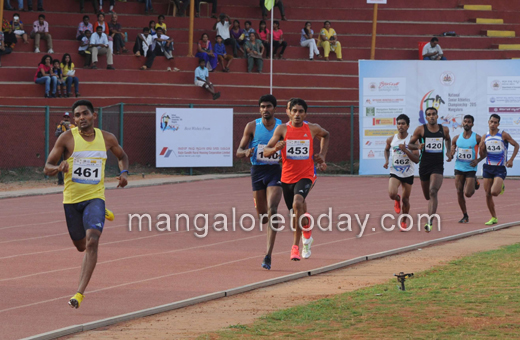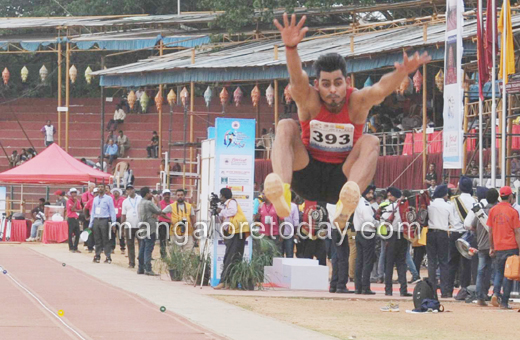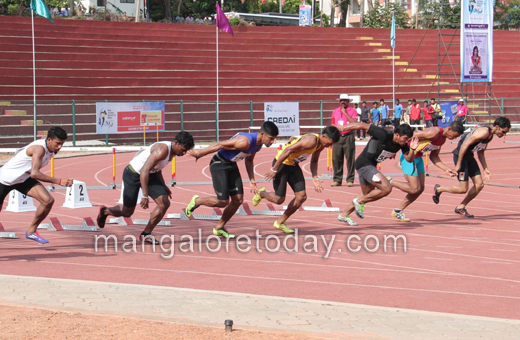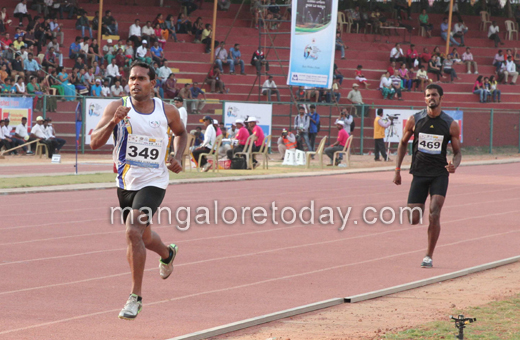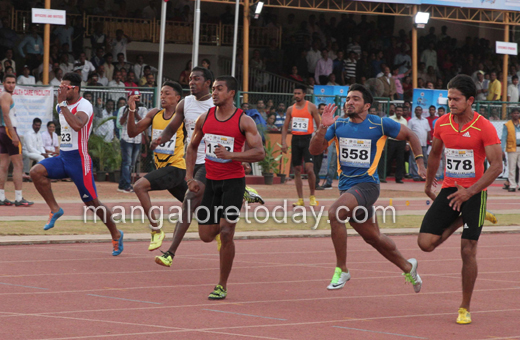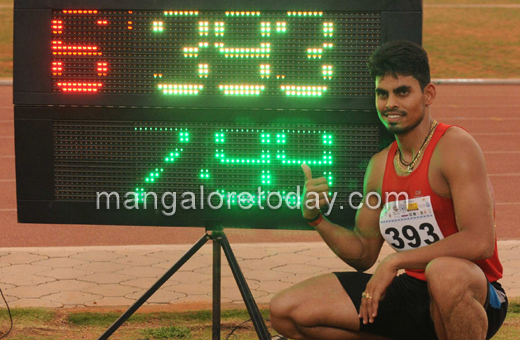 At 6' 5" and 150kgs, one can not miss Inderjeet. On the athletic arena it is pure performances that catchs the eye in recent times this Haryana sportsman has performed well to emerge as India's best bet in the shot put circle. On the second day at the Mangala Stadium, Inderjeet hurled the big ball to 20.65 metres, just four centimetres short of the national record. He went past the Olympics qualification mark of 20.50 metres, becoming the fourth Indian athlete to qualify for Rio, after walkers Khushbir Kaur, Manish Rawat and Sandeep Kumar.

The Asian Games bronze medallist who had a 20.14M effort at the National Games said his effort was towards a greater goal. Inderjeet's series on the day read 19.74, 18.42, foul, foul, 19.99 and 20.65. His meet record of 19.89, set last year, was history now.

The second day,May 2, also witnessed a solo performance by Tintu Luka in the 800M, winning in 2:04.14 with hardly a rival in sight, and going under the Asian qualifying mark of 2:05.87. "There was no challenge for me, certainly I can go quicker," said Tintu, who will next compete in the Shanghai Diamond League on May 17.

An Odisha double in the 100M and a consistent series by Ankit Sharma in long jump, culminating in a 7.99M maximum, highlighted the day. Amiya Kumar Mallick topped the 100M field in a tight finish, edging out Jyoti Shankar Debnath, even though both were credited with 10.56 seconds. Maharashtra's Krishna Kumar Rane claimed bronze in 10.58. National Games winner Dharambir Singh had been disqualified for a false start in the first round.

A surprise result emerged in the women's 100M. Dutee Chand, who has been destroying all opposition, was pushed to silver-position by Srabani Nanda. Srabani equalled her personal best with a quicksilver run, clocking 11.59 seconds to Dutee's 11.86. Srabani also went under the Asian meet grade of 11.67 seconds. Shimoga girl M G Padmini earned bronze for Karnataka at 11.89 seconds.

Ankit, who had a personal best of 8.04M at the National Games, had three legal jumps of 7.71, 7.60 and 7.71 before uncorking that 7.99 in the final round, meeting the Asian meet standard.

Deepmala Devi, representing Karnataka now, struck gold in the women's 20Km walk in 1:44:29.00. Karnataka also won a silver in the women's 400M hurdles through M Arpitha and a bronze in men's 800M through Bharath K A to lead the points table with 63.

Results: Men: 100M: Amiya Kumar Mallick (Odisha) 10.56 seconds, 1; Jyoti Shankar Debnath (Army) 10.56, 2; Krishna Kumar Rane (Maharashtra) 10.58, 3.

800M: Jinson Johnson (Army) 1:47.58, 1; Manjeet Singh (Tata Motors) 1:48.14, 2; Bharath K A (Karnataka) 1:50.80, 3.

400M hurdles: Durgesh Kumar Pal (Army) 50.29 seconds, 1; Ramachandran (Army) 50.35, 2; A Dharun (Tamil Nadu) 51.14, 3.

Long jump: Ankit Sharma (Haryana) 7.99 metres, 1; Yugant Shekhar (Uttar Pradesh) 7.53, 2; M Arshad (Air Force) 7.38, 3.

Shot put: Inderjeet Singh (Haryana) 20.65 metres, 1; Tejinder Singh (Punjab) 18.08, 2; Om Prakash Singh (ONGC) 18.02, 3.

Javelin throw: Devender Singh (Army) 79.65 metres, 1; Neeraj Chopra (Haryana) 73.96, 2; Rohit Kumar (Delhi) 72.72, 3.

Decathlon: Abhishek Shetty (Karnataka) 6630 points, 1; Raneesh V V (Gujarat) 6391, 2; Suren R (Indian Bank) 6264, 3.

Women: 100M: Srabani Nanda (Odisha) 11.59 seconds, 1; Dutee Chand (Odisha) 11.86, 2; M G Padmini (Karnataka) 11.89, 3.

800M: Tintu Luka (Kerala) 2:04.14, 1; Gomathi (Tamil Nadu) 2:07.62, 2; Sushma Devi (Haryana) 2:07.84, 3.

400M hurdles: Anu R (Kerala) 59.13 seconds, 1; Arpitha M (Karnataka) 1:00.79, 2; M Loganayaki (Tamil Nadu) 1:02.99, 3.

20Km walk: Deepmala Devi (Karnataka) 1:44:29.00, 1; Sandeep Kaur (Punjab) 1:48:03.00, 2; Priyanka (Uttar Pradesh) 1:42:27.00, 3.

Today's finals: 6.30 am: 20,000m Race Walk - Men; 3.30 pm:Hammer Throw - Men; 4 pm: Pole Vault - Men; 4.30 pm: High Jump - Men; 5 pm: Triple Jump: Women: 5 pm: Hammer Throw - Women;6.10 pm: 3,000m Steeple Chase - Women; 6.30 pm: 3,000m Steeple Chase - Men.

Write Comment
|

E-Mail
|
Facebook
|

Twitter
|

Print