Father Muller Medical College's 19th MBBS batch inaugurated on Sep 1
Mangalore Today News Network
Mangaluru, September 2, 2017: A good number of 150 students took a big leap in their lives, they were inducted to the MBBS course on September 1, Friday, into the world of medicine. The 19 batch launched for year 2017-18 was inaugurated at Decennial Memorial Hall of Father Muller Medical College (FMMC) on September 1, Friday giving the freshers and their parents/guardians a life time memory. It is a four and a half year programme with a one year internship. Stress was on Muller's motto, the theme " Heal & Comfort".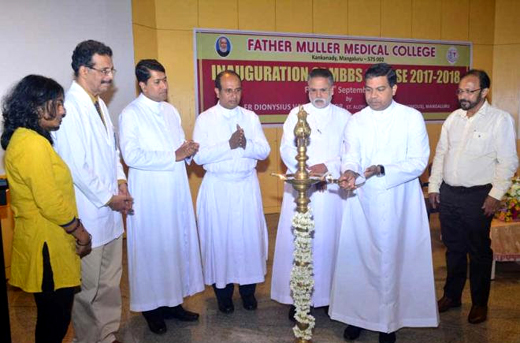 Dr. Jayaprakash Alva, the Dean of the College welcomed the parents and freshers along with the gathering of dignitaries, departmental heads, and a cross section of invitees. He advised the students to follow the qualities that have brought them to this level and keep on the path that their parents, peers and the great Mullerian traditions to remain on the path of success which does not hail it as a destination.

Rev Fr Dionysius Vaz SJ., Rector, St.Aloysius Institutions, the chief guest of the Inaugural, was very inspiring; he said he was indeed very happy as his institutions and Fr.Muller's were born in the same cradle. Fr. Augustus Muller SJ was a Jesuit, and a homeopath, he started a clinic on the premises of the present St.Aloysius College on Lighthouse hill here. He said " Life for you in medicine is not a sprint race, but a steady marathon. It's not just energy you require but stamina......it needs to be organised, methodical and systematic." He stressed on the fact that 'learning and education are different' they continue all through life. Muller's produces professionals of learning, character, commitment, excellence, dedication and even more. Both hands need to perform in tandem - one shaping the inside and one the outside, everything has both sides that have to be perfect, that you must inculcate at Fr.Mullers; compete and collaborate he added wishing the freshers well in the future.

Father Muller Charitable Institutions director Rev Fr Richard A Coelho presided over the programme. He said like the American Astronaut Neil Amstrong, who set foot on the moon, the young students have taken small steps but are now all set to take great strides in the field of medicine their chosen field, which will be their forte and which they will be responsible to develop into a 21st century art. He exhorted the new medics to dedicate them selves to a new way of life, without fear or favour and do what they will get to know is the best during their medical training in Fr.Muller's. All patience and humans have a given value and all must be provided the best Healing and Comfort no matter what. He cited the many greats of the universe in history...like Beethovan, Alva Edison, and so on whom their teachers never considered smart, but they excelled not because of facilities.....but, in spite of hardships. He said at Muller's they will get the best in all spheres of medical education and life in general and it is for them to make optimum use of everything for great results. He said, at the end do not forget parents and elders who made all possible for you and your guides and teachers and every one along the way who has contributed, small and big - you must in the best traditions "heal and comfort."

A parent K V Prakasan from Kannur spoke representing the parents most of whom were present. He highlighted the goodness and efficiency of all aspects of the Medical College and the very well developed human resources and technology made available which will serve the student doctors to a very high degree. He said perhaps no other medical college in the region is so well run and equipped.
Fr. Augustus Muller a jesuit priest and a German, landed in Old Port, Bandar, Mangalore, along with a group of Jesuits in 1877. He lived at St.Aloysius which was yet to take shape and sat under the huge banyan tree that is still visible near it's main gate and dispensed Homeopathic medicines to people who did not know a hospital or medicine then. He later was given land and some old sheds here at Kankanady where Fr.Muller's was born and has now grown into a superspecialty institution with all facets of education and still growing under the able management of the Diocese of mangalore, it's Bishop and priests over the years. A small seed has now grown into a huge tree and still is growing.
The institution documentary was screened followed by reminiscences and self-introduction by 2017 batch students. The new batch was given guidelines about the course and the college by the dean and the administrator.

Hospital administrator Fr Rudolph Ravi D'Sa, medical college administrator Fr Ajith Menezes, dean Dr Jayaprakash Alva and course coordinator Dr Prakash Shetty were present.

Write Comment
|

E-Mail
|
Facebook
|

Twitter
|

Print