Farmers lofty contribution, students experience to appreciate
Mangalore Today News Network
Mangaluru, July 31,2017: A team of 100 students from Vidyarathna High School, Deralakatte, a modern age school ventured into a paddy field that had been unused for years, deciding on an endeavour to cultivate paddy and distribute the rice to orphans' homes and the grass as fodder to cattle. Together under guidence they carried out agricultural activities to get a learning experience and also to serve a better understanding and admire farmers difficulties and contribution to society. Farmers in the area guided them in the cause.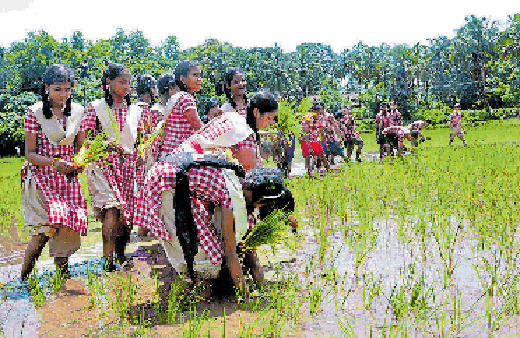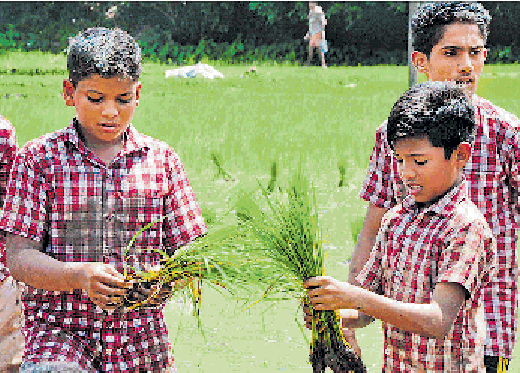 The students transplanted paddy in a field in Bhandarabailu, Munnur village on July 28. Their spirit was superb and it did not matter even though they got soiled. Most of the students were from urban areas and had not seen agricultural activities. Their curiosity, however, made them learn the transplantation work in an interesting way. The students said that they now know the efforts that are put into the production food.

School president Ravindra Shetty Ulidottu who had been the inspiration behind the activities, said that the effort was a way to enlighten the students on the value of agriculture. The endeavour also serves as a medium of social commitment. The paddy crop that would be ready for harvest will be reaped by students themselves in the harvesting season. Rice will then be extracted from paddy. The paddy sheaths will go the Govanithashraya in Pajeer for cattle and the rice to the orphanages, he said. He further thanked the family members of late Ramaiah Naik, the owner of the paddy field.

A teacher present said, "I really did not know how transplanting paddy seedlings or harvesting paddy was handled. It was a new experience for me as well. I have understood the hard work of the farmers who toil from morning till evening."

A girl student said, " Understood the value of hard work of a farmer helps us to know the value of food items. We will know why we should never waste food from now on." Another said that he had only read about the hard work rendered by farmers to feed us. Now, he has first hand experience in the paddy field and engaging in paddy transplantation and how hard it is.

Rathna Education Trust secretary Sowmya R Shetty, school headmaster Nayeem Hamid, Munnur Panchayat president Roopa Shetty and APMC vice president Muttu N Shetty were present. Indeed this might be a pointer for educational institutions to consider.

Write Comment
|

E-Mail
|
Facebook
|

Twitter
|

Print