Extension of Gomateshwara Express to Mangaluru Central yet to be cleared
Mangalore Today News Network
Mangaluru, Sep 27, 2017: While it has been three months since Palakkad Division of Southern Railway recommended to the headquarters to extend Train No. 16575/16576 Yeshwantpur-Mangaluru Junction-Yeshwantpur tri-weekly Gomateshwara Express to Mangaluru Central, the headquarters is yet to take any decision.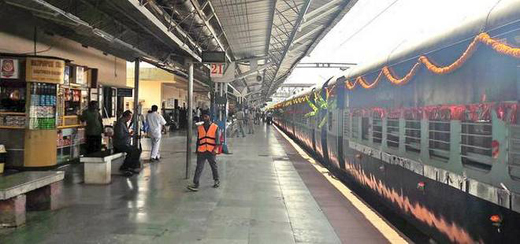 Following public outcry against terminating the train at Mangaluru Junction and stiff demand by Divisional Railway Users' Consultative Committee member G. Hanumanth Kamath to run it till Central, the Division had in June itself recommended to the headquarters to extend the train to Central.

While non-availability of platforms, pit-lines (for maintenance), and stabling lines (for parking) at Mangaluru Central is a fact, this could be overcome by shifting a few unpopular trains, the Division had told the headquarters.

If that is done, Yeshwantpur-Mangaluru Junction Express — which arrives at Junction at 5.30 p.m. — may be received at Central at 5.45 pm. Similarly, the Mangaluru Junction-Yeshwantpur Express — which now leaves Junction at 11.30 a.m. — may depart Central at 11.15 a.m., the Division had informed.

The Division had identified three not so-popular trains that can be shifted from Central to Junction to facilitate extension of Gomateshwara Express to Central. They were —Train No. 16859/16860 Chennai Egmore-Mangaluru Central-Chennai Egmore Daily Express; Train No. 16857/16858 Puducherry-Mangaluru Central-Puducherry Weekly Express, and Train No. 17605/17606 Mangaluru Central-Kacheguda-Mangaluru Central Bi-weekly Express. It had said an average of 81 passengers boarded Egmore Express every day from Central between November 2016 and March 2017 while 169 passengers boarded the Kacheguda Express, and 190 people boarded the Puducherry Express.

Rail activists and West Coast Rail Yatri Abhivriddhi Sangha have been arguing that train connectivity to the State capital should be provided from the city centre.

Since Gomateshwara Express is being operated out of Junction, which is out of the city, not many people were enthusiastic to utilise the services, said Anil Hegde, Advisor to the Sangha.

Approval needed

Southern Railway General Manager Vashishta Johri told The Hindu that shifting of terminals of trains within the city requires approval from DRUCC as well as Zonal Railway Users' Consultative Committee (ZRUCC). While DRUCC has already approved the proposal, Mr. Johri did not indicate when the ZRUCC would deliberate the issue. Chief Public Relations Officer P.A. Dhananjayan said headquarters decision cannot be spelt out before it is implemented and added every decision is aimed at enhancing passenger comfort.
Courtesy: The hindu

Write Comment
|

E-Mail
|
Facebook
|

Twitter
|

Print