Eradicate poverty, totally ban child labour say experts
Mangalore Today News Network
Mangaluru, June 13, 2015: Speaking at 'World Day Against Child Labour and legal awareness workshop' organised by District Legal Service Authority, District Administration, District Child Labour Project Society, Police department, Mangalore Bar Association, Child line and other organizations at Nethravathi Hall of Zilla Panchayat here on June 12, First Additional District and Sessions Judge C M Joshi said that child labour or appointing of children below 14 years of age for labour can not be stopped just by law. Awareness should be created about the affects of child labour and the process should start from every home.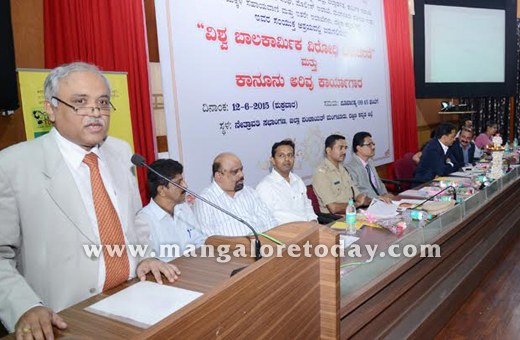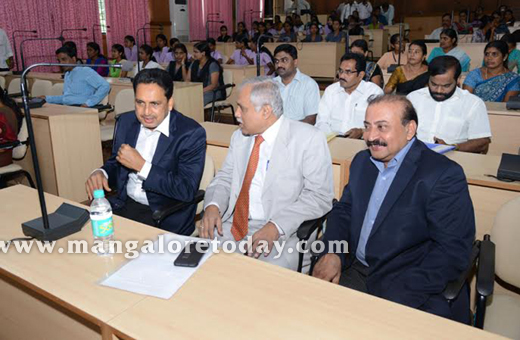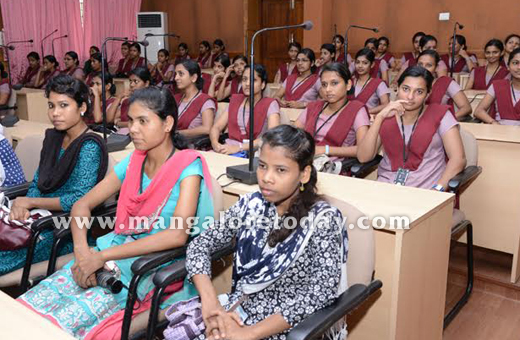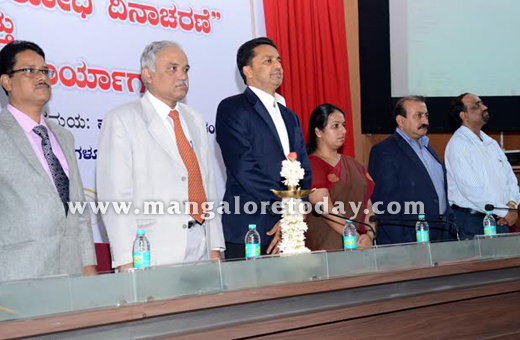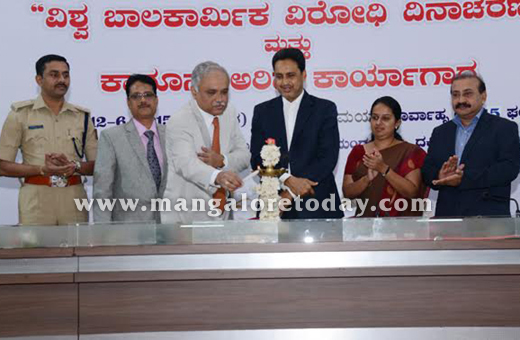 Judge Joshi said that we fail in finding child labourers. The rehabilitation process for the saved children should be proper, so that the law can be implemented confidently. Quality life abd education should be provided to the children. Those who had sold news paper or tea in their childhood have led the country. So, opportunity should be provided to develop talents better.

DK DC Adoor B Ibrahim said atrocities against children are carried over from industrial revolution era . Comparatively DK is in a better position and most of the children below 14-years of age go to schools. Still, our aim should be of converting the district into a child labour-free district. Mangalore Bar Association President S P Changappa said society should take care of nomadic children as well. The police department can register a suo moto case to save children. The increasing number of missing cases is a cause of concern. Meanwhile, he said that Association would form a team who would visit schools and create awareness about child laws.

The gathering took oath that they would do their best to eliminate child labour in their surroundings. School bags were distributed to kids as a mark of educating children. Legal awareness workshop on rights of children and coordination of various departments in eradication of child labour followed the inaugural function.

ZP CEO P A Sreevidya, SP Dr Sharanappa, Children's Welfare Committee president K Nikesh Shetty, DDPI Walter D'Mello, Women and Child Welfare Department Deputy Director Gartrude Vegas, Mangaluru Assistant Labour Commissioner D G Nagesh were present.
At Roshni Nilaya :


At an interaction programme on the proposed ammendment to the Child labour (prohibition and regulation) act, in Roshni Nilaya in Mangaluru, June 12, Friday, Campaign Against Child Labour (CACL) State Convener and Childline Director Renni D'Souza urged the Centre to impose complete ban on child labour, including in non-hazardous industries and family enterprises. He said so far child labour has not been entirely banned in India and only the child labour in hazardous industries has been banned, he said and strongly felt for a need to ban it in non-hazardous industries as well. If not, there are chances of misusing of the law, he said and urged that the limit of 18 years, which is the age criteria for child labourers, must not be decreased.
He said in order to ensure that the children are not engaged in labour and go for studies, the loopholes in the Right To Education Act must be rectified. The proposal for the ammendment of the law was kept by the UPA government earlier, but was shelved after opposition came in during discussions.

Now the NDA led central government has taken it up again and the government should be convinced that the law must ensure that the children are not engaged in labour at all, whether it is hazardous or non-hazardous. A huge number of child labourers between the age of 14 and 16 work as child labourers.

There is a need to give teeth to the current labour laws, which haven't been powerful enough to deal effectively with the social evil of child labour. Director, Centre for development studies and education Rita Norohna said child labour perpetuates poverty.

An in-depth analysis with respect to the age factor, must be carried out before introducing the ammendment. Children need to get acquainted with humanitarian values right from the childhood. But if they are put to labour, they will be deprived of human relations and will move in a wrong path. Hence, it is very essential to have a critical stand in this regard, she said and felt that citizen participation plays a major role in the effective implementation of anti-child labour laws.

Some participants in the discussion opined that in the form of domestic work, some basic skills are necessary for children. There was also an urge to ban the deploying of children in advertisements. Social worker Suresh Shetty was present among others.

Write Comment
|

E-Mail
|
Facebook
|

Twitter
|

Print