Episcopal ordination : tomorrow, September 15
Mangalore Today News Network
-I J Saldanha-Shet

Mangaluru, Sept 14, 2018: Visiblly all roads seem to lead to the mega event tomorrow, September 15, forenoon, at Rosario Cathedral Grounds. Konkani Catholics are reputed for excellence. Any celebration or event is a form of art in it's organisation and presentation. Excellence is 'Intelligence and Integrity'. Through the last 5 centuries on India's west coast countless individuals of the community have excelled in excellence...some known, most unknown, un-sung; reflection on these people is need of the times. The celebration, is set to 'anoint', 'consecrate' or what we might here say 'Abhishekha' of the 14 th Bishop of Mangalore diocese. Rev.Dr. Peter Paul Saldanha, a 'son of the land' from roots in Aikala, Kirem who rose by Divine providence to be a scholar of excellence and a professor at a University in Rome for some years now and earlier having served the Parishes and Seminary in Mangaluru, seen by all and appointed by Pope Francis on July 3, 2018.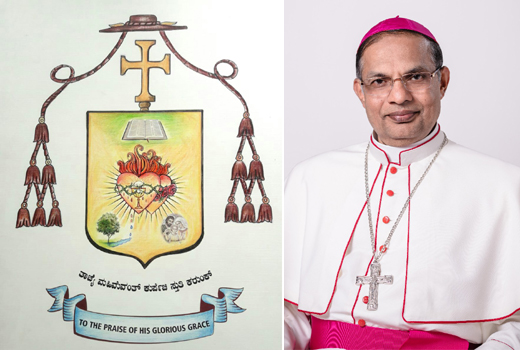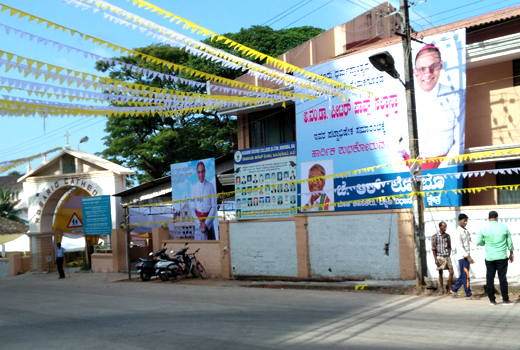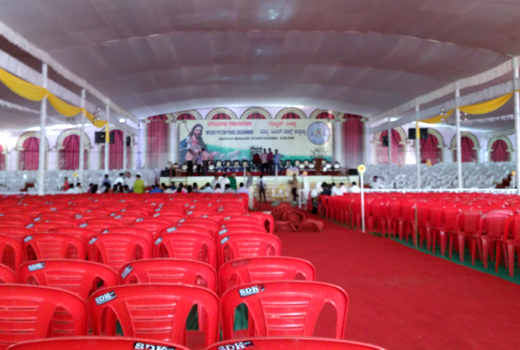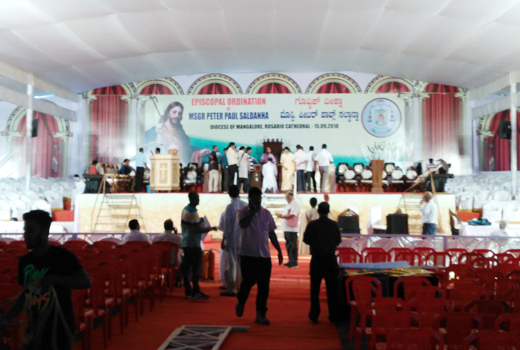 In Kanara, the church holds the record for excellence in many ways, presently new churches and renovations, excellence achieved in all facets of education, medical care, social action and so on are well known and beyond narration here.

In Mangalore right now the excitement is overflowing, for the episcopal ordination of the new bishop of Mangalore, Rev Dr. Peter Paul Saldanha; make it a point to keep abreast of the occassion on this web site.

The salient observations at this point in time on the eve: According to the Chief Co-ordinator Rev Fr. J B Crasta, the Rector of the Cathedral, who is overall in-charge and overseeing at least 10 committees who are directly working and with 650 volunteers. Around 11,000 people are expected from all around and from all communities. Thirty bishops are expected, more than 500 priests and 800 nuns. To add on will be several VIPs from politics - ministers, elected representatives, government officials and public figures, most of them will be from Karnataka. Each and every aspect has been checked and put in place for optimum results and inspiration. The entire grounds have been covered by latest canopy cover, decoration, seating, facilitation, security is all of the best possible; parking has been arranged at nearby locations, the civil administration, police and civic authority have all supported in very best way., The function will commence with the religious ritual of the episcopal ordination of the new Bishop of Mangalore - 9 am to 11.45 am. The next part will be the civil felicitations and honours, the event will end with a simple lunch served to all present, this is essential as most people will have to travel back 3 to 4 hours at least to get back home and such hospitality is basic to this region.

At the sprawling Rosario Cathedral grounds, the organisation and built-in precision of excellence, for this event is spectacular. The organisation of functions/celebrations are state-of-the-art.The Coat of Arms of the new Bishop to be released is reproduced here for readers. The excellence of the out going bishop Rev.Dr. Aloysius P. D'Souza, aged 77 years, after 22 years of generous service as a popular active bishop, has in very subtle manner mobilized all facets to excellence. It has brought about goodness in very great measure. Each and every aspect, has got whole hearted support and helping hands from people of all walks of life big and small, which articulates the excellence and brilliance of the human ethos everywhere. At this point in time people here are eager to know the course this holy journey will ascend to.

Write Comment
|

E-Mail
|
Facebook
|

Twitter
|

Print