Endosulfan victims cast votes in woe
www.mangaloretoday.com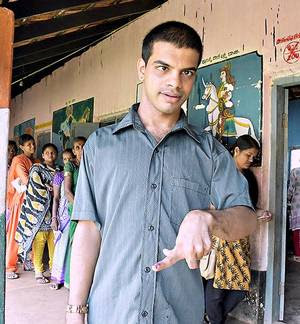 Puttur, May 13, 2018: Santhosh Menezes, an endosulfan victim who remains bedridden, was brought to a polling station in Kokkada, which falls under Belthangady Assembly constituency, in a jeep to cast his vote on May 12, Saturday. His home is about half a kilometre away.

Vidya, 32, and twins Dinesh and Dinakara, 30, all bedridden victims of the dreaded poisonous spray on cashewnut plantations in Dakshina Kannada more than three decades ago, had to be brought to the polling station in Alankar under Sullia Assembly constituency in a jeep.

The government spraying endosulfan on the plantations spread over 6,387 hectares, mainly in Belthnagady and Puttur taluks since 1980s, resulted in many civilians developing physical deformities and mental issues. Belthangady taluk has 906 endosulfan victim voters and Puttur has about 950. About 70% of them had cast their votes.

Endosulfan victims go unheard:
With all the controversies in place in the wake of Assembly elections, a prominentdemand of endosulfan victims in Dakshina Kannada have become lost.

The endosulfan victims have been asking to take care of 200 bedridden victims permanently in a center has still remained a dream with none of the parties responding during the campaign. They have also been demanding four more day-care centers in addition to the existing two at Kokkada in Belthangady taluk and Koila in Puttur taluk.

The government spraying endosulfan on cashewnut plantations on 6,387 hectares in Belthangady and Puttur taluks in the 1980s resulted in many newborns and others developing physical deformities.

Endosulfan victims suffer from cerebral palsy, autism, mental retardation and other multiple disabilities. There are currently 3,762 victims identified by the government in the district.

"It's really sad that we have to ask the parties to discuss our issues," said Sridhar Gowda, a victim and president, Endo Virodhi Horata Samithi.

Last month some victims and their parents held a meeting in Uppinangady and demanded that their issues should be taken up by parties in their manifestos. But no parties have paid heed to their demands.

Activist and president of Udupi-based Human Rights Protection Council Ravindranath Shanbhag has been fighting for the rights of endosulfan victims along with Shree Padre, a farm journalist, and Y.S. Mohan Kumar, a medical practitioner of Kerala.

He said that Supreme Court finally banned the spraying of endosulfan in the region in 2013 after he led a petition against it. The Karnataka High Court then directed Karnataka government come up with relief measures for the victims. As a result, the government is paying a monthly stipend of ₹3,000 to those with more than 60% disability and ₹1,500 to those having disability ranging between 25% and 60%. Those having below 25% disability, i.e 568 victims are not provided with any stipend.

Other relief measures include monthly health check-up camps, free bus passes to endosulfan victims and his/her care taker to visit nearby hospital, specialist treatment facility at 10 private hospitals and free ration for the victims.

"These measures are because of High Court intervention and not the intitiative of any government," said . Gowda. The opening of the two day-care centres in 2011 however is the initiative of the government, he said.

Gowda said that the permanent care center for the bedridden victims will relieve parents who are concerned about future of their siblings.

Write Comment
|

E-Mail
|
Facebook
|

Twitter
|

Print