Endosulfan victims appeal for permanent care centers
Mangalore Today News Network
Mangaluru, Mar 20, 2015: Victims in dire straights from endosulfan effects have sought permanent care centres for the endosulfan victims instead of day care centres at a review meeting on the rehabilitation of endo-victims, at Deputy Commissioner's office on March 19, Thursday.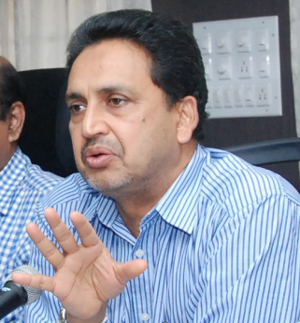 On DC A B Ibrahim's inquiry about Koila endosulfan rehabilitation centre in Puttur taluk, many claimed that there is no point in running day care centres spending around two and half lakhs per month. The government is planning six more such centres. Instead of many day care centres, permanent care centres may prove better.

Many victims have lost their parents. So, such centres should be opened at least at Puttur and Belthangady taluk which are more affected by endosulfan.

Nodal Officer Arun Kumar said that camp is being held in District Wenlock Hospital on every Monday and Tuesday to identify endo-victims, as March 31 is the final day to complete the process. District-level camp was held at Shirthadi recently, but to conduct taluk-level camps there is scarcity of psychologists.

Meanwhile, Endo Virodhi Horata Samiti President Shridhara Gowda alleged that six people who were referred to the Wenlock Hospital at the camp were neglected by the doctors in the hospital. They had to wait and return to their village.

Meanwhile, Arun Kumar said that Puttur taluk is seriously affected by endosulfan with 1,476 victims followed by Belthangady (1,126), Bantwal (365), Sullia (240) and Mangaluru (88). It is found that in Puttur taluk, Nelyadi is the worst effected area and in Belthangady, Kokkada has most number of victims. Out of 3,295 beneficiaries, ID cards have been issued to 3,242 people, 2,602 are eligible to get stipend and 35 people have died after identification.

Dr Shanbhaug said that it is a shame on the part of the government if it is waiting for more study on the affects of endosulfan when around 10,000 people are suffering. Many disorders are related to endosulfan. Kerala government has accepted it, the whole mechanism is clear. Stragely Indian Council of Medical Research (ICMR) now wants to know whether any research has been done. If anyone has doubt it is unfortunate, he said. Endo-affected cancer patients are not getting stipend as their deficiency is considered as less than 25 per cent.

Meanwhile, Dr. Shanbhaug warned about Nettanige-Mudnur, a village of Karnataka-Kerala border where unused endosulfan has been stocked in a well. Around 7,000 villagers are asking whether they have to stay there or leave. The local Health Minister had promised to ask about the issue with his Kerala counterpart, but it is yet to be done. The Deputy Commissioner assured of taking further step at the earliest.

Several claimed that the survey conducted to find out endosulfan victims was not proper. Families of many people who are suffering physical disability because of many other reasons are also claiming that they are endo-victims. Many are getting the stipend as well. The number of deaths should be counted after proper survey.

The health department officials said that a total stipend of Rs 4.37 crore has been distributed as stipend from March to December, 2014. Arrears of Rs 85.71 lakh has been distributed to those who have been identified after March, 2014. Total amount of Rs 5.46 crore has been spent for the rehabilitation programme of endo-victims. The district administration is waiting for the fund of Rs 2.75 crore from the State government. "It may be released within a week," DHO Ramakrishna Rao said. Many claimed that stipend is not being given properly.

According to health department officials, there are around 202 (as per February) bed-ridden endo-victims are in the district. The DHO said that doctors visit every home and treat victims. We provide generic drugs to them. Around 36 types of generic drugs are procured.

Epilepsy sufferers : Dr Shanubhag demanded that the children suffering from epilepsy due to endosulfan should also be included in the endo-victims' list as they have to spend around Rs 1,000 per month for medication. Answering a query, the DHO said that the children below five years of age with mental disability are being included in the list, but mental disability certificate can be issued only after age five years. About a proposal of starting a society of endo-victims, the DC said that it can be started in one taluk on trial basis. Shridhara Gowda expressed concern that it may split unity of victims. Zilla Panchayat CEO Srividhya was also present.

Write Comment
|

E-Mail
|
Facebook
|

Twitter
|

Print