Elephant Subhadra to return to Sakrebail for good health
Mangalore Today News Network
Udupi, Jan 07 2018: Subhadra, the 28-year-old elephant of Sri Krishna Mutt/Temple, Udupi, is set to return to the camp at Sakrebail in Shivamogga district in the next two or three days to recoup her health.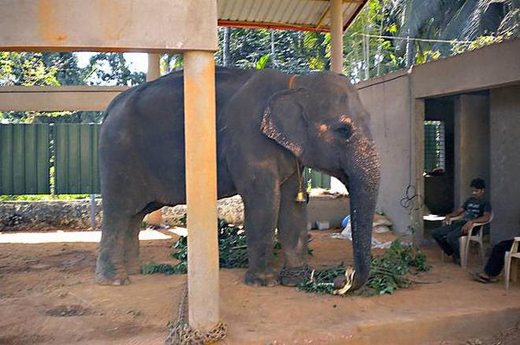 The elephant, which had undergone treatment for foot rot at Sakrebail for a year and a half and had almost recovered, was brought here on January 18 for the procession of the Paryaya festival.

Though the elephant participated in the procession and looked healthy in the initial days, she started refusing to take oral medication eventually. Vinay S., senior veterinarian, Wildlife Division, Shivamogga, examined the elephant five times in the past fortnight.

Two mahouts from Sakrebail, Liyaqat and Chand Pasha, who were taking care of Subhadra in Sakrebail, are attending to her here also.

Prahlad P.R., administrative officer of Paryaya Palimar Mutt, said the elephant was brought here to participate in the Paryaya festival after getting all due permissions from the authorities concerned including the Principal Chief Conservator of Forests.

"Subhadra was in the company of other elephants at the Sakrebail camp. She is probably feeling lonely here. We brought her here so that the 'Gaja Puje' could be performed. Since veterinarians opined that she should go back to Sakrebail, we have written to the PCCF. She will return to Sakrebail in two or three days," he said.

The Krishna Mutt/ Temple will try to get a small elephant in place of Subhadra. "We require an elephant for 'Gaja Puje' and not for any decorative purpose. We have made preliminary enquiries. We are yet to make serious efforts for it," Prahlad said.

When Subhadra developed health problems, she was sent to Sakrebail in 2015. She was brought back during the Paryaya festival in 2016 before being sent to Sakrebail again.

Dr. Vinay told media that Subhadra was a clever and intelligent elephant.

"Every time she comes to Udupi, she stops taking oral medication and supplements. Even when the medication is put in watermelon and jaggery, she rejects it," he said.

An elephant requires more space and a walk of 5-6 km a day. Elephants love to be in water for one to two hours.

Subhadra was brought by the Sri Krishna Mutt/ Temple from Sakrebail when she was three years old. "If Subhadra had taken oral supplements, she could have stayed in Udupi. An elephant is a social animal and loves to be with its family," Dr. Vinay said.

Write Comment
|

E-Mail
|
Facebook
|

Twitter
|

Print