Economic Crisis: SEBI data shows investors lost Rs 13 Lakh crore in 1 Month
mangaloretoday/ yahoo
Mumbai, August 7: Within a month of Finance Minister Nirmala Sitharaman read out the Union Budget 2019 in Parliament, the investors lost Rs 13 lakh crore in market, shows Securities and Exchange Board of India (SEBI) data. The report even added that foreign institutional investors (FIIs) have pulled out more than Rs 13,000 crore from Indian equity markets, leading to an economic slowdown in the country.

According to the data revealed by SEBI on Tuesday, the average market capitalisation of the BSE-listed companies fell from Rs 151.35 lakh crore on the Budget Day, July 5, to Rs 138.37 lakh crore on August 5. This resulted in wiping out Rs 12.98 lakh crore from the market. With this, the recent reports of foreign portfolio investments (FPIs) exodus gain confirmation. Rupee Tumbles to 70.73 Versus US Dollar as Indian Economy Moves at Snail's Pace, Chinese Yuan Fares Better in Market.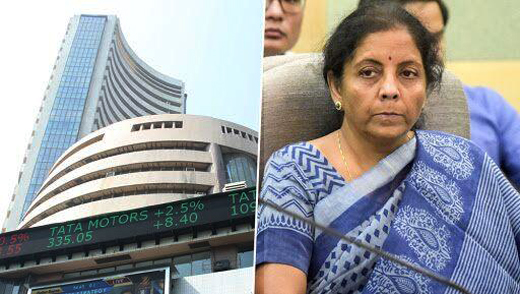 It is to be known that in the Union Budget 2019, Centre proposed a higher tax surcharge on 'individuals and trusts' earning more than Rs 2 crore and Rs 5 crore annually. Once the proposal is implemented, the adverse impact on foreign portfolio investments (FPIs) - set up as non-corporate vehicles - are most likely to gain momentum.

Stating the reason for a huge loss in the market and economic slowdown, Ashish Nanda, EVP & Business Head of Kotak Securities said, as quoted by Moneycontrol, "The market fell beyond expectations and was triggered by the tax on FPIs since the Budget. The market is likely to remain under pressure until further clarity on this comes."

He even predicted that Nifty fall can get arrested between 10,800-10,700 levels. Reports are arriving that small and midcaps have been the worst hit, with S&P BSE Midcap index down by nine percent while the S&P BSE Smallcap index has plunged 13 percent since July 5. Nirmala Sitharaman Claims Modi Govt Taking Steps to Improve Falling Indian Economy, Says 'Ready to Hear From FPIs on Any Issue'

Along with this, more bad news arriving that more than 50 percent of the BSE500 stocks fell in double digits and 56 percent of the names, have fallen 10-60 percent since July 5. Investors are looking at the Union Finance Minister with great hope that the Centre will come up with policies that would build confidence among the investors.

Apart from the US-China trade war becoming the issue of discussion among the economic experts, the Indian rupee value weakening to USD is a concerning factor. Asia's largest economy has slipped two positions globally and is at number seven, taken over by Britan and France. Experts believe that RBI's monetary policy committee might decrease the repo rate by 25 basis points to give a boost to the tumbling economy. Modi Govt's Tax Surcharge on Foreign Portfolio Investments Triggers Exit of Investors, Experts Question Corrective Measures

Expressing his opinion on the Indian taking a spill, Religare Broking's Vice President Ajit Mishra, said, "Considering the current economic slowdown, muted earnings and stretched valuation, we would continue to remain cautious until there are meaningful signs of revival in corporate earnings. However, the upcoming key events would have a bearing on Indian markets and would dictate the trend."

Earlier on Monday, Sitharaman claimed that the government is getting inputs from various sectors and the Modi government is taking appropriate steps to improve the falling economy and is ready to hear from FPIs on 'any issue'. Rahul Gandhi Attacks PM Narendra Modi on Economic Slowdown, Says 'BJP Govt Can Only Destroy What Was Built Over Decades'

Responding on the FPI exodus due to an additional surcharge on 'individuals and trusts', the Union Minister stated that her ministry has not yet decided on the timing and size of its sovereign overseas bonds and is ready to hear from FPIs on 'any issue'.



Write Comment
|

E-Mail
|
Facebook
|

Twitter
|

Print