Early detection vital for good of children with autism - workshop
Mangalore Today News Network
Mangalore, Aug 10, 2014 : At a workshop on "Identifying learning and developmental disorders in children for school teachers," organised by the Department of Paediatrics of Fr Muller Medical College here on August 9, CHETANA - Child Development Centre (CDC) Trustee Dr U V Shenoy, said "Early diagnosis and social acceptance of children suffering from Autism Spectrum Disorder (ASD) are essential for their welfare and treatment," he went to state that the condition of suffering children needs to be detected early. The doctors can check their IQ levels, as certain ASD kids are highly intelligent. Holistic approach is needed to treat the kids.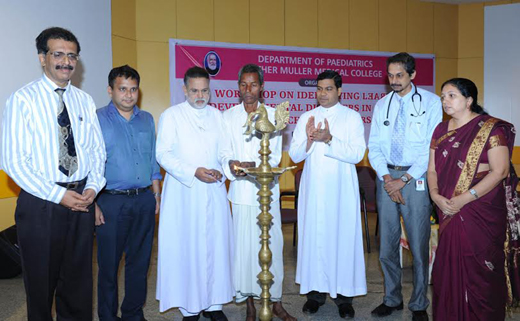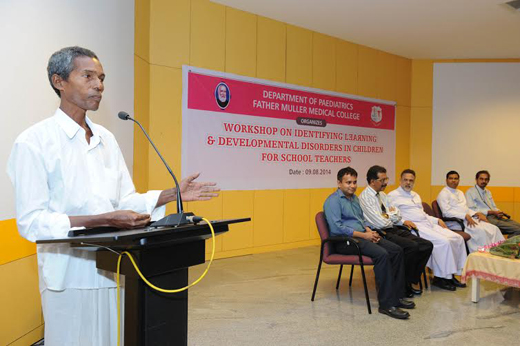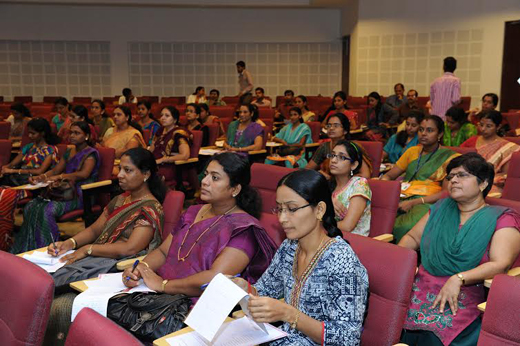 Dr Shenoy said that the diagnosis can be done by the age of 18 months. The ASD is characterised by difficulties in communication, repetitive and stereotyped behaviour and lack of social contact. "A motivated mother can help the child in a better way in dealing with the condition. The parents should shower them unconditional love and have patience and understand the child. Many a time, parents fail to accept the fact that their child is suffering from autistic disorder. There is a need to change the mindset and attitude towards autism cases. We need to deal with them in a sensitive way," Dr Shenoy added.

Children with the condition avoid eye contact, have difficulty in speech, repeat an activity many times and do not react when they are hurt. Even paediatricians plays a vital role in identifying the disorder. With the early intervention, the brain of the child can be stimulated by various occupational therapies. There is no single treatment for the disorder.

FMMCH Administrator Fr Richard Coelho said that persons with differently abled need our attention, care and additional support to have a good living in society. Achievers like Alexander Graham Bell was suffering from autism. However, he is well known all over the world for his achievement. He could achieve success because of the effort and support he received. There are talents in differently abled persons and there is a need to identify and support them.

Social worker Harekala Hajabba said that there may be a few kids with learning disorder in his school in Harekala. "Fr Muller Hospital should come forward to identify them," he appealed. In his introductory remarks, Organising Secretary Dr Anil Shetty said the need for organising the seminar was initiated after conducting a survey in 32 schools of Mangalore. The heads of the schools expressed their desire for a workshop to identify children with learning disabilities. Department of Paediatrics HoD Dr Pavan Hegde, Dean Dr J P Alva and Administrator Rev Fr Rudolf D'Sa were present.


Write Comment
|

E-Mail
|
Facebook
|

Twitter
|

Print